Well, the Techcrunch guys were quick onto this one – the story only hung around for about 10 minutes before 'complications' arose… Hats off to them for bringing us this curious latest development in the ongoing battle over data reciprocity between Google (who want openness and reciprocity) and Facebook (who'd kind of like it if the internet and Facebook essentially became the same thing – i.e. they're not so keen on reciprocity).
Basically, a third party-designed Chrome extension has finally made the breakthrough of enabling full porting of Facebook friends' email addresses into your Gmail account. It worked (tested by TC) for about 10 minutes after their post about it went up – and has since ceased to function. Sounds a bit dodgy doesn't it? There's no confirmation yet of whether this is down to a block from Facebook or something else entirely though, while the app is strictly unaffiliated with either Google or Facebook, it is clear that it is the latter whose views on data reciprocity are questioned by the extension – so a Facebook block is hardly an absurd assumption to jump to.
I find this whole episode rather interesting in the context of some comments made by Tim Berners-Lee (inventor of the web, inasmuch as it could be attributed to a single person) last week, in which he stated that the creation of 'closed worlds' such as Facebook (who generally seek to minimise data reciprocity unless it directly benefits them – regardless of what users would like) risks 'fragmenting' the web and generally undermining the principles of openness which, he believes, are key to what the internet has to offer for innovation, creativity, democracy and so on.
Well, it seems that Sir Tim's arguments of last week have now been provided with yet another concrete example around which they can be discussed and understood. After all, if we're honest, we all know that a Chrome extension such as the one in question here weakens Facebook's position in its competition with Google. It is understandable therefore that Facebook would want to protect to some extent the uniqueness of their position (controlling the data and social networking of a staggering 600million users) since their entire significance is based precisely upon these two attributes – the data they have access to, and the number of people it concerns.
However, in this case, the data in question here (users' email addresses) can in no way be seen by anyone, including Facebook, to belong to the network. As the simple caption from the extension's designer makes clear below, Facebook have little justification for their position on this aspect of data reciprocity, other than fear of Google and the desire to maintain their exclusive position as sole handler of people's online social networks: there is no benefit to users in having porting to Google denied, is there?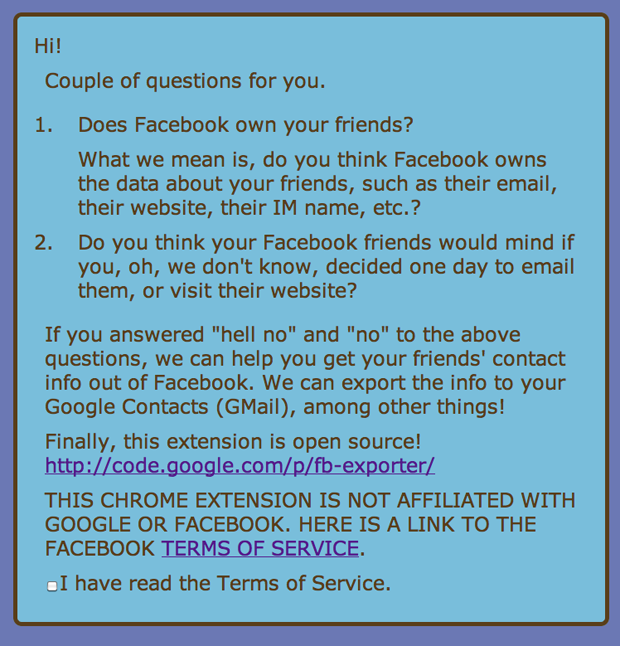 This is where Facebook treads a fine line, and one which even their huge success cannot insure them against the pitfalls of getting wrong. Even though this represents just one small spat in the overall picture, I can't help but feel that it signals the aspect where Facebook could become increasingly weak against other competition – in terms of its privacy policies (see Diaspora for example), data reciprocity and so on. In other words, Facebook becoming one of Tim Berners-Lee's 'closed worlds' could slowly but surely begin to count against it – because, while it might be good for the monetization potential of the network, the truth is that nobody wants to spend their time in such limited and restricted spaces – online, or not.