Legal experts, rejoice! There's now a place for you to go and find out the hottest news and business information in the legal industry.
Our latest project is a leading provider and the most trusted resource of business information. Law Business Research is a website that provides insights, proper legal analysis tools, and networking opportunities.
The result of great ideas and reputable collaboration
Once again we have worked with Globe Media Group on designing and developing a specific platform. LB Research is a new addition to their existing projects. Together, we have worked on two projects, and now we have successfully launched the third one.
What Is Law Business Research?
The Globe Media Group founders approached us with the exact idea. They wanted to create a website that will empower all legal professionals with their own, exclusive information provider.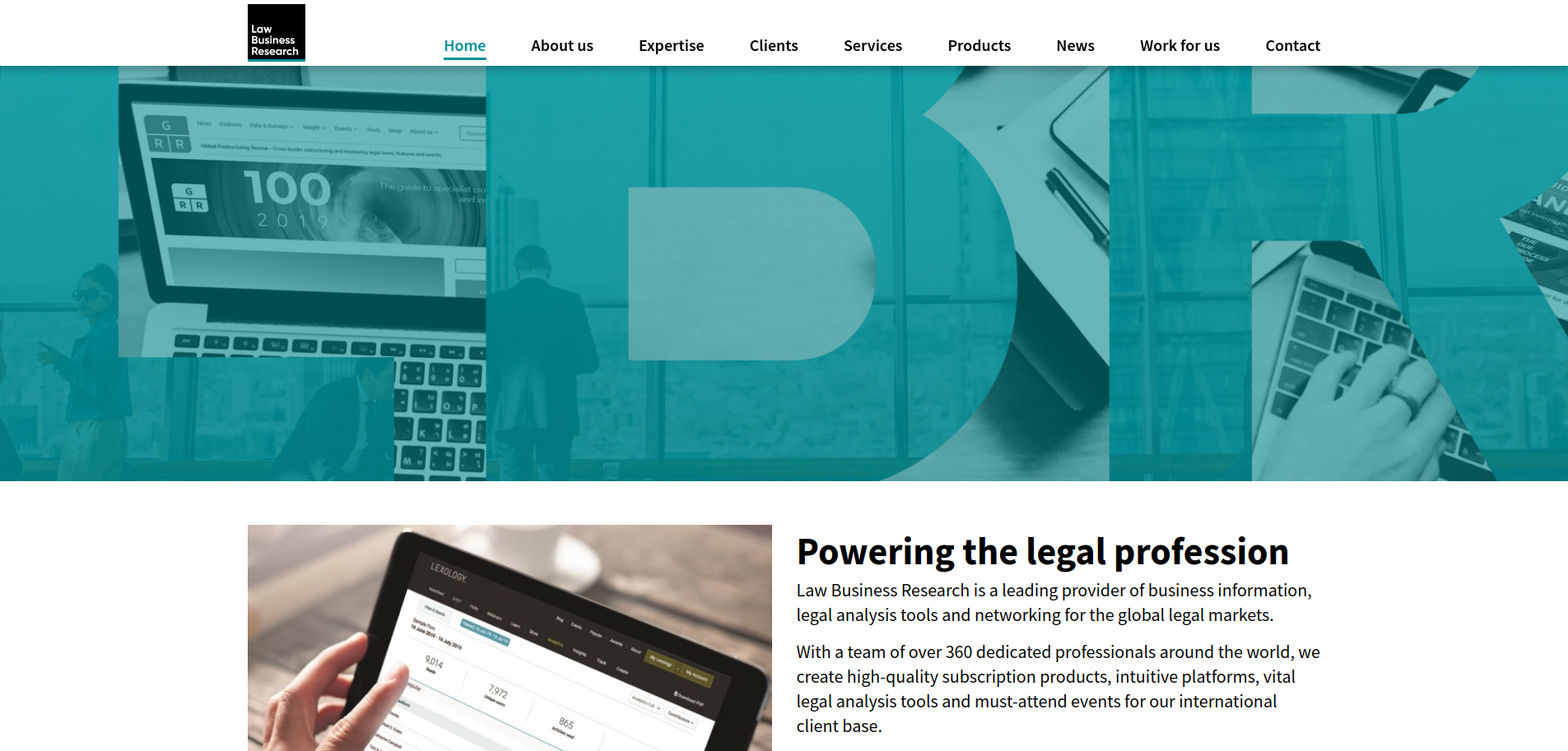 The new LBResearch website offers help and consulting to all legal professionals. Their clients can count on unique insights, essential legal analysis tools, and the possibility to make valued connections.
Law Business Research gathers a team of over 360 dedicated professionals ready to curate in-depth content for the specific needs of each client.
By combining research and contacts they have, LBResearch collects information for each client to support high-level decision making.
They use surveys, directories, interviews, and field research, and compile the most valuable information the industry has to offer and turns it into actionable intelligence.
Quick access to any piece of information
The goal of the Law Business Research website was to inform its users about the importance of high-quality, timely and actionable information.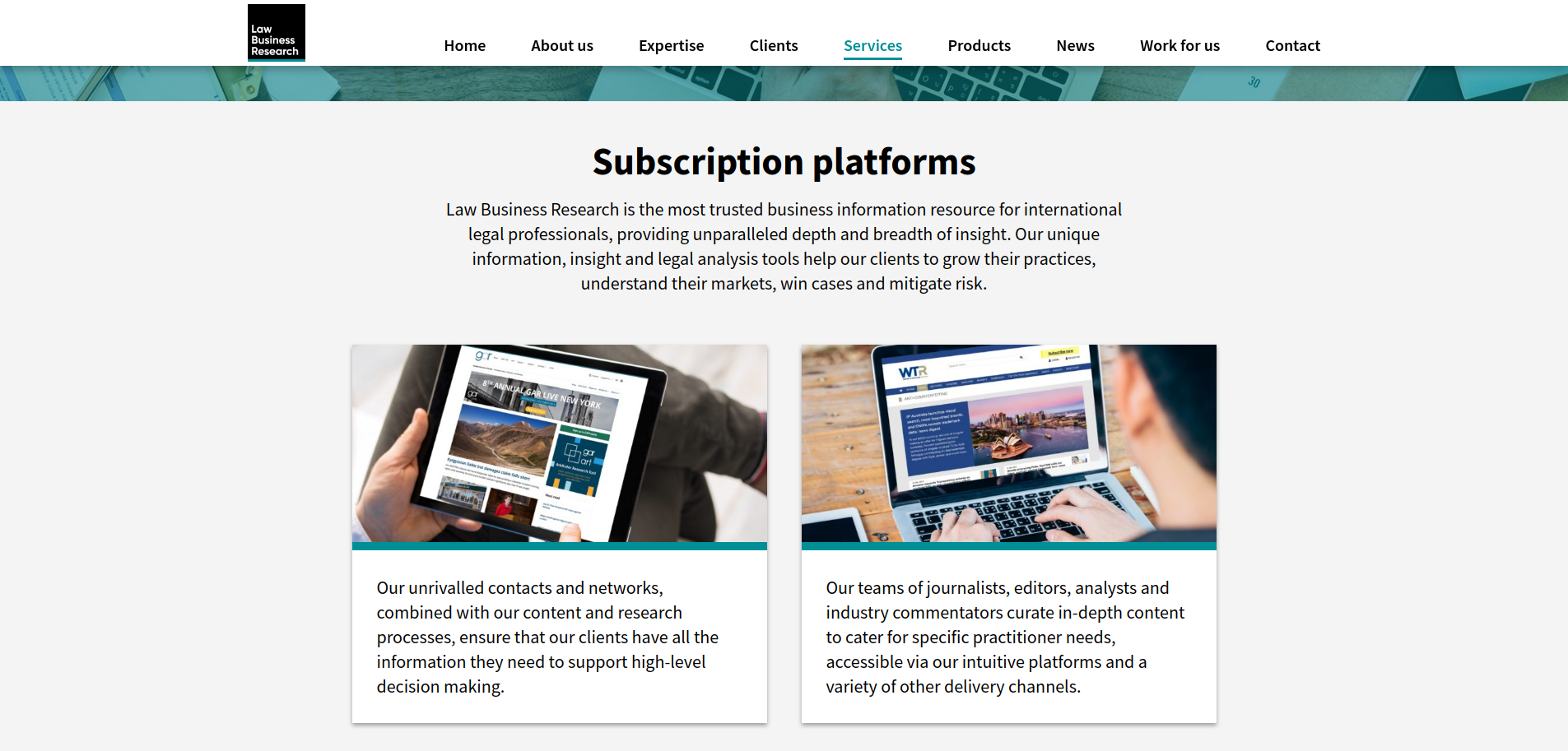 Considering the needs of the target group, we came up with a highly customized web solution. The focus was on providing quick access to all important information once a user lands on a page.
We developed a straightforward user journey that offers the desired information in no time. The landing page communicates a clear intent. Being developed according to well-understood standards, it enables the users to easily browse different content, and search listed platforms and tools of interest.
Design that emphasizes content
Our design team decided to go with a modern but unobtrusive design. The chosen design has to set the attention to content and CTA buttons slightly more than anything else.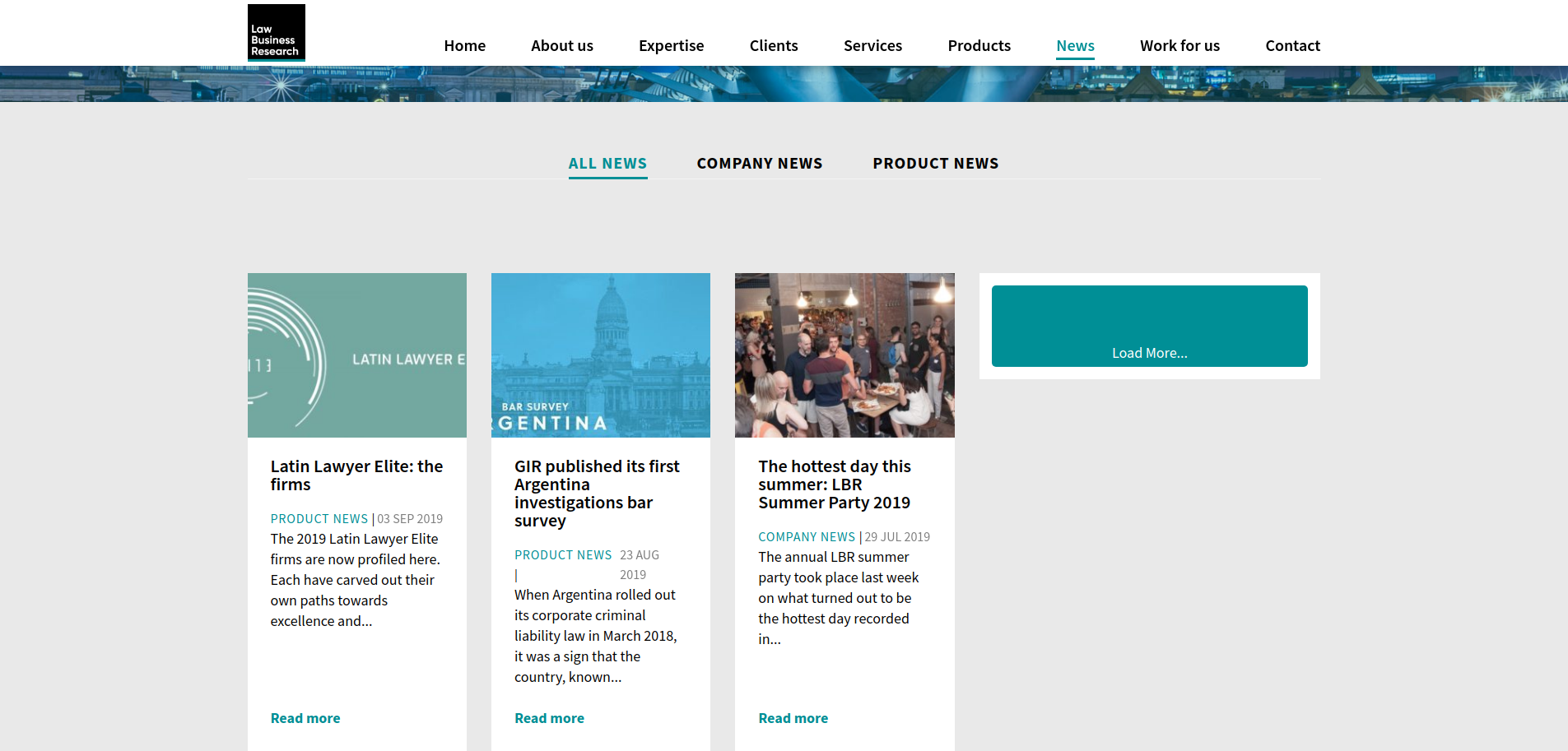 The idea was to create a harmonical hierarchy of the elements to enable the visitors to easily find the information they are searching for.
Colors further invite users to act
Our choice of colors is based on the users' needs. We wanted the colors that invite people to react.
Whether the users are choosing the tool or seeking help, we chose the colors able to welcome and comfort users.
The choice of fonts and type styling has a huge impact on how users understand the messages and the content.
Therefore, we went for Source Sans Pro that emphasizes the support and professionalism that Law Business Research provides.
We controlled CTA buttons with a design and placed them on a natural eye path, making sure the buttons are clear and not hidden. Our goal was to lead the users in the direction where we wanted them to go, performing the desired actions.
To grab their attention, designers added cheerful and interactive page elements. What we got, as a result, is a modern and easy to navigate website. Our goal was a website that keeps users busy with attractive and useful content.
Power of WordPress and its plugins
For content editors and writers, it's crucial to be able to easily manipulate, organize and control the text and content.
Hence the 80+ journalists and editors are working on the website, WordPress CMS was an adequate solution that can further empower content management.
Furthermore, with the help of WordPress plugins, we implemented the options for them to easily create a different type of content.
We built LBResearch using WordPress CMS and its convenient features to provide a smooth functioning thus effortless content editing.
With WordPress we also succeed to achieve:
a fully optimized website that provides a seamless customer journey
excellent content organization due to its powerful editor
improved tracking and analytics results
Legal information and education provider
Besides being a place to distribute important information and provide consultation, LBResearch is a place for continual education and improvement. Legal professionals can easily browse and subscribe to one of the information or education platforms or tools that this website assembles.
Therefore, besides asking for consultancy, each user can browse LBResearch and visit a Lexology for example.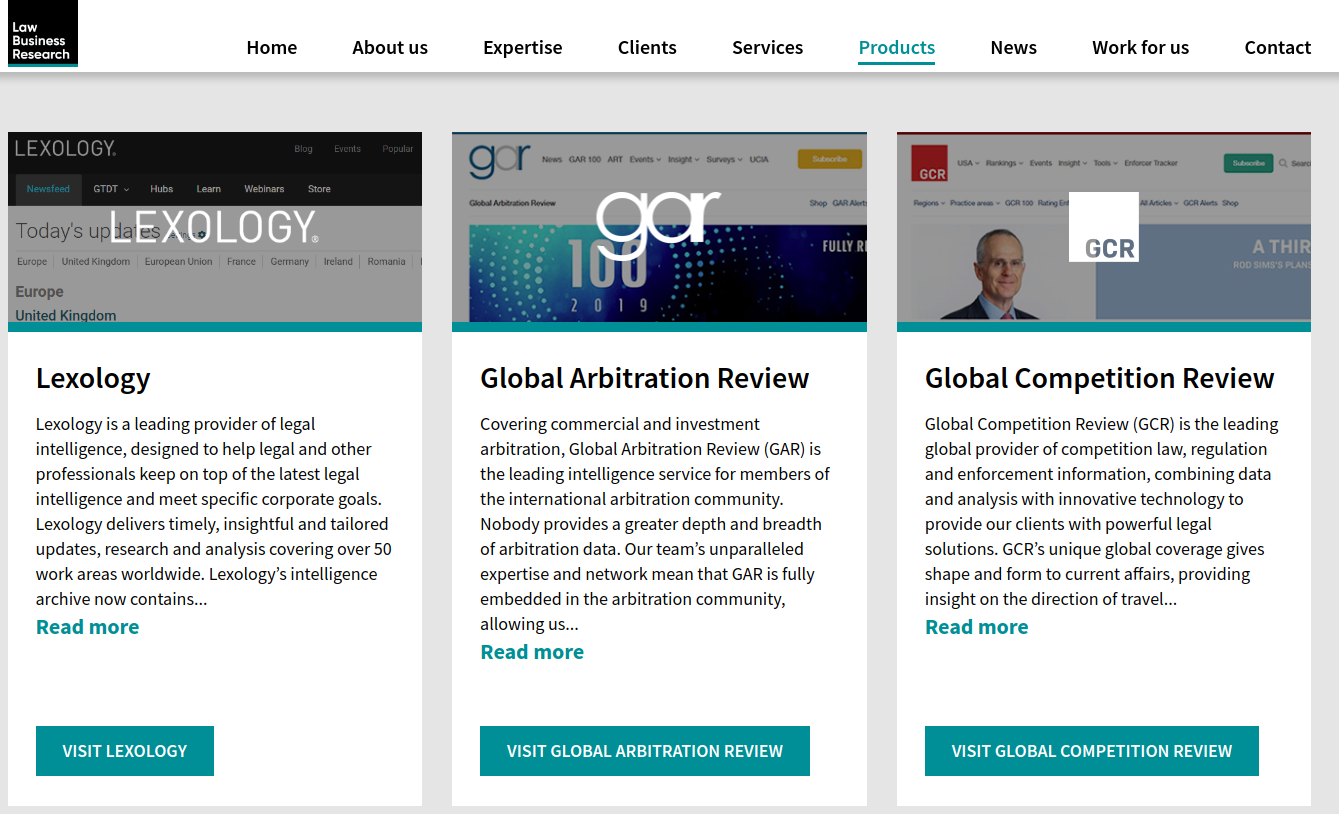 Lexology is a website that delivers timely, insightful and tailored updates, research and analysis covering over 50 work areas worldwide. Or, they can visit the Global Data Review (GDR). GDR is the only intelligence platform that analyses the law and regulation of the use and trade of data around the world.
Thanks to its vast network of legal professionals, LBResearch also offers a rich community able to spark any market-leading networking opportunities. For their users, they offer opportunities to attend many industry-related events.
From idea to reality, the end result?
We would like to show our deep gratitude to Globe Media Group for having trust in the entire team and company.
Our development and design teams once again had a great opportunity to work with professionals and contribute to developing great ideas. We enjoyed transforming their idea into reality, looking into the best solutions for the industry.
We would also like to take this opportunity and show appreciation to the entire team. They did a great job.
Want to know more about Law Business Research? Visit their website and check out the platforms they offer.