We are always under the impression of not having enough time, and most of us use our phones to get the work done, regardless of the profession. What I see as a problem is being constantly in search for the great work-related apps, but getting smartphones overcrowded and in time even useless and almost dysfunctional.
Cleaning your phone of numerous battery and storage-eating apps and services is the first thing to do. AVG Cleaner quickly cleans your phone of the things you do not use or need – cache, histories, and unnecessary apps by regularly scanning the phone in search of the unnecessary files. Android cleaner is another simple to use app that does pretty much the same, although with more data to show on usage, storage and memory.
Then, one can start with browsers, and Android users have many options – I suggest choosing between these three – Chrome, Dolphin and UC Browser.
One of the great advantages of Chrome is being able to synchronise tabs and bookmarks across platforms (including password syncing), it is also fast and easy to use, however it has no support for Flash videos. When it comes to privacy concerns, Chrome offers incognito mode, and support Do Not Track – preventing tracking of online behaviour. The only concern one may have stems from the fact that this is Google's product, and many have concerns about that.
As one of the oldest browsers, with millions and millions of downloads, Dolphin is in a way similar to Opera, yet, it has great options such as a pop-up menu based on gestures, and Sonar mode, that lets you use voice to search the web. The downside is lack of a desktop-based browser, however, Dolphin allows you to send data between platforms (replicating desktop-mobile syncing with Safari, Firefox and Chrome extensions). Clearing your cache and history is very easy, which is an asset.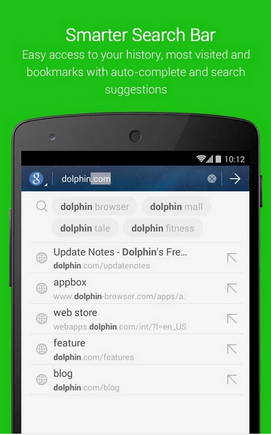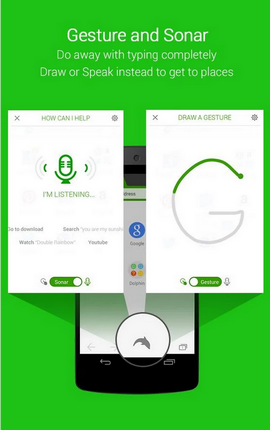 UC Browser is probably the most popular browser (500 million downloads), and while it brings similar things as other browsers (although very, very fast), it's great for downloading multiple files simultaneously even if your Internet connection is interrupted.
Good email apps for Android are hard to find – there is always something missing, however, even with those missing qualities, email apps have good options to offer. The most popular is probably Gmail app, but the app only works with Google's Gmail platform. Great quality is spam detection feature (for instance jpg's pictures are first opened in the cloud before delivered to the user), and search functionality.
Mailbox app relies on gestures and swipes to bring quick and easy sorting. Auto-swipe feature learns from your habits and predicts what your next move would be related to individual messages. It also downloads data in the cloud, while checking for possible viruses and malware. It only supports Gmail and iCloud, and can't accesses or save new drafts.
CloudMagic is a very convenient email app that offers basic integration with third-party services (Evernote, Pocket, Zendesk) and it has support for Gmail, Office 365, Microsoft Outlook, iCloud, Yahoo Mail and IMAP.
Boomerang app for Gmail is very popular when it comes to scheduling apps, especially due to those future-related features such as "snooze" button that let's you set a time in the future for a message to disappear, while creating exceptions if you get a response, or send later feature. With gesture-based inbox management, Boomerang also brings push notifications, multiple accounts, and supports Gmail's Send From feature.
As for productivity apps for Android, there is Wunderlist and Google Keep, as well as super simple Pocket app. Wunderlist is a powerful task management and list-making app, while with Google Keep, things are as simple as possible yet powerful due to its connection with Google Drive. It is easy to use, and lets you take and save notes, photos, voice memos, checklists and more on Drive.
Pocket is another easy to use app that helps you with organization allowing saving links and reading them later, even when not connected to Wi-Fi, and it is synchronized with all of your devices.
Agenda Calendar is an app that in particular looks good, with great features that are easy to use in comparison to other calendar apps. It has a great and simple event creation tool.
When it comes to protection apps for Android, there is Lookout app that helps you find, lock, wipe or ring your phone remotely, while protecting from phishing scams. It also backs up the data, which is very important, and as of recently has a Theft Alert – a feature that detects when someone is trying to unlock a stolen phone and takes a picture.
Finally, to have everything under control as much as possible it is good to opt to organize those apps on the phone, whether under category names, in alphabetical order, visually using color coding, or any other way.