Predictions about the popularity of video content were as expected. With no surprise, video startups uprising is on the horizon.
The latest video marketing statistics show the ultimate popularity of video content.
More than 500 million hours of videos are watched on YouTube each day.

Only Snapchat has a 10 billion daily video views.

45% of people watch more than an hour of Facebook or YouTube videos a week.
Average online consumers prefer to consume content in visual/video forms. This trend opens up many possibilities.
We can choose when, where, and on what device we want to watch our favorite content.
And above all, what we want to watch.
And lately, we can create videos almost as pros.
New options are kicking in, and not only because of huge video platforms such as YouTube and Facebook, but because of recent breakthrough of many interesting video startups worth checking in.
We have listed video startups and companies that offer recording, editing and sharing videos as well as those who offer useful content for video marketing.
Filmora is a video creation desktop app, useful if you create YouTube videos regularly.
Along with the video creation platform, Filmora gathers the entire community, and support the community by offering good educational resources, tips, and other useful materials.
In addition, there is plenty of how-to-videos that can help in creating any kind of videos.
Filmora is in the ownership of Wondershare, a company founded in 2003, while the Filmora was released in 2015.
Everyone can film an ad.
Stories Ads allows you to create short promoting videos in just 2 minutes that are optimized to be published on Instagram Stories.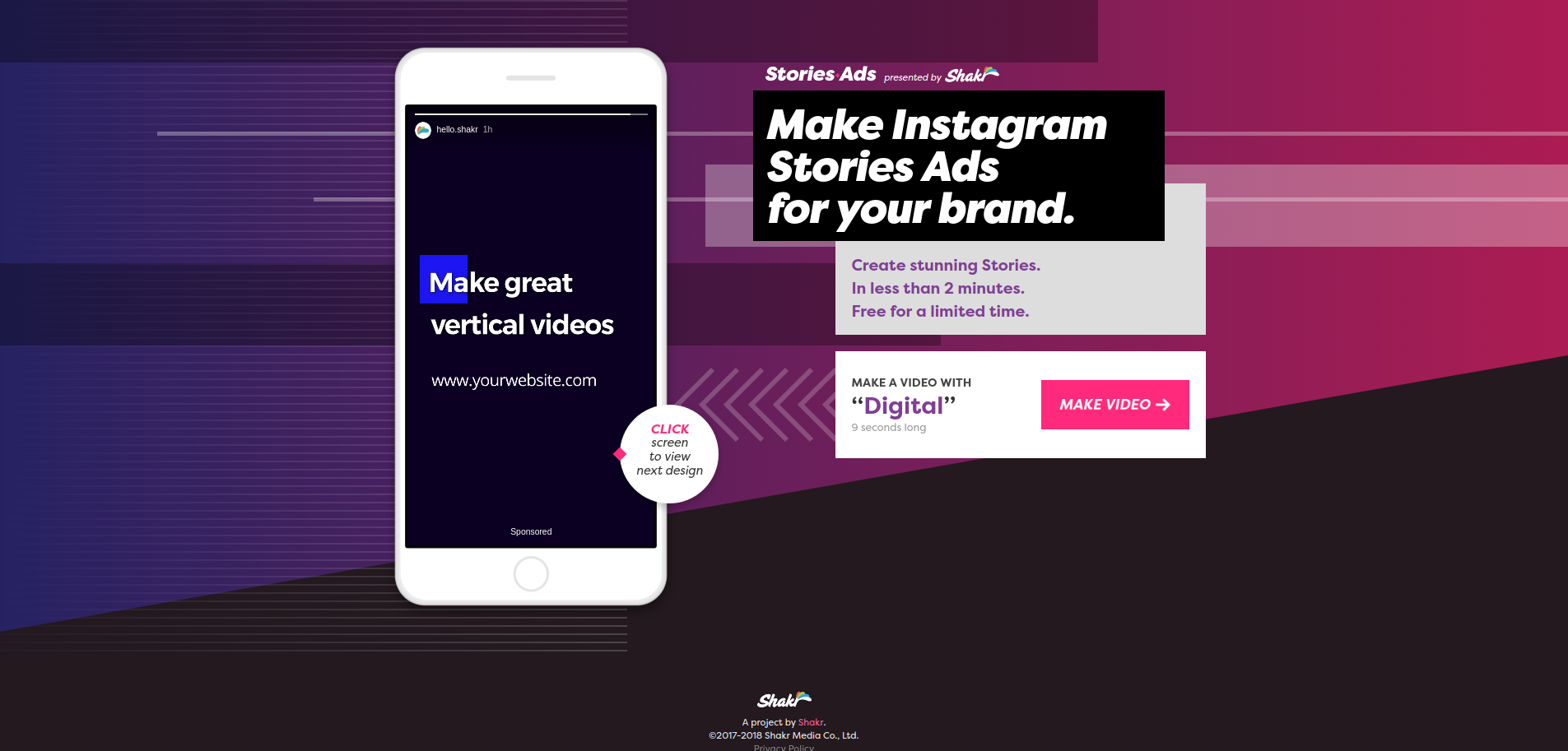 The biggest advantage of this video creating platform is for the amateurs who can create professional videos quickly and effectively. Second, this app offers solutions and templates to those who don't have any materials to work with.
Stories Adsis part of video software startup from Korea that created this app along with the inbound marketing platform HubSpot.
This video creating platform gives anyone an easy way to start a video marketing business.
People from Promo are strongly up for the fact that there is no need to invest in equipment to shoot your own material or to hire a video production company.
You can do the most with this app. Promo by Slidely has a large library of licensed video and music clips, useful to any business. Only a few clicks are enough to make a professional promotional video.
In addition, you can create photo galleries, slideshows, and collages.
Since the app was launched in 2012, 175 million people have been using it.
If you seek for a professional multi-camera production tool, SlingStudio is designed to help you create live video broadcasts for Facebook and YouTube.
The software offers features for recording, editing and monitoring feeds from four cameras. All three features can be controlled via an iPad app.
Therefore, this app can get easy taking live videos any time anywhere.
This platform is much like YouTube but all power of hosting and distributions is in hands of marketers.
Wistia allows white labeled streaming player embeds, as well as integrations with a variety of other products.
Since its release, Wistia has helped more than 300,000 businesses grow using video. Clients include Starbucks, Squarespace, Samuel Adams, and MailChimp.
Delmondo is a video analytics software platform that marketers can use to analyze the performance of live and on-demand videos across various social networks including YouTube, Instagram, Twitter, Snapchat, and Facebook.
Along with a creative studio, Delmondo offers help in how to measure, and monetize social media videos.
This tool is part of Facebook Live analytics which allows you to get data such as who watched with the sound on vs. who watched with the sound off, etc.
The formerly nFusz is now a Verb and they are decisive to move video marketing to the next level. The Verb is now fully equipped marketing and sales platform with many useful services. 
Taking into account many different target groups, Verb offers you to create your videos accordingly, add interactive tags on them and track their efficiency. 
You can include a different kind of tags which allows your customers not only to watch an interesting video but also to see and buy the product right away. 
This video platform allows you to speed up your marketing campaigns with ready to use video templates. The templates are already built on common ideas and scenarios, so you don't have to start from scratch.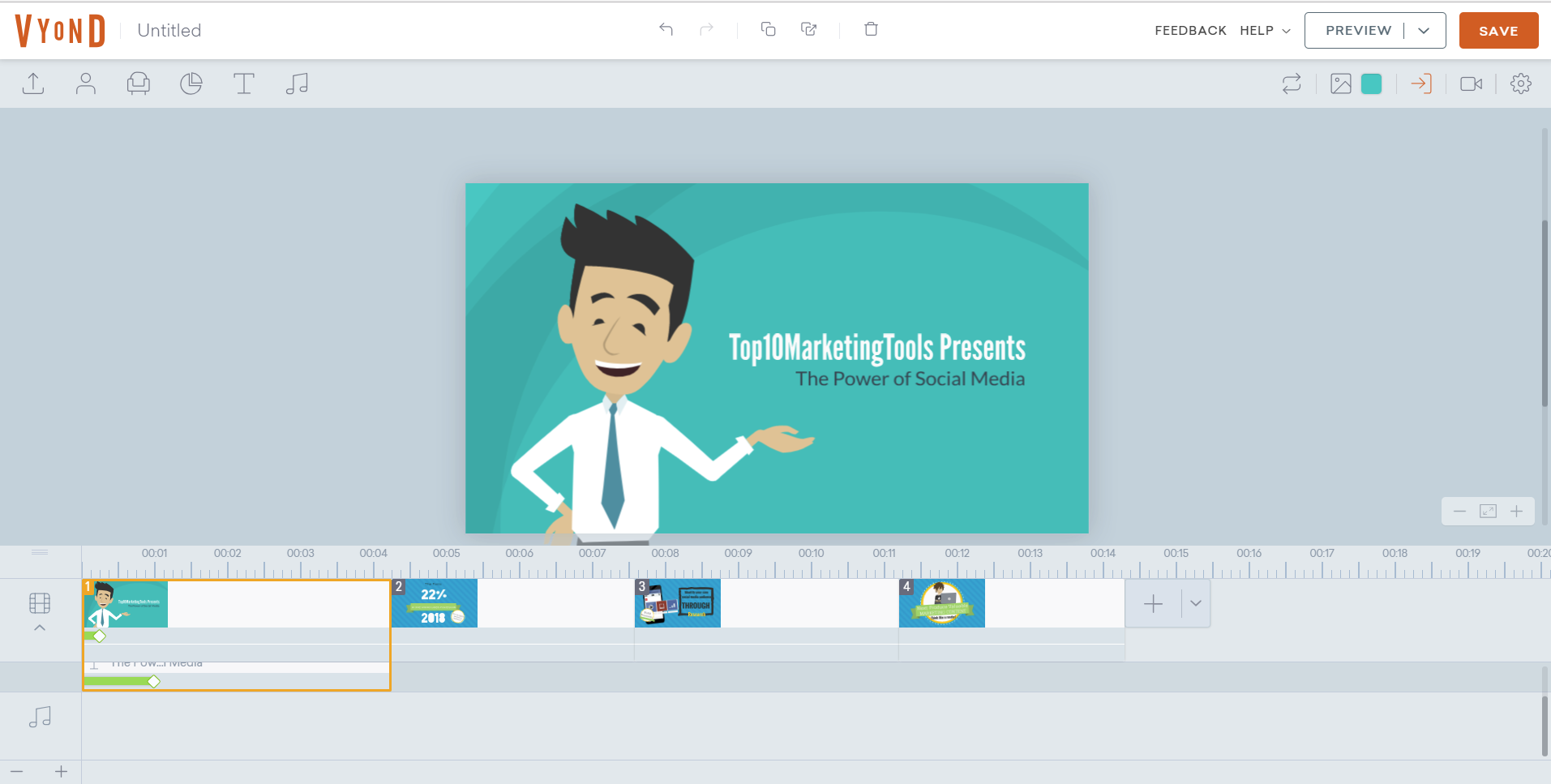 Whether you need a company culture video, eLearning explainer or simply an amazing video, Vyond allows you to create engageable and high-quality videos. 
You can also create short films with all characters and dialogues that fit any context and device. 
Vyond allows you to use your own fonts, images, and copy as a starting point. Besides short films and videos you can also create and share animated GIFs for email and social media.
If you don't have any experience in creating videos at all, this platform will do the work for you. If you need promo videos or shareable content for social media, Animoto can help you with ready to use storyboards. 
They offer a stock with over a million photo and video assets so every video can be easily customized to fit any kind of brand.
Magisto is one of kind AI-supported video platform that allows you to upload and design your videos while AI features sets their way to effectiveness. Artificial Intelligence in the Magisto features makes video editing fast and simple. 
When you upload videos and pictures to Magisto, the AI analyze your footage. The algorithms take a virtual look at all of the video and photographs you upload for the movie and breaks down analysis on three levels – visual analysis, audio analysis, and storytelling. 
Basically, what AI does, in this case, is setting up the proper emotion for your video according to footage and music you added. In the end, you can get to know which are the most engaging parts of your video. Magisto have also its distribution channel where you can promote your business. 
Whether you need a compelling video or business presentation, Powtoon can help you with its amazing features. They offer ready to use drag and drop templates which can save your time and still offer high-quality content.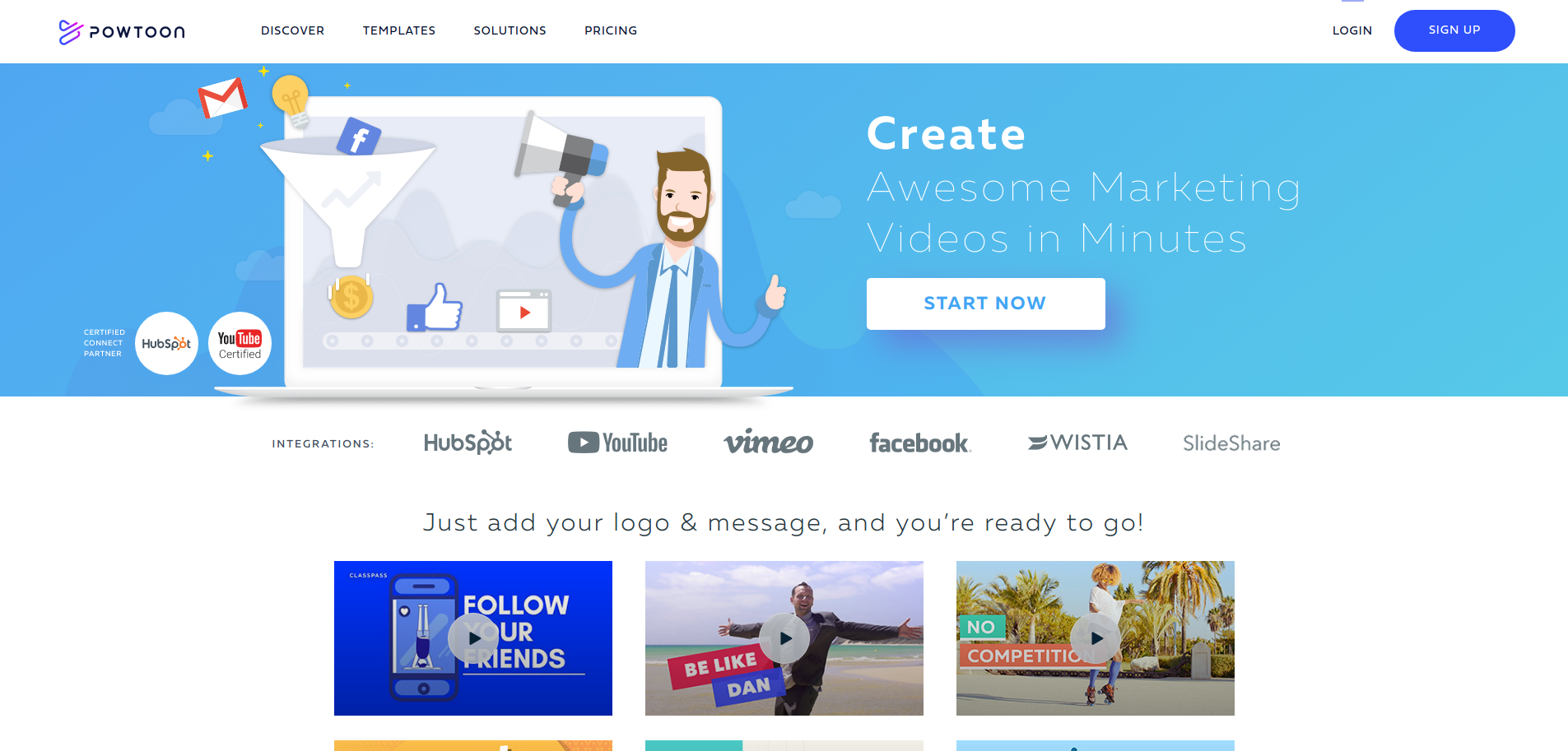 If you need a quick solution or if you don't have a designer in your company, Powtoon can be handy for a  vlog cover, YouTube ads or hiring video. 
InVideo is a video creation platform that enables you to transform any sort of content into a wanted video.
The platform doesn't require having any sort of editing experience and everything is based on drag&drop functions. You can choose from thousands of images, or automated voice – overs and stickers to create video and send whatever message you desire.
InVideo is mostly helpful to publishers as well as brands interested in expanding their audience engagement with interesting video content.
What makes this platform useful is a patented automatic video creation technology that makes video creation incredibly easy and fast.
Whether you want to create introduction videos, personalized follow up videos or videos to drive sales, Videolicious allows you to automatically create each of these.
Marketing teams, media companies and corporate communications teams can use Videolicious and create high quality business videos in seconds using just phones.
Plus: Video streaming startup platforms worth watching!
#13 Panda TV – Asia's YouTube
Considering that YouTube is not available in China and many other countries, there are more and more video platforms that offer user-generated content.
Panda TV was founded in 2015, and until then, more and more content is published.
TV Panda hosts videos from categories such as lifestyle VLOGs, gaming videos, singing, and even eating in front of a camera seems to have become a trend.
Live.me allows its users to broadcast live pretty much anything they want to their followers. On the other hand, due to highly flexible publishing terms, each user has the freedom to post anything.
Still, marketers can use this platform and inform their audience about any kind of event with live broadcasting.
What is great with this app is that offers video filters and stickers along with the option for streamers to customize their video feed.
It is similar to Live.me which means that anyone can post anything.
Conviva offers content viewing trends and allows its users to better understand this data by providing actionable data-driven analytics.
Companies such as HBO, Sky, and Turner are using Conviva's video AI platform to get insight into user data.
To summarize,
The popularity of the video content is here to stay, therefore, investing in a proper platform or app is a wise thing to do.
Whether you need to create, publish or share ads, short videos, or live video, more and more video startups are breaking through offering an entire palette of efficient features and options for quick and easy video solutions you can use for your business.
What about you? Can you add more video startups or platforms to this list?
You can also create short films with all characters and dialogues that fit any context and device. 
Vyond allows you to use your own fonts, images, and copy as a starting point. Besides short films and videos you can also create and share animated GIFs for email and social media.