The current pandemic of coronavirus has affected the entire population and each health care system. Still, the circumstances that came along have affected our ageing population the hardest. Having them at home, isolated, some even all alone have led us to ask the question – who is going to take care of them?
At the moment, health care workers and providers are at the frontlines. They are dealing primarily with how to secure treatments for numerous coronavirus patients.
Unfortunately, elderly people who face other ill conditions might be left to wait to receive help. Still, we can say that organisations and institutions are doing their best to meet their needs.
Furthermore, due to coronavirus preventive measures, people around the world practice self-isolation and feel different consequences of restrictive measures. Some are even left living on their own.
It is hard to imagine what that means for those already unable to do so and cope with a new situation.
Yet, the most challenging period for the UK's health system doesn't end here.
Having been in the healthcare sector since 2000, Tatjana Golubovic, a founder of MyWorkMode, has witnessed many changes in the health sector.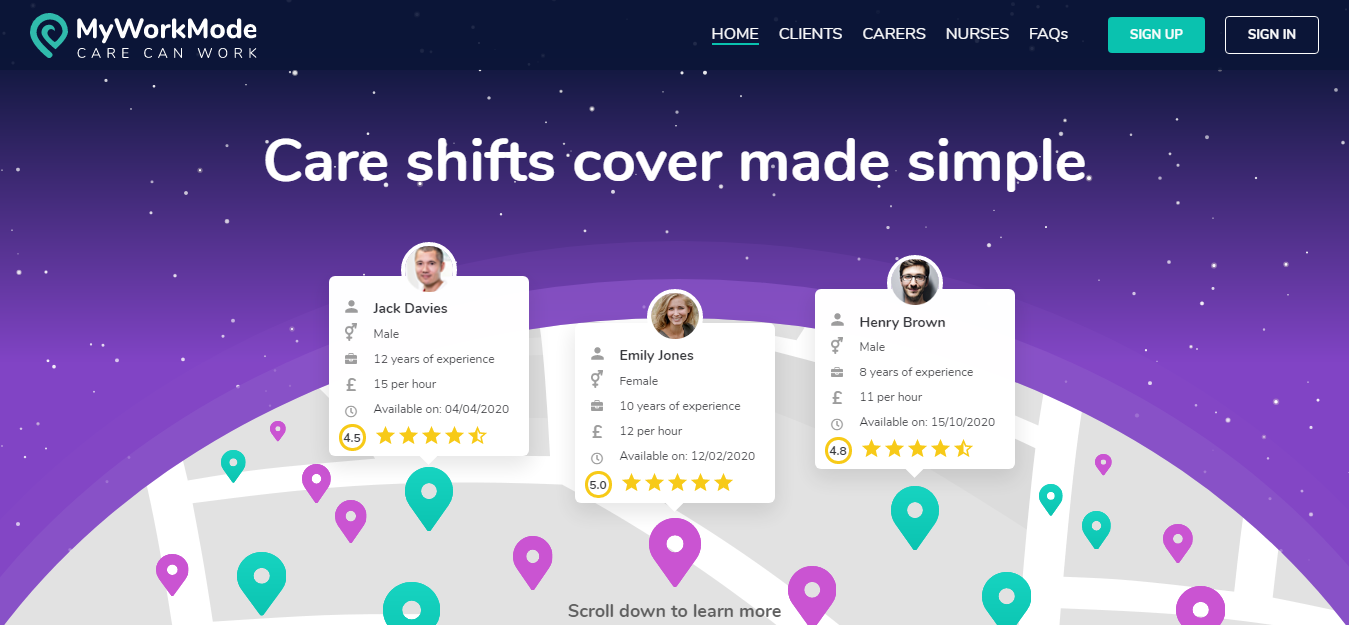 Long before the virus outbreak, she had pointed out that decreasing numbers of healthcare workers are pressing the health sector extremely hard.
With coronavirus in addition, staff shortages are now rising even faster. That resulted in the urged need for any available health carer.
Health care providers are now reaching out for health care workers outside of hospitals to help as much as they can. Still, struggle to find carers right for the moment in which we need them is omnipresent.
MyWorkMode answers to both of the challenges and offers to secure extra staff and home health care.
A year ago we started to work with Tanja on a new healthcare IT solution that will make health care available to anyone, MyWorkMode. Now, the platform is also on the mission to provide health care workers anytime and anywhere to everyone.
MyWorkMode is a healthcare IT solution that can help fulfill the need for health care workers primarily.
Health care providers are able to book the nearest available carer in their community, while carers can set up their working hours and payment rate.
Such a proposal allows carers to use their spare hours to earn extra money. At the same time, care providers can always find available and vetted carers to cover shifts or jump in when it is necessary.
On the other hand, those who need health care at home can also book the nearest carers and get the needed help at home.
We asked Tatjana, a founder of MyWorkMode to tell us more about how MyWorkingMode fits the current need in the health care system in the UK.
We wanted to know what are her plans in the following period.
ED: MyWorkMode is a disruptive solution to finding vetted and professional healthcare workers. What was the most impressive feedback you got so far from your users?
Tanja: We got a lot of feedback from our testers and users on how appropriate the platform is for the underfunded care sector. But the ones that stood out are how easy it is to use, also affordable and fast.
ED: What would you name as the biggest success so far regarding MyWorkMode?
Tanja: Getting our brand known not just here in the UK but much wider. We have had people contact us from India, UAE, Europe, and Canada.
ED: Which benefits has this healthcare IT solution brought to your profession?
Tanja: Booking care shifts on demand. A further benefit of the platform is that it removes the inherent problem of high agency fees.
ED: Which feature of the web app is an advantage in everyday work?
Tanja: The mapping of the available carers so that by simply inputting the postcode the client is able to visually see all the healthcare workers in their local area. They can also see their qualifications, experience, specialist skills, and their ratings.
These can then assist the care companies and individuals at home to make the right decision when selecting the person best suited for their needs.
And of course, the fact that the chosen carer can be arriving to undertake the work in less than an hour.
ED: How would you describe the work on this healthcare IT solution so far?
Tanja: The team at Eton Digital have been working together with us not only on creating the platform from an idea but ensuring that the final product delivers without any fails every time. There are ongoing checks and tests performed by the team and any raised query is addressed immediately.
We are so lucky to work with such a knowledgeable and professional team.
ED: MyWorkMode platform was launched with an idea to ensure care shift cover is affordable for everyone, whilst care workers get paid fair hourly rates. Where is MyWorkMode now with that mission?
Tanja: We are constantly reaching out to as many clients (organisations and individuals) as possible via our social media and paid for marketing. They can benefit from using our experienced and professional care workers without paying high agency fees.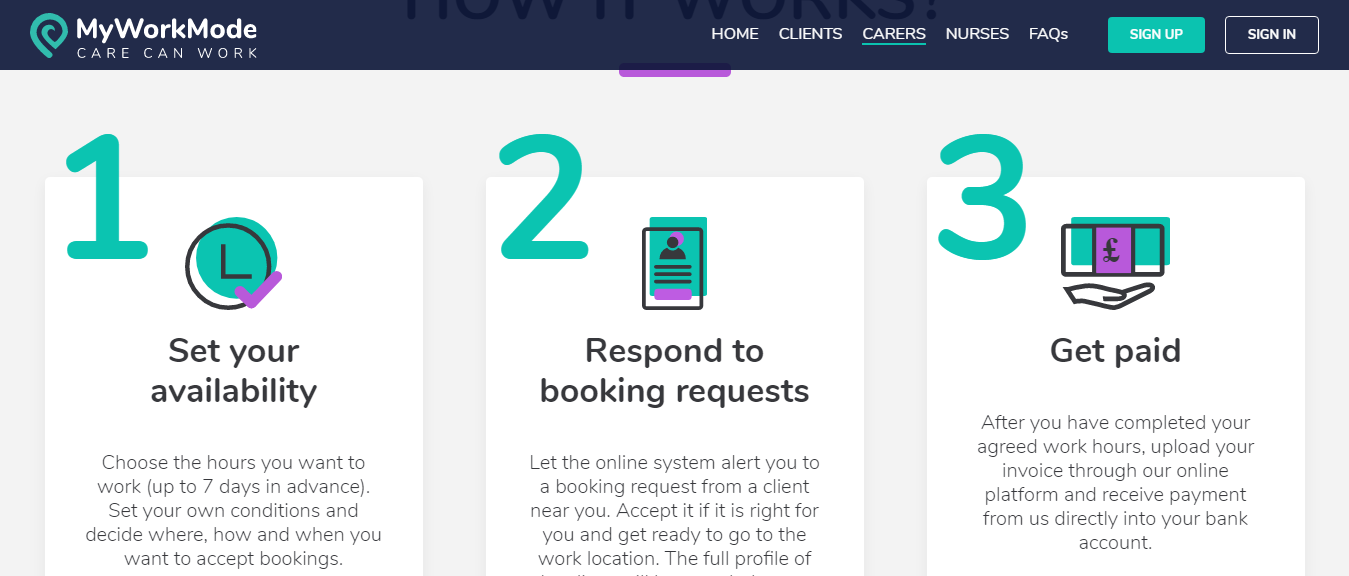 At the same time, our carers earn with us better.
They are not only set up their own hourly rate but take home 100% from their completed shifts as we don't take any commission.
We are planning to go to the UK wide by late summer.
ED: Has the platform fulfilled your personal expectations?
Tanja: The platform design and its functions have been a real winner so far. As we are still in early stages only after a year or so of continuing to engage with our users I will be able to have a clearer picture.
ED: What do you see as the biggest challenge?
Tanja: As with any startup, financials are the biggest challenge. Accessing grants has not been very easy. It has taken us longer than planned to get to where we are.
We are now in a position to take MyWorkMode in front of investors that will help with reaching a wider audience. Also finding the right team members that will fit well with our mission and our vision.
ED: What are your plans in the next couple of years?
Tanja: The plan is to add the nurses on our platform, as well as to expand the functionalities and improve the system where needed. Also to take the platform overseas.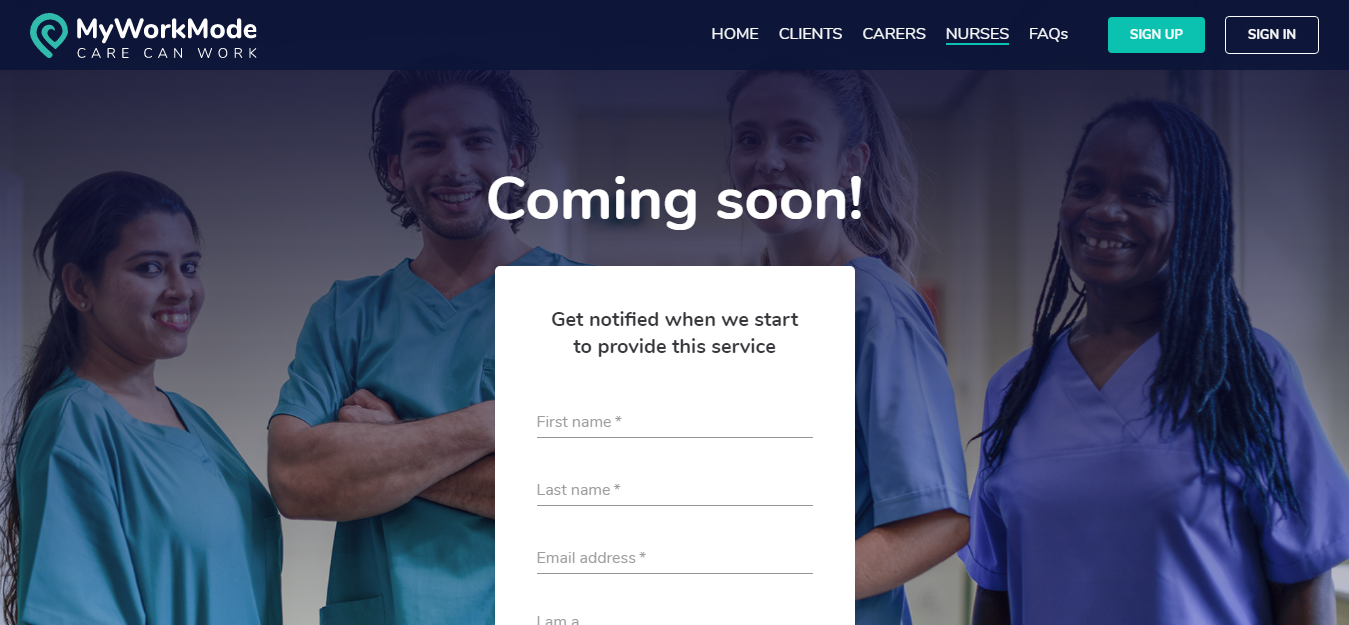 We are grateful to Tanja that she entrusted creating the MyWorkMode healthcare IT solution to our team. We will gladly continue our collaboration, making sure that care can work for everyone.
Interested to find out more how the platform works? Visit their website.