One of the most frequently asked questions in the light of recent global events is the one related to how much we know about COVID-19 and whether information we have is reliable and trustful to be able to help us to stay safe, protected and healthy, and above all, help each other.
And while some are working on the front lines, like health workers, others are organising to work on mutual web and eLearning projects and help gather data or provide a solution that can help.
We wanted to contribute as well and the best way we could help was to design and develop an eLearning platform about COVID-19, Corona eLearning, that will help anyone get real information from reliable sources and get practical advice.
But we are going one step further helping our younger generation face the changes and new situations in a more healthy way.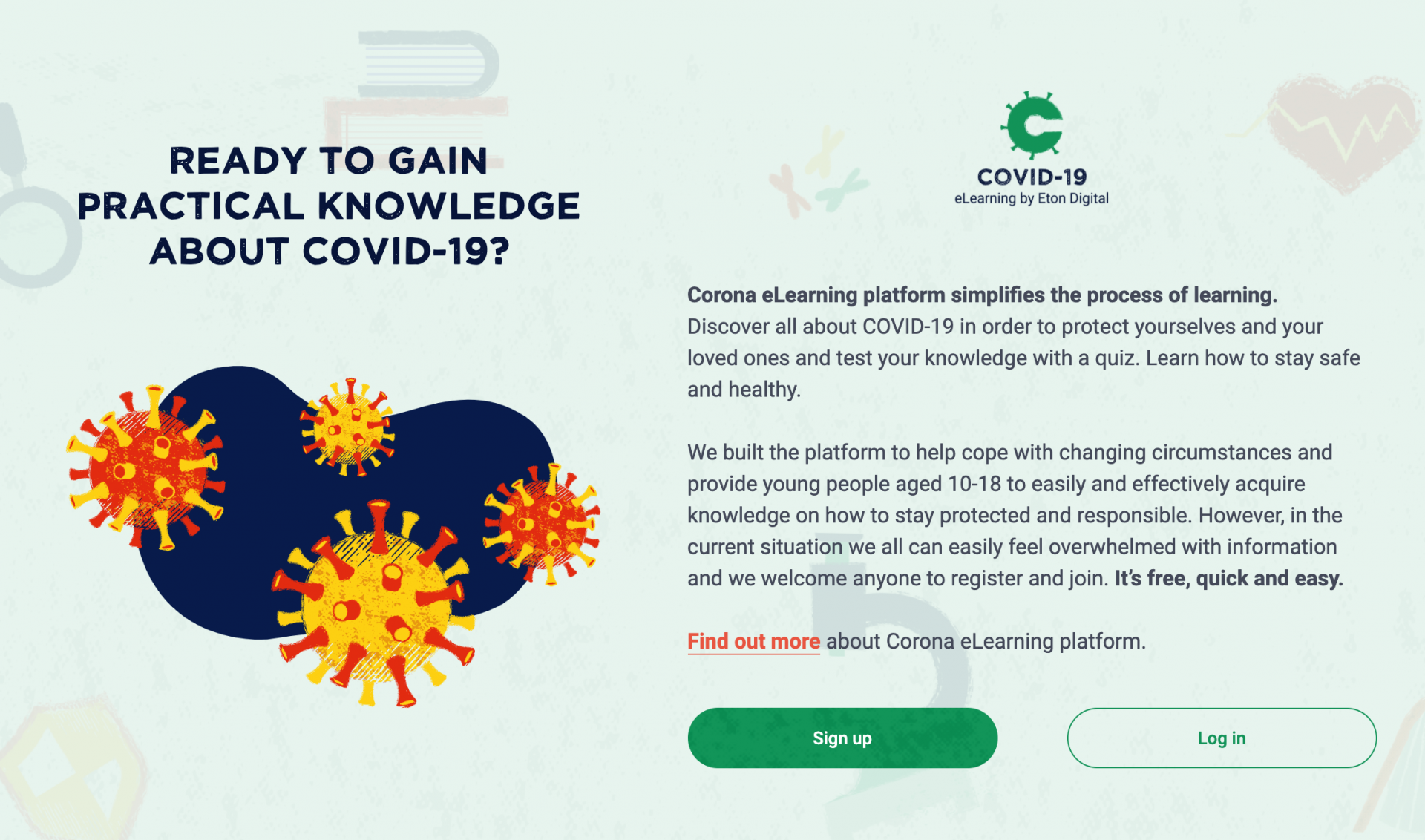 While adults can more easily stay informed, our younger generations might have a hard time to understand and act in these new circumstances. We wanted to help them.
Corona platform is designed and developed to help provide young people aged 10-18 to easily and effectively learn all about COVID-19.
Why did we develop the eLearning platform about COVID-19?
The answer is simple, we are always willing to help and share our knowledge and have always been supporting projects and ideas we believe can make a difference. We are also using every opportunity to give back to the community.
As a web agency that specialises in developing corporate elearning solutions, eLearning for health platforms and web applications, among other types of projects we work on, we have recently launched our second internal project, EDeL platform and used it to further develop and create Corona eLearning.
Needless to say we have a great team who was working on this project and did amazing work in short time. Congratulations to everyone!
What is Corona eLearning?
To stay informed, one should have quick access to relevant sources. Moreover, to have an opportunity to acquire complex knowledge easily and to be able to apply and use that knowledge quickly.
To help a user gain new skills and knowledge, we have organised the course in a clear and simple way both in content and graphics. This enables a learner to effectively track progress, review lessons and always know in which stage of the learning process he is.
How can you learn with eLearning platform about COVID-19?
The course has 4 different PHASES where each phase contains two STAGES. The stages are exploring the topic further by organising the information using text, video and images within the pages. Each topic can have many different pages that go deeper into the subject.
The platform provides an easy access to content that simplifies the process of gaining new knowledge and testing it afterwards immediately.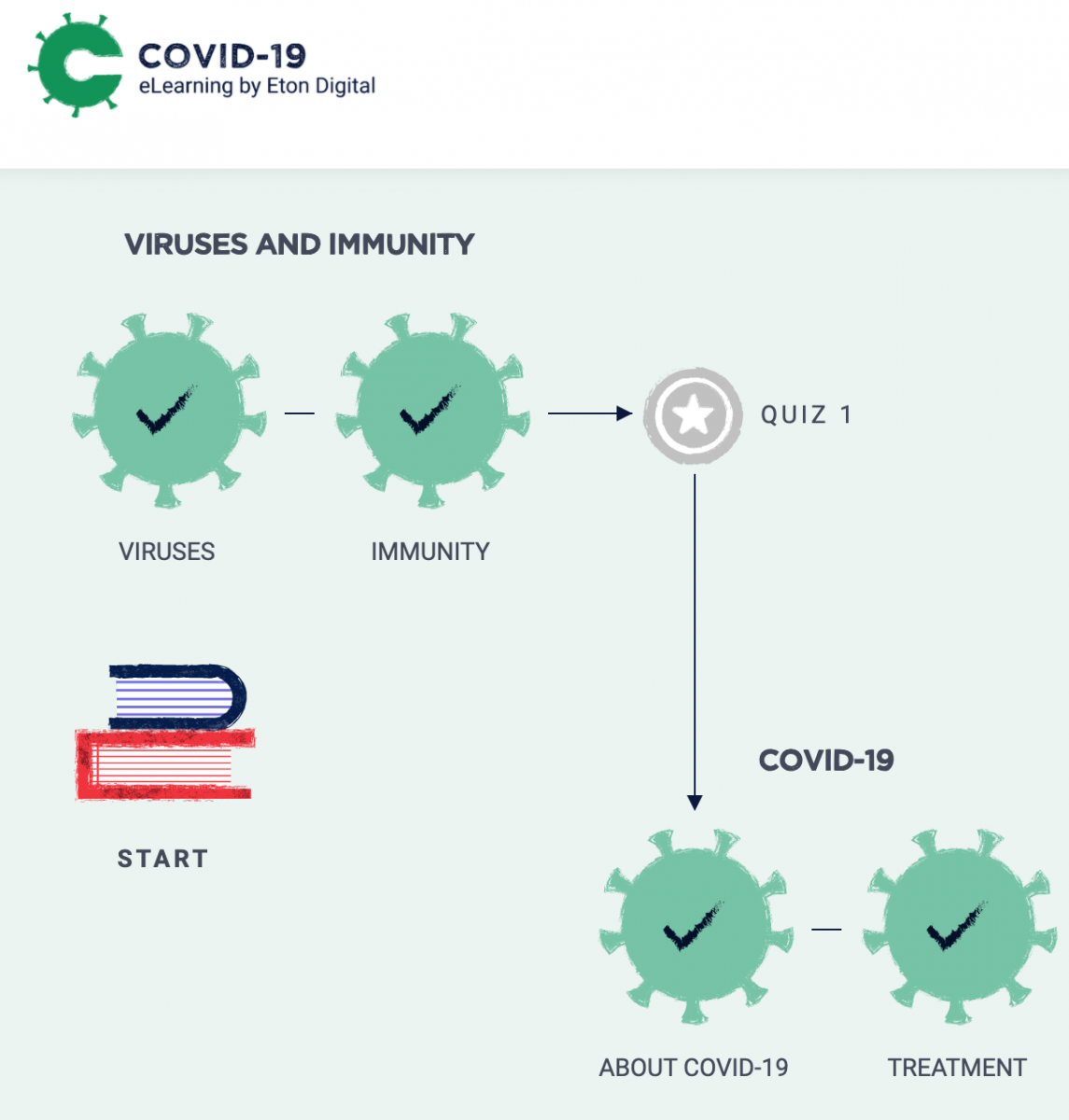 Learning in small bits is one of the easiest ways to learn
Corona microlearning platform helps you to acquire knowledge at preferred time and place. One can learn everything about COVID-19 by watching a short video or exploring graphics and infographics and content.
The editor provides user friendly content organisation thus the content can be easily scanned when a user wishes to go over lessons. Using different types of content provide in-depth information about each topic.
Take a quiz to assess knowledge
One of the main benefits of the eLearning platform is that knowledge can be easily tested. Furthermore, a user cannot continue learning unless he successfully passes the quiz.
Once a learner finishes each of the phases, he can answer the questions about the topic he was learning about.
By testing the knowledge immediately and answering questions in the quiz, learners can be sure what parts of the topic they didn't understand and what lessons they need to review.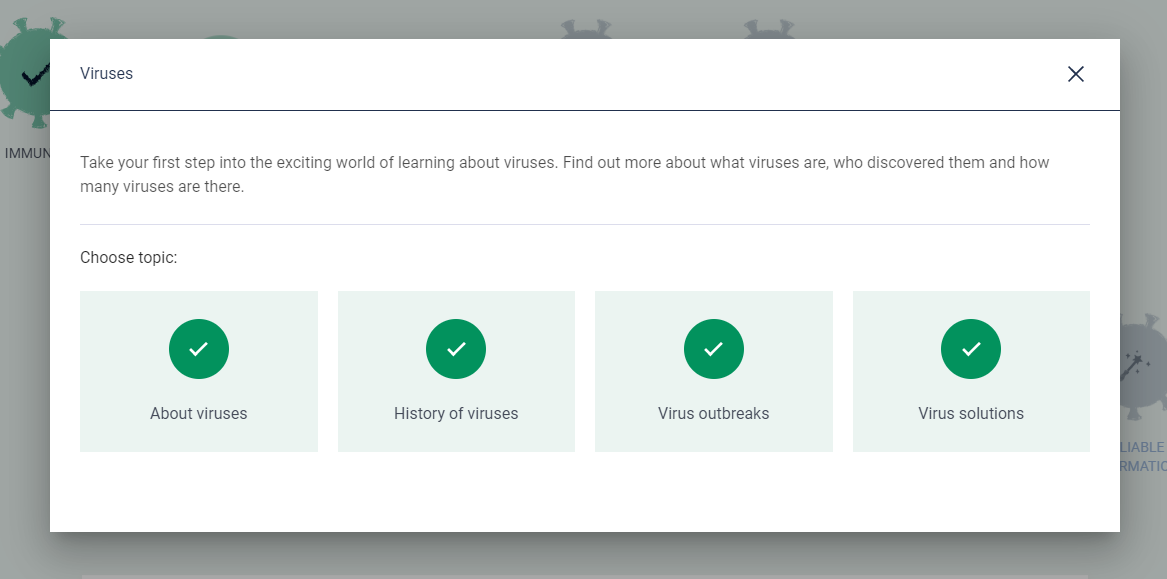 The results of the quiz are shown as percentages for the correct answers. Learner's awards are either bronze, silver or gold medals, based on their accomplishments. Badges are also received based on the achieved results.
All achievements, that is the results of the quizzes, medals, and badges one have received can be easily accessed on the user profile. When all 4 quizzes are completed successfully, a learner earns a certificate which he can download from the user profile.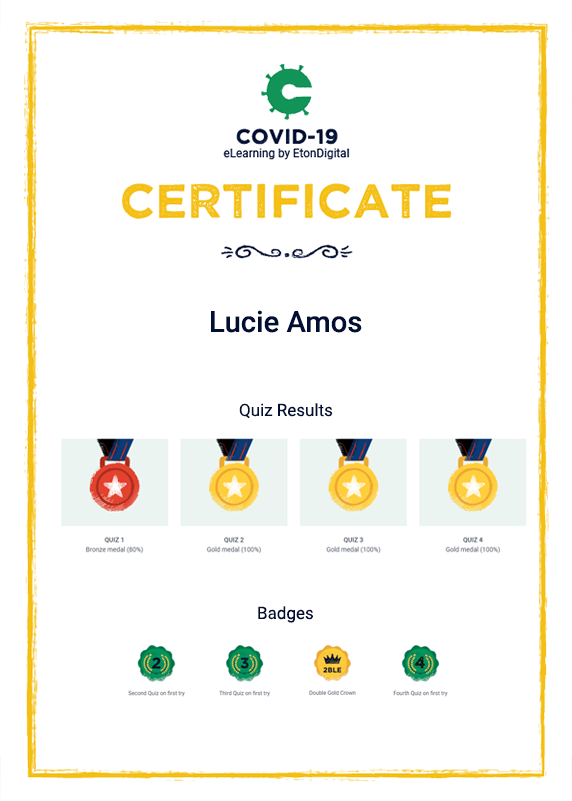 Anyone can join and learn
The platform is open to anyone who does not only wish to learn more about COVID-19, but also about viruses, immunity system and fake news in terms of how to recognise irrelevant sources and news about pandemic and put a stop on false information distribution. The registration process is easy, quick and free.
How can we help?
Positive wellbeing can help us all better understand and cope with the new coronavirus disease, and what's better than being equipped with knowledge on how to stay healthy and help yourself and your loved ones?
No-one could have imagined that we would face a pandemic with a start of the year, yet we are all experiencing the changes happening in our lives. We all need to adjust to new situations. But together we can make a difference.
We welcome you to share information and news about Corona eLearning platform with anyone who can benefit, whether individuals or organisations.
If you think we can further help in any way, reach out or check out our other internal projects!
If you have any questions, contact us, we would be happy to share our elearning platform development experience and help you with your project.