Corporate eLearning solutions and tools are attractive, cost-effective, flexible and time-saving.The past years established a stronghold for the entire eLearning industry. The industry finally started seeing great benefits from it, all thanks to the interests of tech-savvy millennials and generation Z.
Onto satisfaction to the majority of the modern workforce, companies will push the transformation of the eLearning industry even further and many benefits will follow those who tend to involve themselves in the eLearning businesses.
Still, considering the rapid development, companies will have to apply certain features or include popular technologies if they expect to reap the benefits.
Let's see what features and technologies corporate eLearning solutions should consider developing and use.
#1 eLearning meets immersive technologies
Providing an engaging and attractive learning experience has become more important than ever. For a while now, the focus was on the use of immersive technologies.
Eventhough they are in the early stage, the implementation of augmented reality (AR), virtual reality (VR), and mixed reality (MR) are already making a significant impact on how learning is perceived.
The named trio will significantly change the eLearning landscape in the years that come. AR is going to be the most prevalent immersive technology used for eLearning solutions for businesses and learning apps. With AR technology, you can provide exciting learning materials and vivid images that can positively affect any learning experience.
For example, surgeons can use AR to prepare themselves for surgery. Construction engineers can use the previews to learn more about a project they are planning to build. The benefits for insurance companies are great as well. They can use augmented reality to train their inspectors by simulating any sort of disaster. All they need to do is to choose a real house that was damaged as an example, then overlay it with suitable graphics. Expected results allow them to train investigators on how to determine where and how the damage had started.
#2 Abounding VR empowers corporate elearning
On the other hand, VR brings learning to the next level and decreases the gap between theory and reality. As we learn best by doing it is no surprise that by bringing the use of 360-degree photography, real interactions, and other interesting elements in eLearning, success is almost guaranteed.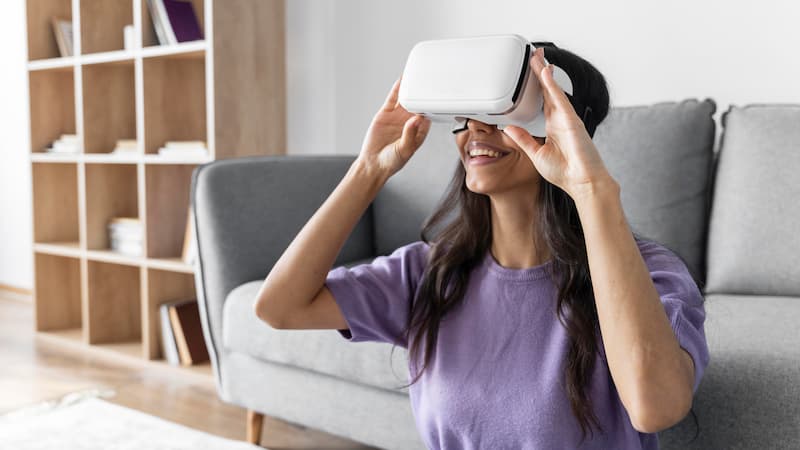 At the moment, VR is available mostly in military and medical niches where high tech training is required.
According to various eLearning blogs, it is predicted that VR will prevail among modern corporations. Specially among those that tend to ensure modern approach and corporate elearning solutions and training to the remote workforce.
Both VR and AR will continue to affect how we experience eLearning.
#3 Learning impact makes the difference for corporate eLearning solutions
The fact is that a new generation of employees seeks good learning opportunities from their potential employers. Most of the time, their career choices depend on whether those options are available to them or not.
The ability to measure the learning impact of learning programs eLearning solutions, tools, apps or services is crucial. Ranging from learning progress reports, transfer of learning techniques to the tests, organisations will not only have to measure the ROI of the courses they offer to employees but training effectiveness as well. The perfect example of such knowledge-sharing platform is the AMBIT training, created to engage learners while providing them with all the necessary information to perform their job properly. Everything can be measured and assessed in order to provide learners with only the best content to learn from.
Every eLearning solution for business will have to take into consideration effective evaluation tools. Measuring the effectiveness of training or a course can provide valuable data and results for future business strategies and business development, which is only one of the many online training benefits for employee training and development.
#4 Adaptive, intuitive business eLearning is a real need
Intuitive and goal-oriented learning experiences are as important as personalization. Companies will have to consider adding more intuitive algorithms that analyze each learner's learning habits to create the most effective training.
Learners will tend to choose the platforms that take them through the learning paths based on their specific preferences and needs.
Adaptive learning will continue to advance and develop. By providing effective training for any individual, services and platforms that enrich the learning experience will attract both decision-makers and users.
#5 Corporate elearning solutions require intuitive Mobile learning features
So far, mobile eLearning solutions have been proved as flexible in many ways, from learning to using. Predictions are that mobile learning still has cards up a sleeve. AR and VR will definitely step into m-learning and enhance the impact of mobile learning materials.
Elearning companies are in a perpetual race to provide outstanding solutions and mobile learning will continue to rise and expand along with immersive technologies.
#6 Social learning at the workplace guides corporate eLearning solutions
Over the years, a simple collaboration between colleagues at workplaces has been transformed into efficient, attractive and cost-effective learning. From informal chats, workshops and knowledge sharing sessions, learning can happen at the workplace in many interesting ways.
Social learning considers accessible training sessions that are open, and attractive thus applicable to the modern workplace due to many available communications tools.
There's no doubt that elements of social learning will find their place in the next generation of LMSs.
#7 Microlearning is an attractive way of eLearning for businesses
Today, people are checking their phones 9 times an hour. The competition that fights for their attention strikes with all their assets. It is no wonder that even learning content has been shredded to fit the surroundings. In addition, modern learners are always on the move and they don't mind learning wherever they are.
Microlearning has found its way naturally. The bare attractiveness of bite-sized lessons that fulfil the needs of modern learners remains an unbiased trend that will continue to grow. Explore more benefits of microlearning platforms, see the solutions we have integrated into our microlearning platform EDeL.
#8 Soft skills are an important part of business eLearning training
Besides work-life skills, soft skills became a necessity that many organizations find important to include in their eLearning programs. For quite some time now, soft skills like problem-solving, communication, leadership, and collaboration have taken advantage of hard skills, helping employees to succeed across roles.
On the other hand, soft skills incorporated into business eLearning will add to the race of gaining a competitive advantage and retaining top talents.
#9 Videos come in a timely fashion for the eLearning industry
The popularity scale for videos will change and interactive videos will take precedence over the traditional ones.
Chasing the learner's attention is a bottom-line task for the eLearning business. With all its benefits, video-based learning tools will become an important ally to any eLearning platform and soon a standard model of eLearning. It's simple: interactive videos will change the way learning is grasped.
Videos also promote a quick distribution of knowledge while video content is easy to absorb and can also come in bites.
Moreover, interactive videos will go together with likewise trends, and we can expect the merge of video with other trends like microlearning and mobile learning.
#10 Gamification continues to make content attractive and easy to learn
Gamification turns dull and comprehensive content into a fun and attractive experience. A demand for playful learning features will continue to direct the game-based learning market. Numbers are showing that gamification won't leave the market any time soon, and its revenue will only increase.
The famous language app Duo, for example, is designed to boost your motivation for learning by enabling you to collect points and earn badges. The most persistent learners can progress quickly and unlock more options for a greater learning experience.
Gamification makes course content appealing to learners, boosts motivational levels, and enhances the retention of the content.
However, when used in corporate training, gamification helps foster an emotional and intensive learning experience. So far, more and more organizations use gamification to improve employees' skills in an engaging way.
Bottom line?
E-learning solutions for businesses should think in terms of good implementation of immersive technologies, smart solutions, flexibility, and responsiveness to ensure that eLearning business stays competitive on the market.
Still, a carefully crafted approach and strategy will bring you desired results no matter the nature of your eLearning business.
If you are developing an eLearning solution or products, your next step is to ensure a stronghold made of well-researched data that will allow you to see which trends are the most applicable for your eLearning solutions for business. In case you need more inspiration, eLearning blogs are always a great start.
Want to create the best possible product? We are happy to share our custom elearning platform development experience and business knowledge with you.
Explore our case studies and elearning for health projects, get a free quote and let's start building your elearning business.