Long gone are the days when the only sources of information teachers and students had about learning and e-learning and their trends were sparse and insufficient. Nowadays there are many excellent resources that offer interesting insights, fresh news and detailed guides on everything related to the e-learning industry.
One of the most valuable resources regarding learning are eLearning blogs. Not only do they offer a variety of content types (short news posts, detailed how-tos, videos, podcasts, etc.), but also a new and fresh perspective on how learning and e-learning industries are growing and improving.
We explored and collected a list of the best eLearning blogs at the moment, so let's begin.
eLearning Industry
Being one of the top Google results when you search for e-learning websites, eLearning Industry had to be a part of this round up. eLearning Industry takes pride in being the largest online community of e-learning professionals and experts, and it was created as a knowledge-sharing platform to help anyone working in this industry to stay up to date with the latest industry news and trends.
eLearning Industry contains different content types that cover topics such as learning management systems, trends, and best practices, so learning professionals and anyone interested in these topics can easily access them. In just a couple of clicks you can find out what it takes to design an e-learning platform or how businesses benefit from e-learning platforms.
eLearning Industry also contains a list of different directories. You can find voice actors, course marketplaces, authoring tools, learning management systems and everything you may need for your e-learning project. Also, you can browse through a myriad of events (webinars, conferences, seminars, workshops) which can help you improve.
This website is definitely one of the best e-learning resources, so it is definitely worth checking out.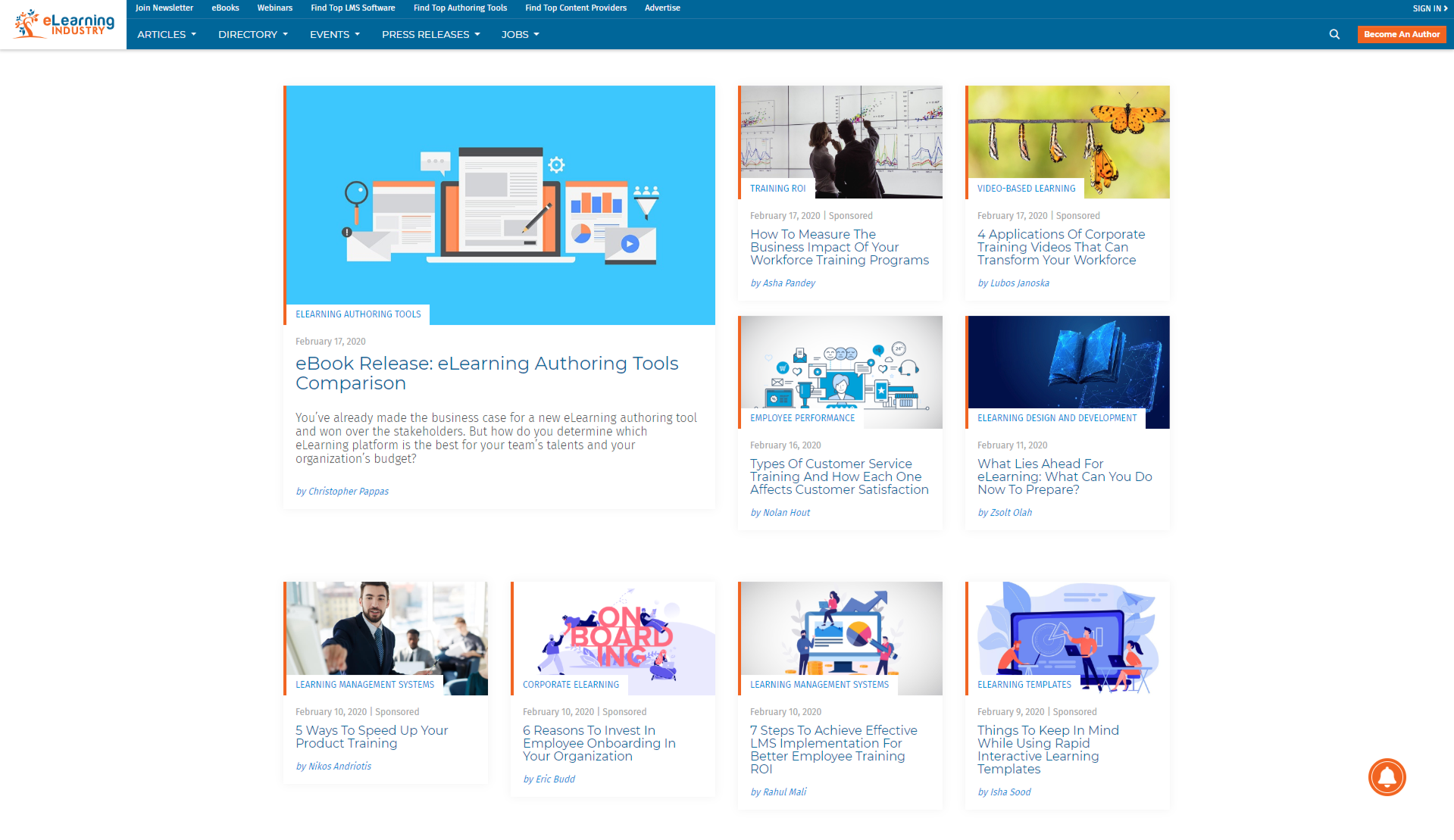 The eLearning Guild
The eLearning Guild is one of the oldest communities for e-learning professionals. It is a member-based organisation, so everything posted is carefully curated. If you want to become a member, you can join for free and get access to exclusive content and different discounts.
Curated content available on this website covers many topics. You can get the latest info on augmented reality, games, mobile learning, training strategies, virtual reality or professional development. These topics are only one small part of the articles you can find here and you can be sure that whatever topic you have in mind – the eLearning Guild will have the right article for you.
The eLearning Guild also contains a list of events and a job board. If you are interested in finding a job in the e-learning industry, you can use this website to find it.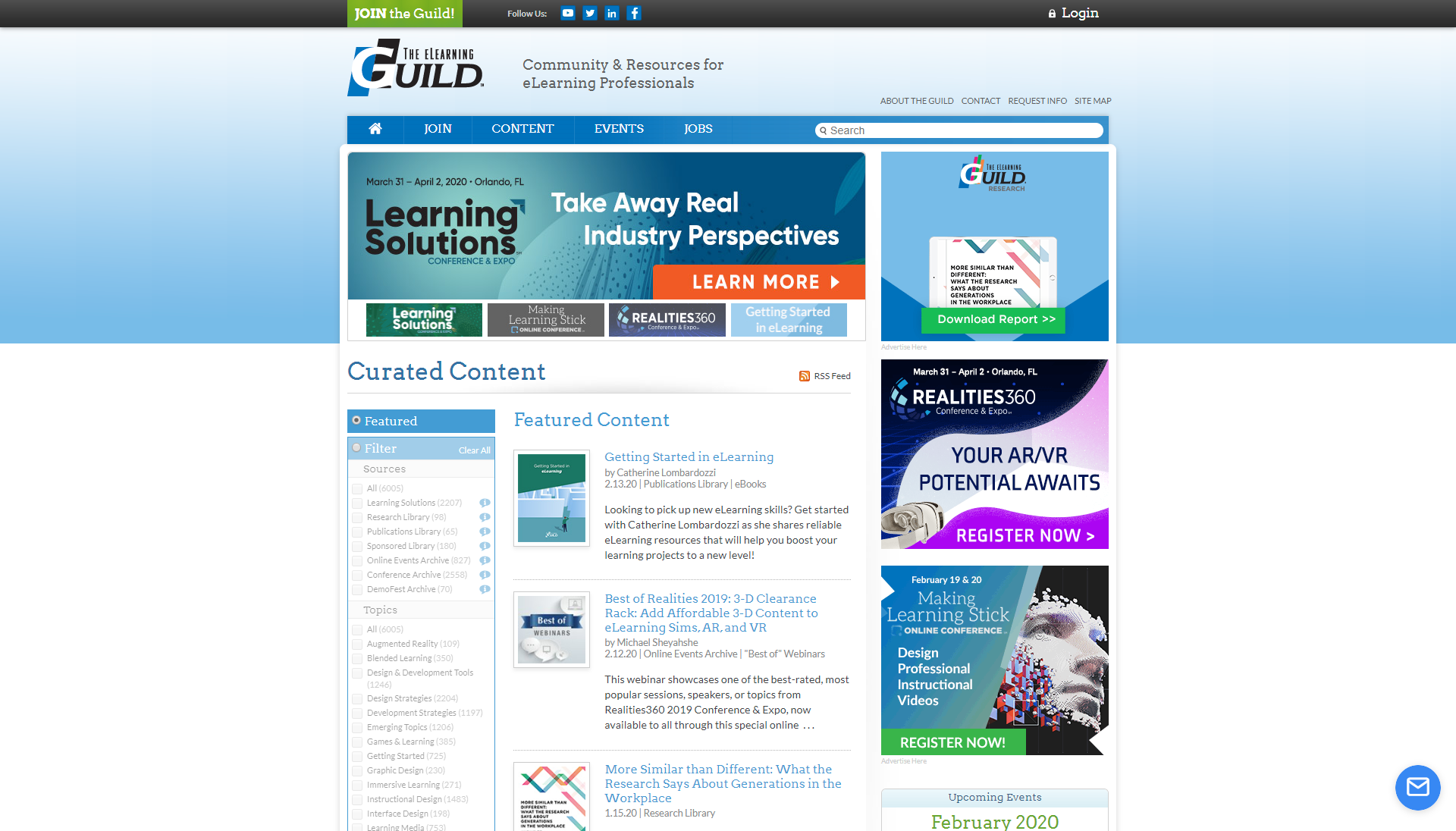 Training Zone
A UK-based blog that covers a range of topics (including learning technologies, performance, leadership development, skills, etc.) is a go-to online destination for many learning professionals. You can enjoy reading a variety of articles that will suit your every need.
One thing that is particularly interesting regarding Training Zone is that this blog offers a glossary page that covers the most important terms used in e-learning. This glossary can be very useful for both beginners who want to get a grasp on e-learning and experienced e-learning professionals who want to quickly revise some e-learning basics.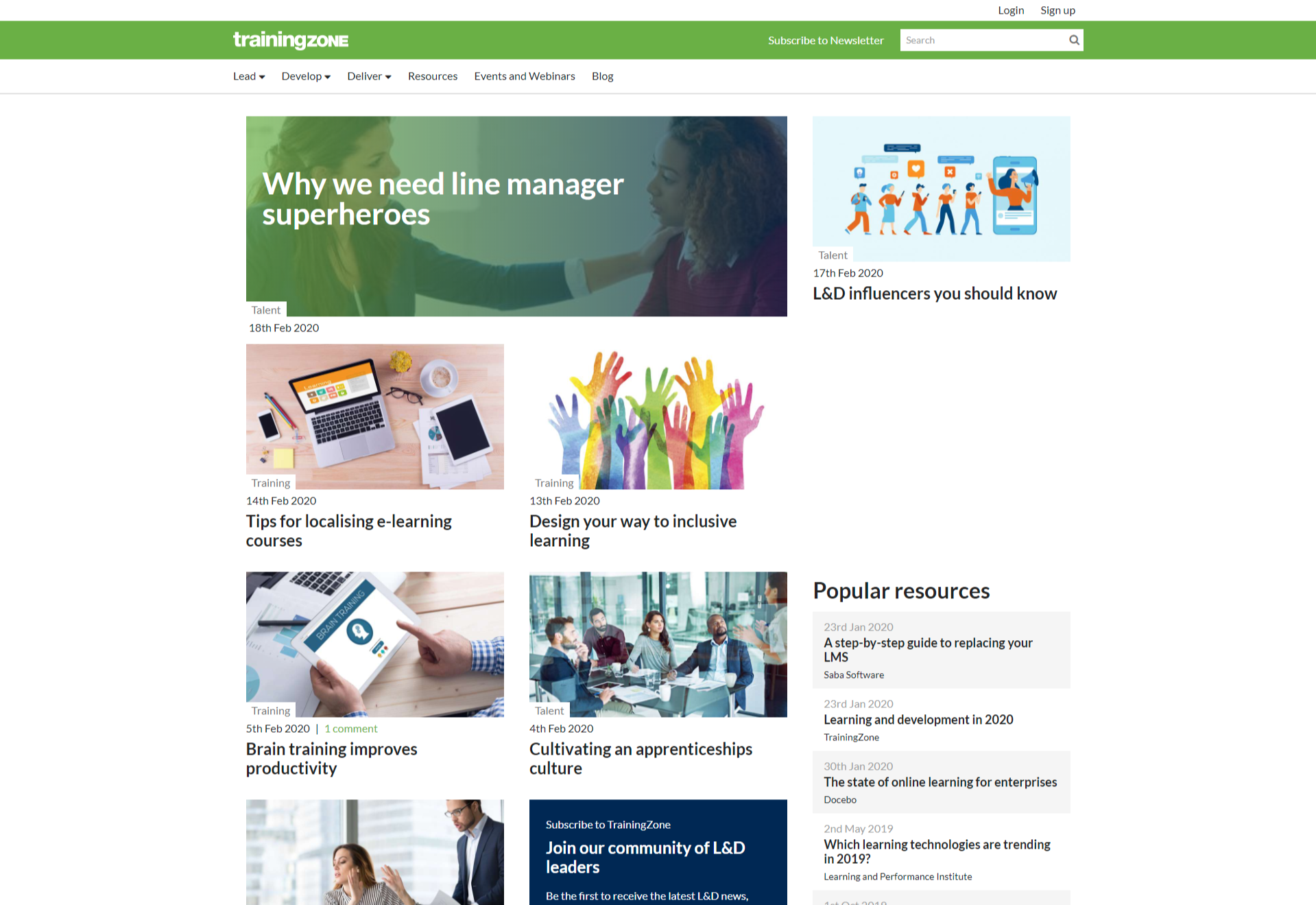 The Rapid e-Learning Blog
As one of the oldest blogs about e-learning that is still very active is the Rapid e-Learning blog. This blog is still one of the most popular e-learning resources because it offers practical and real-world tips.
There is a huge variety of tips and tricks that you can find on this blog, from how to design a course to audio and video tips. You can even find the article on rapid e-learning 101 where you will be brought up-to-speed with the basics of e-learning and how to kick start your first e-learning project.
So if you are looking for a blog that will give you practical and effective tips and tricks, make sure to take a look at the Rapid e-Learning blog.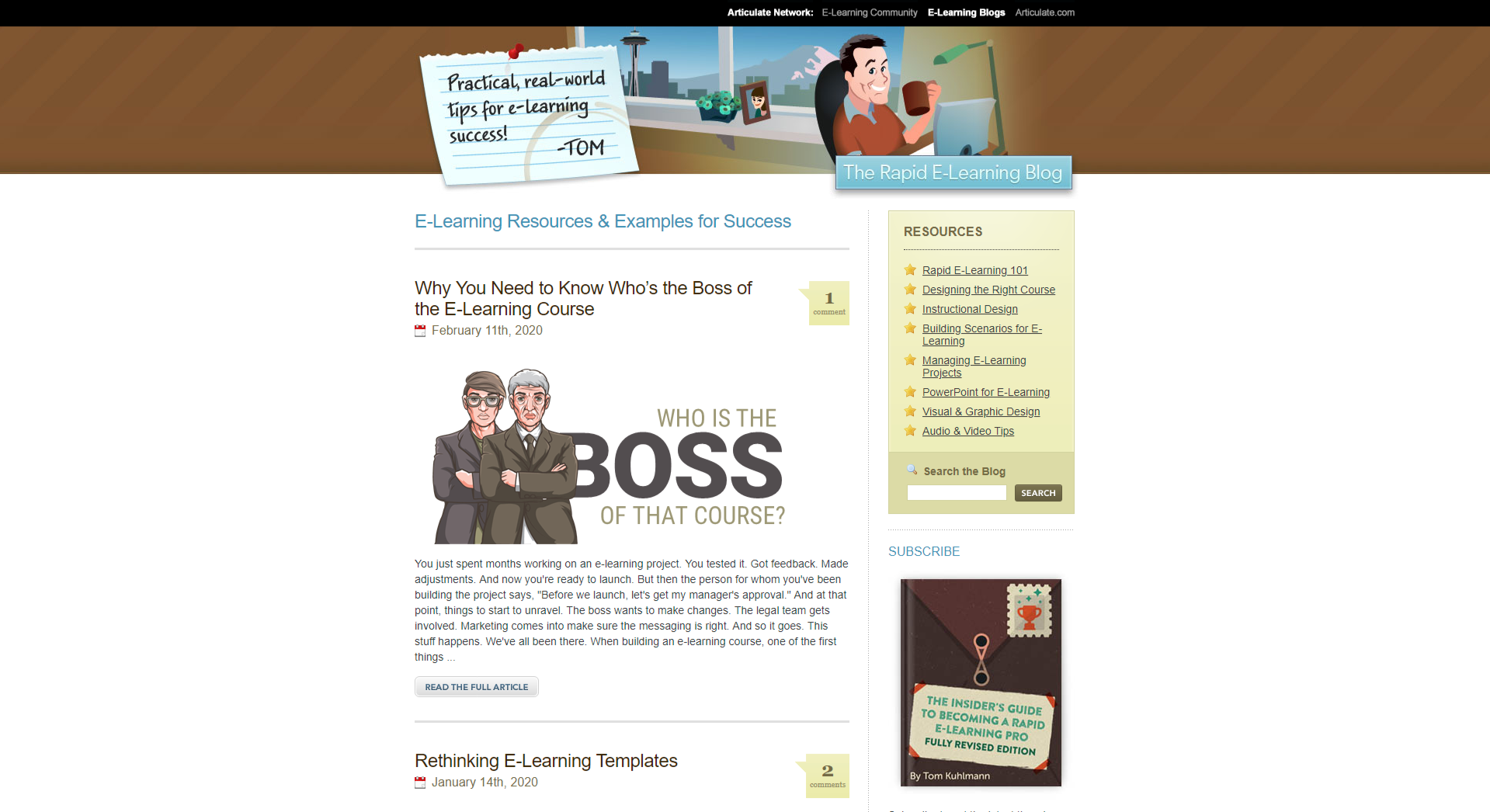 Learning in the Modern Workplace
One of the best eLearning blogs that covers the topic of learning in the workplace is definitely Jane Hart's blog. Hart is a founder of the Centre for Learning and Performance Technologies and this blog aggregates her work on modernising workplace learning.
Being a staunch supporter of the need to modernise workplace learning, Jane Hart is an active writer who offers interesting perspectives on continuous learning and modern training. She also reviews different tools and gives recommendations on what e-learning professionals should adopt. Her blog is definitely worth checking out if continuous learning is something that interests you.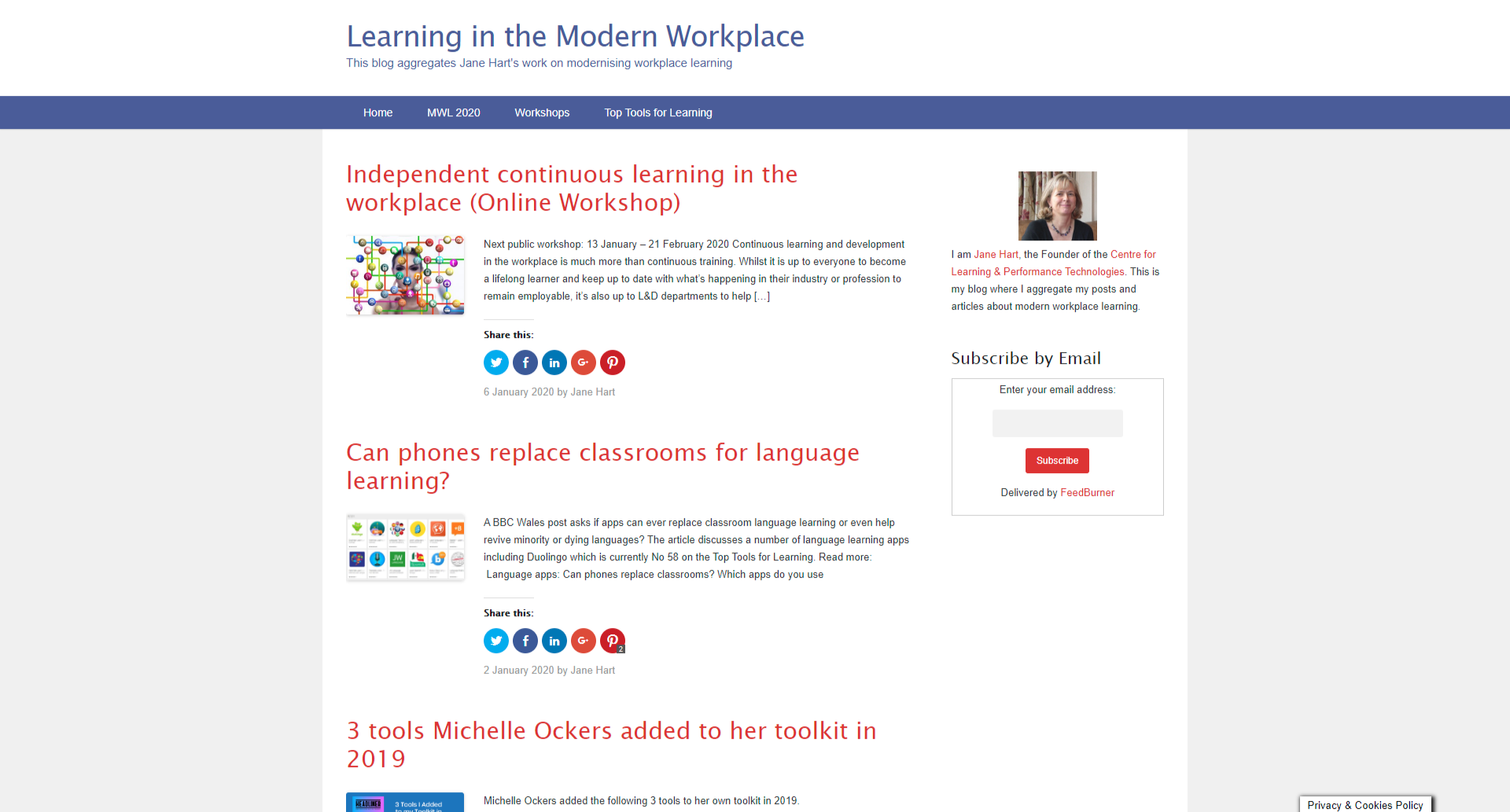 Learn Patch
Another great online resource for e-learning professionals is Learn Patch. What differentiates Learn Patch from other learning blogs is that it offers not only original content, but also curated content that the blog authors find valuable.
You can get the latest insights and valuable resources about e-learning and learning in general, as well as useful reports and pieces of research about the current state of the learning industry.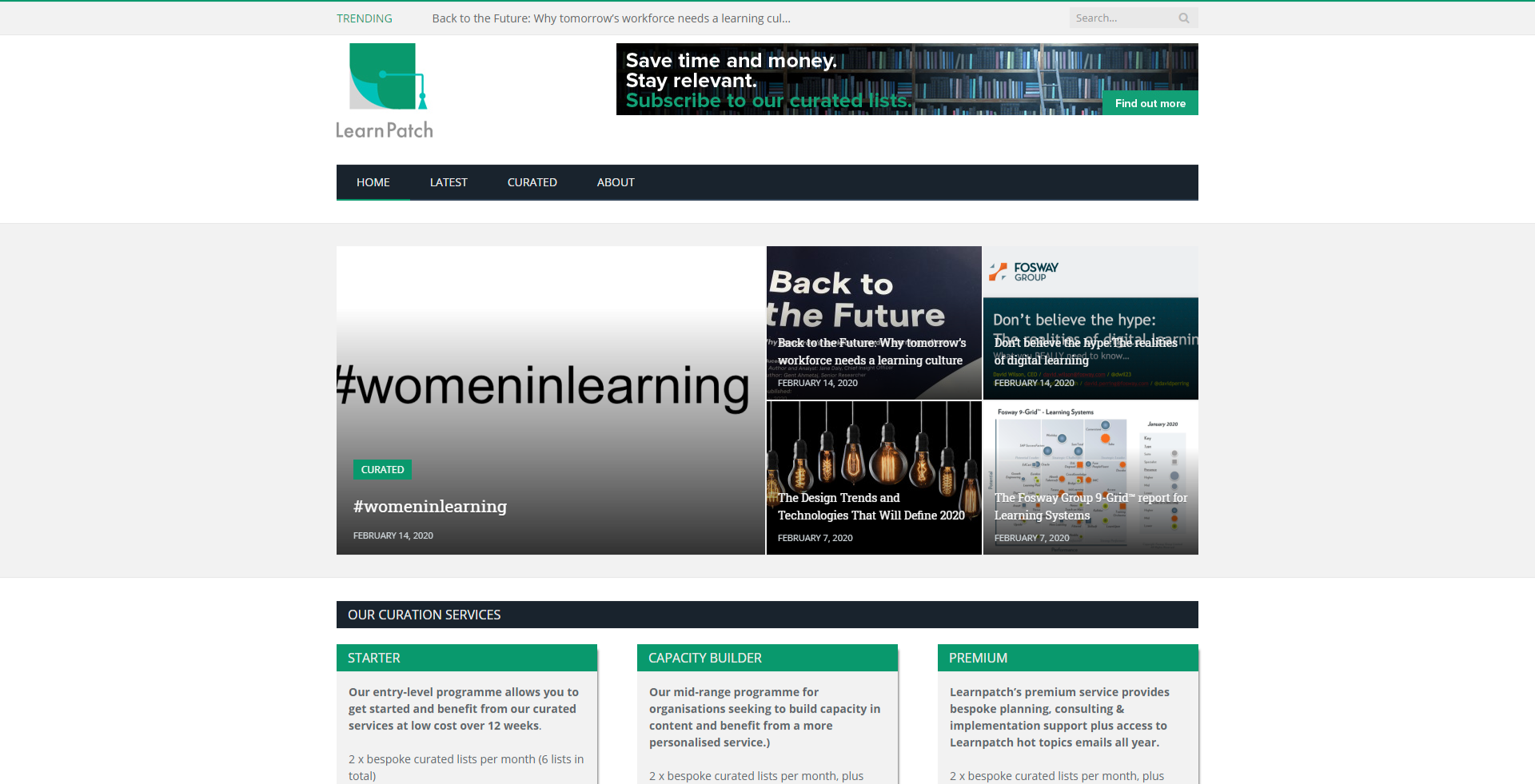 Training Journal
As the name suggests, Training Journal is a website dedicated to the professionals working in the learning industry. Not only does this website cover this broad subject of learning in general by addressing topics such as leadership, soft skills, creativity, coaching and mentoring, but also by discussing learning technology, organisational development, social and informal learning and talent management. These topics are an excellent starting point for anyone interested in both learning and e-learning.
Even though it contains a myriad of articles, Training Journal is not only a learning blog – their team also organises TJ Awards for those who are involved in workplace learning and development. There are many categories including best apprenticeship programme, best talent development programme, best public service/not-for-profit programme, etc. This is how they recognise the creativity and passion of learning and development professionals from around the world.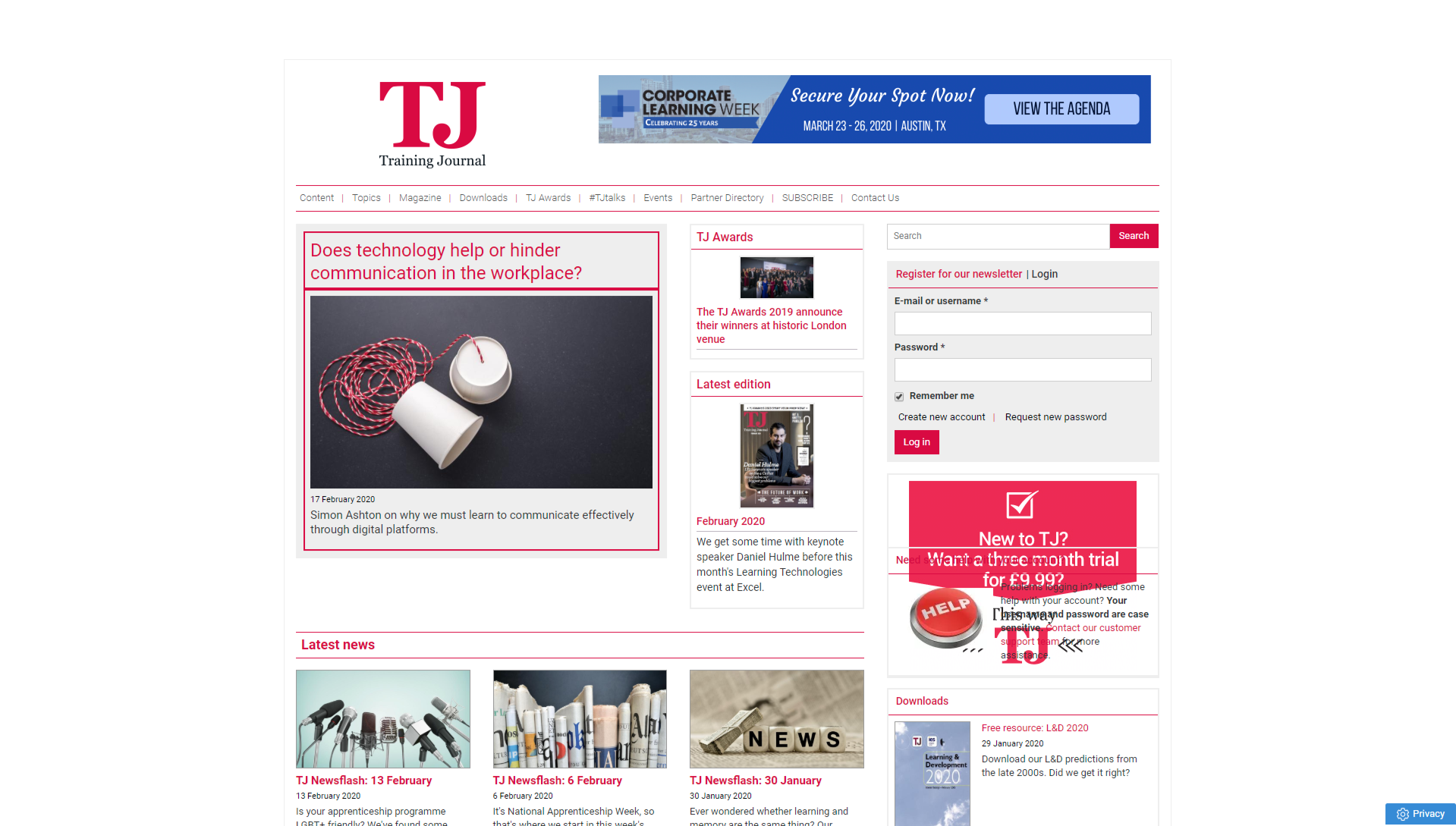 To sum up
Learning blogs remain one of the best resources for everyone who is interested in finding more about the learning industry. You can get the latest news, tips and tricks from experts, practical examples and detailed case-studies – whatever suits your needs. Just make sure that you choose an eLearning blog that caters to your exact needs and you will be good to go.