In the last few years, collaboration and productivity business tools are to thank to for the success of many businesses, especially small ones. Evidently, business web and mobile apps are to look first to when searching for innovative solutions to improve productivity, communication, management and engagement, to cut costs, and to save time.
In general, more and more businesses are turning to mobile technology (not because they simply want to, but have to). With recently announced partnership between IBM and Apple, business apps are back in the spotlight, once again, though, this partnership only proves what is known for quite some time, firstly, businesses have more demands regarding business apps, and secondly, businesses are becoming more dependent on those same apps they use daily.
The enterprise app market has been offering quality business web and mobile apps for a while, and many companies have been trying to deliver the products accordingly; the competition between developing companies is on the rise, as well. Everything that users seek are the same basic qualities – simplicity, utility, and engagement, yet, every business has its specific needs, thus for some businesses, to maximize the effectiveness of work, communication and engagement, the app might request more qualities and specific features.
Business web and mobile apps are not perfect, one app often doesn't offer everything users need, and although it may seem that they will always lack something, still some apps distinguish themselves from others, and deserve to be mentioned on the list of those that offer good tools and get good results.
Ever since Basecamp was launched, it remained one of the most popular business project management software all due to its simplicity, which probably kept this service running successfully for more than a decade, and now with an iPad app, it is certainly going to attract more users.
The greatest pros are its undeniable practicality, more or less reasonable price (60-day free trial, no per-user costs, and unlimited users for all packages, free for teachers), huge numbers of add-ons and integrations (though some find this a downside) and speed. However, Basecamp is and remains in fact the most appropriate tool for handling simple projects, thus very convenient for small businesses (with features like daily recap, email notifications, loop-in feature, auto savings, easy archiving, and more). On the other hand, it lacks phone or chat support, it has no build-in time tracking, it does not allow you to customize your account (colour schemes, for instance), and the fact that this is a cloud based service may be a problem for some businesses. All in all, Basecamp has nothing remarkably innovative, yet, simple and easy remains its best qualities (some may also appreciate the fact that 37Signals is an established company, thus no surprises are expected as with perhaps new software companies).
When it comes to business web and mobile app (for iOS, Android and Windows Phones), the situations is a bit different. From the first look, the app is fast, easy to use, and much of the same design – users can discuss with colleagues, check tasks and to-do lists, attach files, comment and more. However, notifications need improvements and support, availability of some web features is missing, and the major drawback is that the app is not working with Basecamp classic, but with projects created after their redesign in 2012. Taking into account that this is probably long awaited app, it is a good app, for, once again, simple and small projects, though improvements are needed.
Asana was promoted as a tool that can help with productivity problems (lowering email flow within groups, teams) and it apparently is, because since launching in 2011, big clients and names started using it, such as Dropbox, Pinterest, Virginia Tech.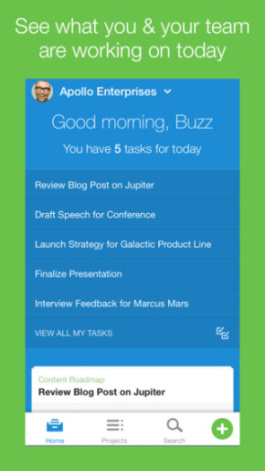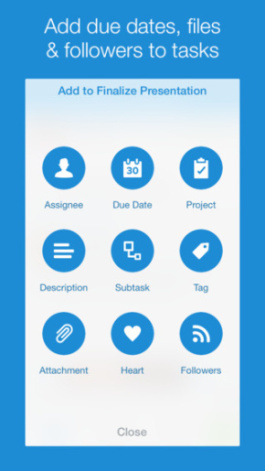 This entirely web-based service has reasonable pricing (free for groups of up to 15) and very much easy to use interface (the better word would be uncomplicated).It is purely a task management tool, with list of integrations and add-ons – Google Drive, Zapier, CloudWork, Dropbox, Chrome Extension, Github, WordPress, Evernote, HipChat, Mailchimp, Usersnap and more. Although pretty basic, a lot was invested in task features, organizational units (teams, workspaces, organizations) and sections, all to enhance project management and team collaboration. It is known for its excellent keyboard shortcuts, hypertext feature, colour-coded option for projects and uncomplicated interface. Similarly to Basecamp, though even more simplified, Asana is not suited for enterprise organizations, rather for small organizations and middle-sized business, due to its rigid structure and lack of other solutions that empower project management (tracking risks, managing resources, budgeting, planning).  Android and iPhone apps are somewhat rudimentary, but with recent update for iPhone and iPad, iOS app offers full-feature experience. An update for Android app is waiting; however, Asana is worth to use for basic collaboration and interaction with co-workers.
As a well-known enterprise cloud computing company best known for its CRM products, Salesforce is one of the biggest names in business web apps industry as well, that has grown in popularity even more after releasing enterprise social network Chatter for free. Big tech name companies don't necessarily mean (all) great products; Salesforce1, a business app that integrates all other products, for Android, for instance, has more bad reviews than it was expected. On the other hand, other web business apps are more than worth to try, especially for large companies and enterprise communications.
Flicker's co-founder business collaboration app Slack caught much attention since launching. Presented as an app that can help us "be less busy", it is basically the app that offers centralized group chat, advanced search and file-sharing options, with various third-party apps (Google Drive, Dropbox, Twitter, Asana, Github). It seems that this is another app that "attacks" email communication, and similar ways of communication, to empower collaboration and work flow. Some high-profile companies embraced this app very quickly, such as HBO, Buzzfeed, eBay, Dow Jones, Times of London, ESPN, Wall Street Journal, Yelp Inc., and others. Even though this is not a novel approach to business communication, Slack does offer an easier way to search through all those files and data one may easily loss track of.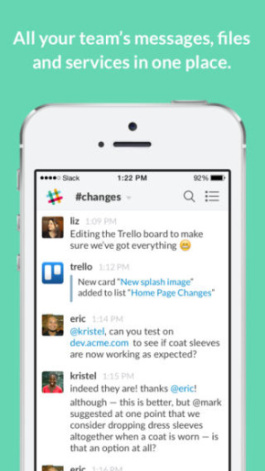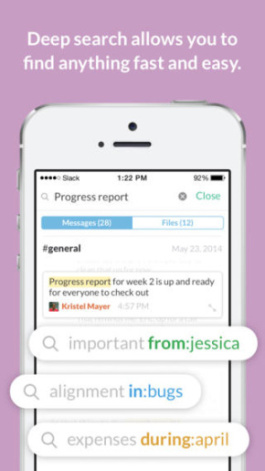 Yammer, one of the popular Slack's competing apps (according to many) is still a highly ranked communication tool, very similar to Facebook – an enterprise private micro blogging but for business. As a business social network, it enforces communication within the company offering all necessary tools; Yammer app keeps users connected, which is what it is supposed to do, and for basic communication, with a few extra features, Yammer is great, but for other activates such as project management, time-tracking, workflow monitoring, other apps are in advance, Podio, for instance. Podio has everything Yammer has, but with more tools for project management, at the same time allowing every user to design their own workspace (which may be important for many). If one prefers simple and uncomplicated tools like Basecamp has, Podio may seem difficult and complicated. Podio offers some great features, such as @mentions (creating a link to user's personal profile if one @mention somebody), and given it is a social network, it offers dozens of premade apps in App Market. Mobile apps are a bit limited, although the iPhone app is very well-received. The founders invested a lot of effort into third-party integration (Evernote, Dropbox, Google Docs, Google Alerts, Instapaper, Zendesk, and more) and in security (providing HTTPS Encryption on all data, regular audits, secured hosting). The only potential drawback is that it lacks archiving.
A company behind successful knowledge networks TallyFox created online platform for content, project and knowledge management, Cluster, providing small, middle-sized and big business, NGOs, and other organizations with cloud-based community. From basic collaboration and communication tools to specific features, Cluster empowers businesses with many highly-required tools – multimedia library (categorizing content based on a customizable taxonomy including video, links, images), Q&A knowledge bank, custom branding, integrated CRM, group messaging to multiple members and member to member messaging keeping contact information private, voice and web conferencing, wikis, and more. Cluster is supported on Android, iPhone/iPad, Blackberry and Windows Phone, and given it is web based, it is also supported on Linux. TallyFox is dedicated to connecting people with content they need, all to improve collaboration and engagement, thus Cluster is a tool build for people, empowered with tools that are to bring the best results.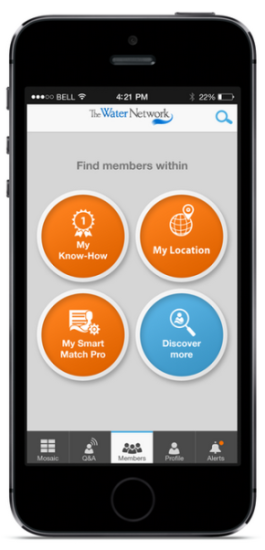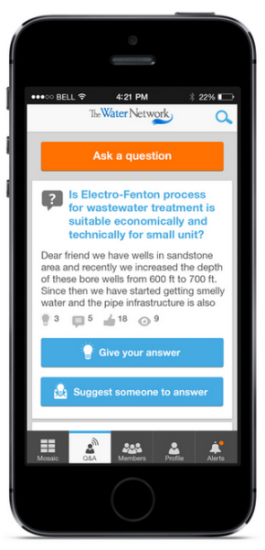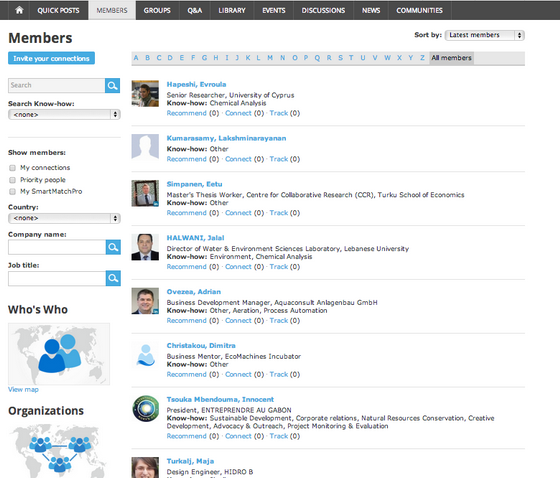 Redbooth, formerly known as Teambox, is another web-based platform worth mentioning, which was completely redesigned in January this year, after six relatively successful years, with two ideas on mind: speed and easy utilization. Redbooth offers cloud-based and on-premise service, and a universal mobile app for both iOS and Android, also functioning in offline mode. With focusing on providing the easiest way of organizing tasks, boosting workflow with tagging and other Twitter-like shortcuts, good notification management, and options such as create button and quick add, Redbooth is built to improve work efficiency. The feature users like the most is unlimited storage space, however, many would like the ability to rebrand and more reporting tools, thus for some businesses Redbooth may not be enough for project management.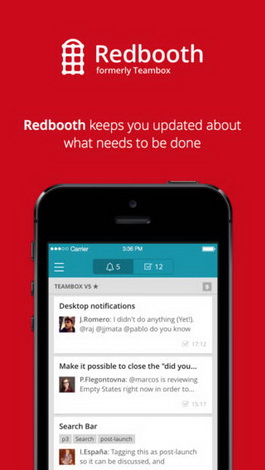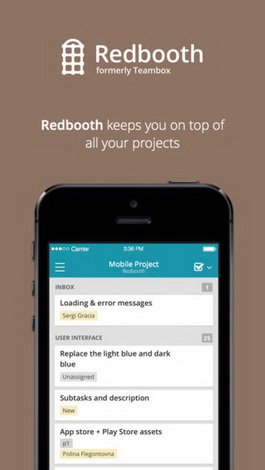 Noticeably, business web and mobile apps are battling for users' attention. Which one is the best? Depends on the business niche. One thing is certain – apps that are highly appreciated are those that have cloud integration with different services, cross-platform integration and basic communication tools.