Yes, the dreaded day has come. Are you ready for an upgrade to Drupal 9?
After a decade of building websites using Drupal 7, the module will reach its end-of-life phase. Drupal 7 end of life is scheduled for November 2022.
This means that it will no longer be supported, the Drupal Security Team will cease to provide security advisory services and the Drupal community will not be able to carry out bug fixes on existing Drupal 7 projects. Drupal 7 releases will also show up as unsupported or insecure in third-party scans.
Fear not, however, for there is a solution. 
This unfortunate news means that it is now the time to begin the transitional upgrade phase. It is time to stop building sites using Drupal 7 and move onto the latest version – which is Drupal 9. Such an upgrade may sound like a struggle that could potentially eat budget and time, but it doesn't have to be the case and here is why.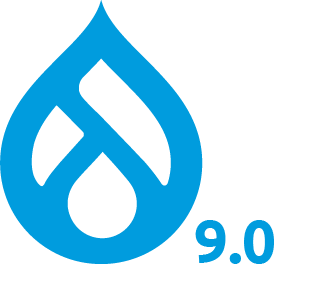 Why should you skip upgrading to Drupal 8?
Drupal 8 was released in November 2015, offering a range of new and exciting features for its users. It was a huge step forward for the Drupal community because it offered a variety of new features and options for all websites that started using Drupal 8.
Now that Drupal 7 is coming to the end of life phase, it may sound logical for you to opt to upgrade your Drupal 7 website to a Drupal 8 one and although we did explain the 10 reasons you should migrate your Drupal website, this was a necessity two years ago.
Drupal 8 is dependent on Symfony 3 and Symfony 3's end of life is in November 2021- meaning that Drupal 8 is also coming to the end of life phase in 2021.
If you decide to first upgrade your Drupal 7 website to a Drupal 8 one right now, it could potentially cost your business twice as much to upgrade to Drupal 9 later on because you would upgrade your website twice in such a short amount of time. So in order to make this transition as smooth as possible, we recommend upgrading your website straight to Drupal 9.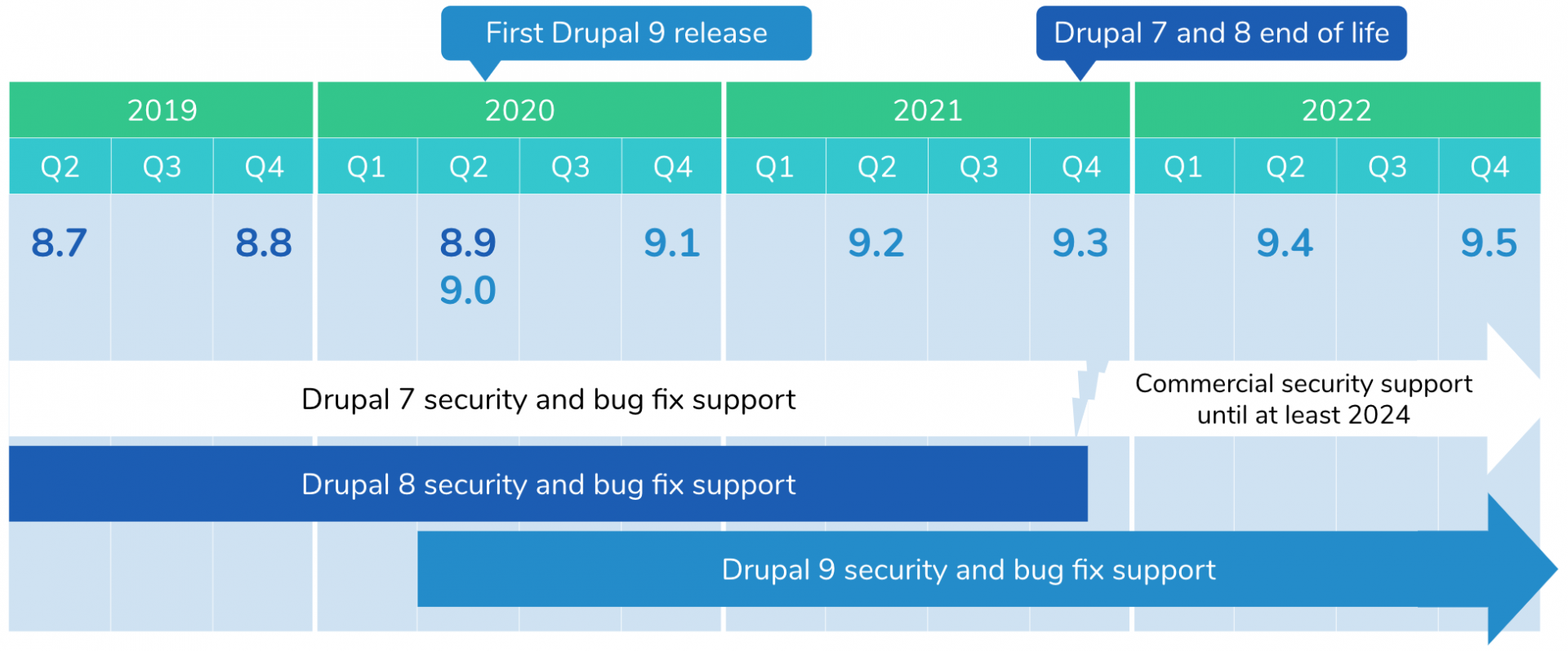 Benefits of Drupal 9 for your web business
Drupal 9 was released more recently, in June 2020. So if you are looking for new features to get excited about for your site, then get ready, because you are in for a treat. See how we redesigned and upgraded Kate Bush's website from Drupal 7 to Drupal 9.  
Better content management with improved on-page editing
Firstly, Drupal 9 offers on-page, in-context editing. This provides huge benefits for teams that must manage content. In combination with the WYSIWYG editor, this makes the authoring experience more seamless and simple, allowing authors to edit text inline and on the page.
Better development process as a result of Drupal 9 flexibility
Of course, flexibility must appear in a Drupal benefits list. Drupal can deliver content to any channel, device or platform so that you can ensure you are reaching the widest possible audience. It can also receive content from other sources. Drupal's modularity can easily be extended and you can either use existing templates or build your own from scratch. You have the utmost freedom when it comes to the development procedure. 
Explore more Drupal modules that can upgrade your website and elevate your business.
Effectively reach your audience on any device
With Drupal 9 you do not have to worry about compatibility. You will be able to build platforms to provide a pleasant browsing experience for users on web browsers, tablets and mobile devices. If there are any new devices on which you will need to provide content or data, you will be covered there too.
Seamless integration for the best UX and UI
Drupal 9 capabilities ensure that you can integrate any desired technologies or modules. You can introduce your existing strategies or technologies when it comes to marketing, or you can integrate a wide range of different digital modules to provide a unified platform. No matter how different the modules are, they can be combined efficiently with Drupal 9.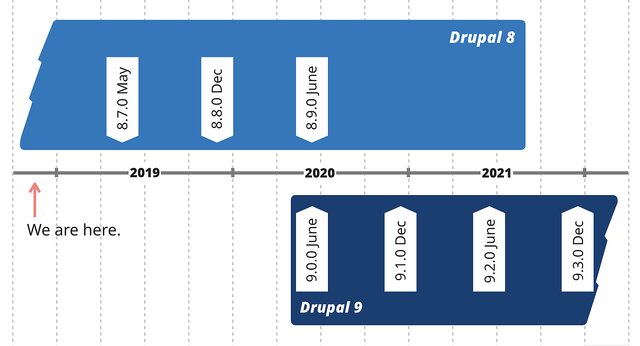 Language support to easily launch your business globally
Websites are increasingly aiming to go global. This means that translation and localization will become easier. During the authoring process, any and all languages are supported whilst you also have the option to use a customizable interface as needed.
Faster performance with Drupal 9 for better conversion rates
Of course, every new version should be bigger and better than the last. This is why Drupal 9 is faster and performs better than the other versions. Initial pages will load faster thanks to BigPipe and you will be able to define multiple workflows.
Provide content-rich experience with headless CMS
As a result of accentuation on headless CMS, with Drupal 9 you can create your content once and post it anywhere however many times you wish. With Drupal 9 front-end experience is improved, resourcing becomes easier and an API-first approach ensures that users will be able to use your new site with their mobile devices. Plus, there are many efficient Drupal SEO modules that will add to all the efforts.
What comes next?
Make sure to begin the transition from Drupal 7 to Drupal 9 as soon as possible. There is no need to wait for Drupal 7 end of life. Upgrade to Drupal 9 now. Your customers and clients deserve the best possible experience while browsing your platform, which is exactly what Drupal 9 will help you with.
You also do not have to begin this development transitional period alone. At Eton Digital, our highly experienced and exceptionally dedicated teams are here to help. We can upgrade or build your new site for you so that you are not left in the dark with an unsupported platform.
If you need help with your Drupal site, contact us today! Our Drupal experts would be very happy to help you align your platform with changing times. Join us and start your project today.