Along with the reports regarding the negative impact of technologies on our lives and societies in general come the reports that explain the effectiveness of online activism and promote the usage of Internet technologies, especially social media, in NGOs' and charities' campaigns.
We have witnessed how Internet technologies brought political and social change in some countries and how seemingly "small" and unsuccessful campaigns and activities shed light on the urgency of cultural and social change.
Online activism has its advantages and disadvantages, however, Internet technologies and social media have much to offer.
TechSoup Global, NGO from San Francisco, and the Guardian Global Development Professionals Network issued a report Technology for Good: Innovative Use of Technology by Charities. In the report, they have concentrated on easy-to-use technologies that can leave a deep impact during the campaigns.
Focusing on some of the charity campaigns, in the report, they also explained how basic SMS and telephone messaging were used for education in Pakistan, fundraising in East Africa and fighting corruption in India, for instance. Technologies, such as radio and television, and mobile technologies, have already been used by many NGOs and charities in a wide range of issues and made a significant change in different areas.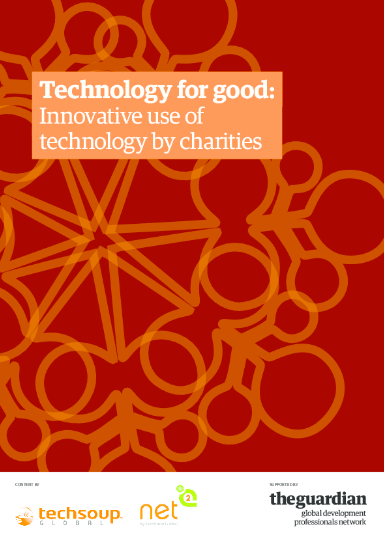 What are other great sources for charities and NGOs?
The importance of collaboration between those who have knowledge and expertise in digital technologies, and charities and funders is seen in the report called Harnessing Collaborative Technologies: Helping Funders Work Together Better.
The report gathered data from more than 170 different technological tools that are available for funders and emphasized the importance of collaboration between funders concluding that new technologies are in fact the reason why this collaboration is even possible and effective.
One of the report compilers, the Foundation Center, also created an interactive tool that can help you find the tools you need to accomplish your goals.
Meetup.org is a great website for all of us who wish to do and organize something and share, above all, gather opinion-like supporters and volunteers. If you want to share your knowledge and skills, or volunteer, visit catchafire.org and if you need a deeper insight into the non-profit world, visit mobilisationlab.org.
How can technology bring social change?
Bushfire emergency
The recent fires in Australia have had a devastating effect on nature. It is estimated that more than 12 million hectares of land has been burnt and around 1.25 billion animals killed across Australia. That is why WWF-Australia has requested support from all around the world to recover from bushfire emergency.
On their website, you can donate once or give monthly donations, thus supporting the efforts of WWF-Australia to recover from these catastrophic fires.
Let's Save Africa
After their campaign from 2012, Africa for Norway, which was the funniest campaign last year, SAIH, the Norwegian Students and Academics International Assistance Fund launched a new campaign called Let's Save Africa! – Gone Wrong and went one step further in addressing the question of the most classic stereotypes in fundraising campaigns. Another great way to show how technology can bring social change.
charity: water
Another great non-profit organization is Charity Water. Their aim is to bring clean and safe drinking water to people in developing countries. So far, they've funded over 50,000 water projects for over 11 million people around the world. On their website, you can choose from a variety of different types of donations.
For example, you can donate once, on a monthly basis or even give in honour of someone.
Technologies bring social change
As you can see, with great ideas, technology tools and the right information surely anyone can make a difference, especially today in the technology-driven world we live. So we might as well use all the benefits and make a change.
The compilers of the mentioned report included new technologies as well: GPS tracking and other monitoring systems, and mapping technology tools, which are of great importance to organize data and track people and goods. The usage of social media, crowdsourcing, cloud technology and translation tools were detailed in the report as well.
Data management technologies, drone technologies, and portable networks are also part of the top 10 technologies for social change and good. This 40-page report in a way represents a beginner's guide to charity campaigns and it is available as an e-book on the Guardian's website.
If you wish to know how to use content marketing for your projects, you can find more information in the resources created by The Content Marketing Institute (CMI) and Blackbaud.
For those who need data on grants made by founders to support media and other research reports, they can find that information on the new site launched by Media Impact Funders.
Share with us your thoughts on how technology can bring social change.