When it comes to Drupal it's really difficult to learn everything by yourself and that's why Drupal conferences are a great way to increase your productivity and keep up with trends.
Whether you are a regular visitor or this is your first time attending, it's gonna be a great experience for you.
We are regulars at Drupal conferences, and this year we are excited as we are supporting DrupalCon Vienna by sponsoring.
So, DrupalCon Vienna is approaching quickly, it's time to prepare.
But before we go over great sessions and talks you should attend, and just in case you are wondering why you should book a flight, read what benefits you will get from attending.
1. Be one step ahead of others
The world's best Drupal experts gather at Drupal conferences to share tips, trends, news, knowledge. Few months after the conference you will see that these new things that you were listening to are now happening.
DrupalCon attendees have access to a tremendous wealth of knowledge.
Sessions and sprints will certainly level up your skills, moreover, you will also have an opportunity to meet Drupal pros and experts and steal a trick or few while you are in the social events or even so whether you are at the lunch break or party, you can meet fellow Drupalers and create meaningful, friendly connections.
2. Shape and share your skills
Drupal is rapidly changing and constantly getting better thus your team has to stay up to date. If you want to do things more intelligently, more efficiently, and more effectively with Drupal, DrupalCon is the best investment of your time and money.
3. Build a better team
Attending DrupalCon will not only increase your team's knowledge but also give them an opportunity to bond, connect and share knowledge. Every company should provide opportunities for their employees to develop professionally.
It's no secret that happy employees are loyal employees, so be the company that cares about your people.
4. Bring back to Drupal community
Drupal community is the heart of Drupal.
DrupalCons bring together Drupal experts from all over the world to collaborate, contribute, and make Drupal better. Sharing knowledge is important because it creates diversity, builds people up, helps them realize their potential, and fosters connections.
The Drupal Code of Conduct outlines shared ideals and values of the Drupal community that are to be put into action at conferences, camps, and other events. This document is not written to restrict the community, but to support people to share their ideas.
The bigger is the number of people who attend DrupalCons, the more people will work on improving Drupal. That's why it's so important for the Drupal community to ensure that all participants can freely and openly share ideas in a welcoming environment.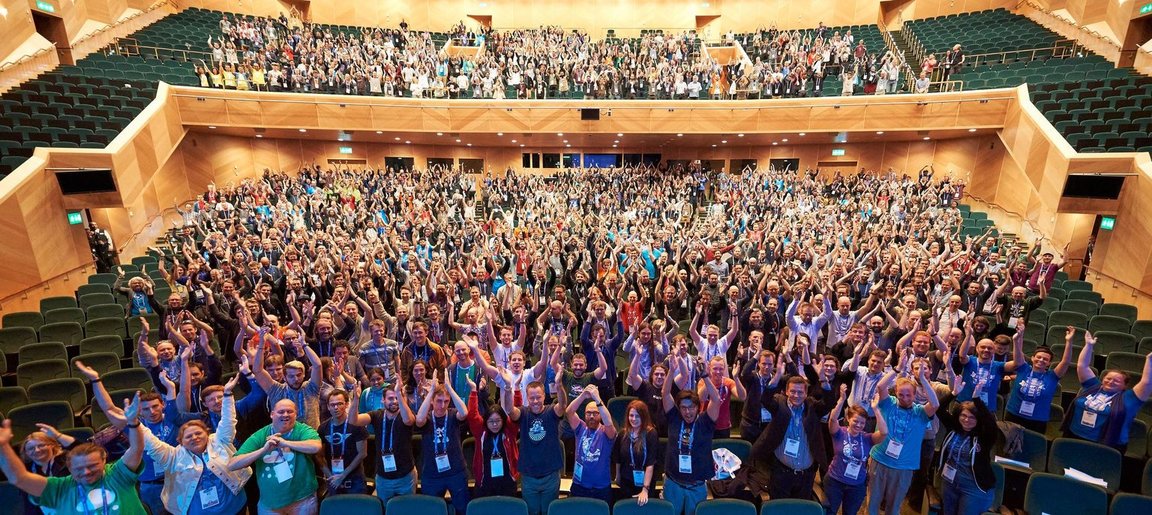 What can you expect at DrupalCon Vienna?
132 sessions to choose from.
Yes, so many great minds will be there to inspire you and boost your knowledge. Almost 90 companies will gather and join this big event.
Over 37% of the sessions featured will include a new-to-DrupalCon speaker to provide an audience with the different perspective.
So, take a look at DrupalCon Vienna program and find something for you!
Monday, the 25th September
Unfortunately, traditional DrupalCon summits and training on Monday have been canceled by the Drupal Association. Nevertheless, the local Drupal community steps in and provides the venue, catering, and ticketing for the Monday events and is working on organising multiple summits, training, and a Code Sprint.
Tuesday, the 26th September
Start of the conference will definitely be an inspiring and a must-see event – don't miss the keynote from Dries Buytaert, Drupal Project Founder.
Sometimes being spontaneous can bring the best ideas to you. So, if you want to be a bit casual, visit BOF (Birds of a Feather) sessions, informal gatherings of like-minded individuals who long to discuss on everything about Drupal. You don't need an agenda, just have fun and learn at the same time.
Sessions: Easy decoupled CMS site-building with GraphQL and Next.js, Trust in eCommerce with Amazon Pay, API-First Initiative and much more.
Open Minds Award – a regional open source award.
Ball celebrating Open Source as the official party.
Wednesday, the 27th September
Drupal Association Public Board Meeting
Women in Drupal social event – Only about 20% of DrupalCon are women, so this is an opportunity for all women to get together and exchange their experience.
CEO Dinner gathers the leading minds of the Drupal industry and connects Drupal CEO's and company leaders from all across Europe.
CXO Dinner is an exclusive evening in one of the best restaurants in the heart of Vienna – Hotel Sofitel Vienna.
Sessions: Automatic Drupal Updates using Visual Regression & Continuous Integration, Lean Web Operations – Planning for the unpredictable, Symfony in Drupal 8: How much and what does Drupal inherit from Symfony and much more.
BOF (Birds of a Feather) sessions
Thursday, the 28th September
Thursday keynote is Everyone Has Something to Share by Joe Shindelar, a developer who has been building Drupal sites and participating in Drupal core development since 2006.
Sessions: Offline core, Drupal 8 Front-End: Theming vs. Configuration Conundrums, Drupal Enterprise Marketing as a Global Business Alliance and much more.
BOF (Birds of a Feather) sessions
Drupal.org Panel with the Drupal Association Engineering Team
The closing Session
Drupal Trivia Night can be a fun way to test your Drupal knowledge. Join the pub quiz to challenge yourself and compete with the best of Drupal brains.
Friday, the 29th September
The last day of the conference is free and it's all about sprints. Contribute to Drupal through a code, discussion, documentation or project management.
Last, but not least, see how to get the best of your time during DrupalCon.
So, start planning your trip and join the big Drupal community!