If you are into front-end development and user experience, want to improve your skills and grow your network, you would be interested to find out which conferences to visit or workshops to apply to, so we compiled a list of 9 great European front-end conferences and events to attend.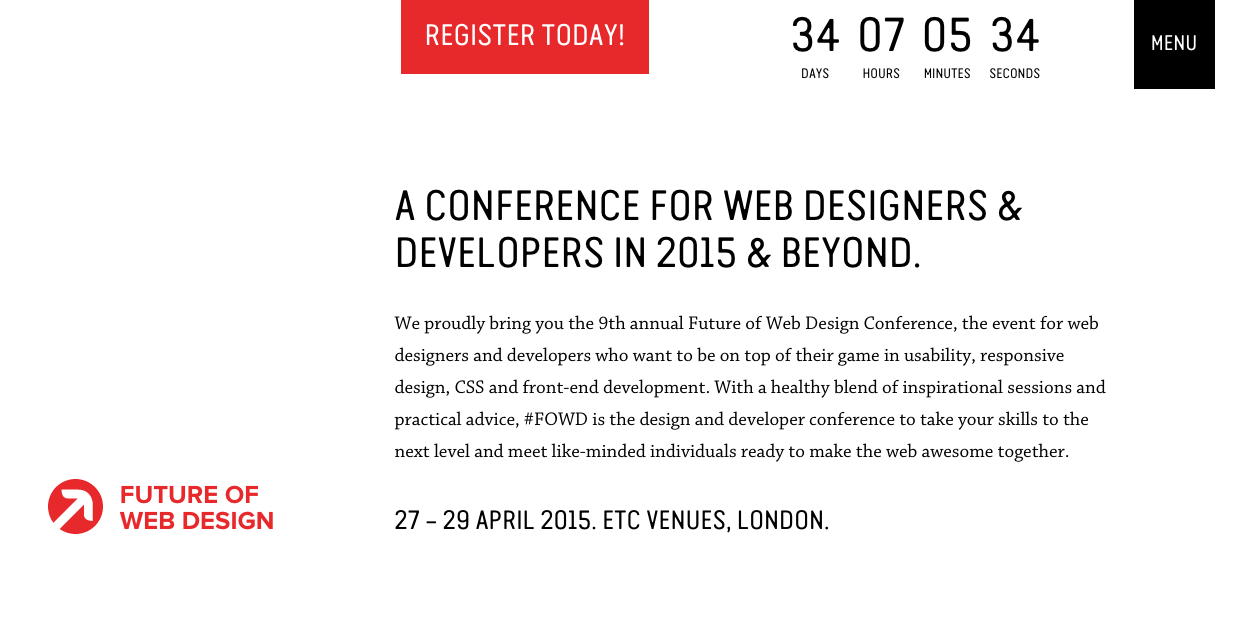 The FOWD conference is the leading event on new trends in the world of web design, whether in terms of many topics explored during the two-day event, or practical knowledge offered through workshops and challenges. Every year, the conference gathers excellent speakers from the industry; for web designers and developers it has become one of the conferences that shouldn't be missed.
#2 Front-Trends, Warsaw, Poland, 6th-8th May
A three-day conference in Warsaw is Poland's biggest gathering for front-end lovers and enthusiasts. As it gathers prominent speakers from all over the world, the conference will bring many entertaining and interesting talks.
Why should you attend?
Frond-Trends is an annual event for the web and mobile developers, UI and UX designers, Javascript, CSS and HTML5 professionals where you have a chance to learn directly from the best in the industry. Confirmed speakers are Todd Motto, a developer expert at Google, Tim Kadlec, the author of Implementing Responsive Design, Vitaly Friedman, a co-founder, and editor-in-chief of Smashing Magazine, and many others experienced developers and entrepreneurs.
Front-Trends conference will bring the latest trends in front-end technology, so if you are interested, their official hashtag is #fronttrends
#3 Scotland JS, Edinburgh, Scotland, 7th-8th May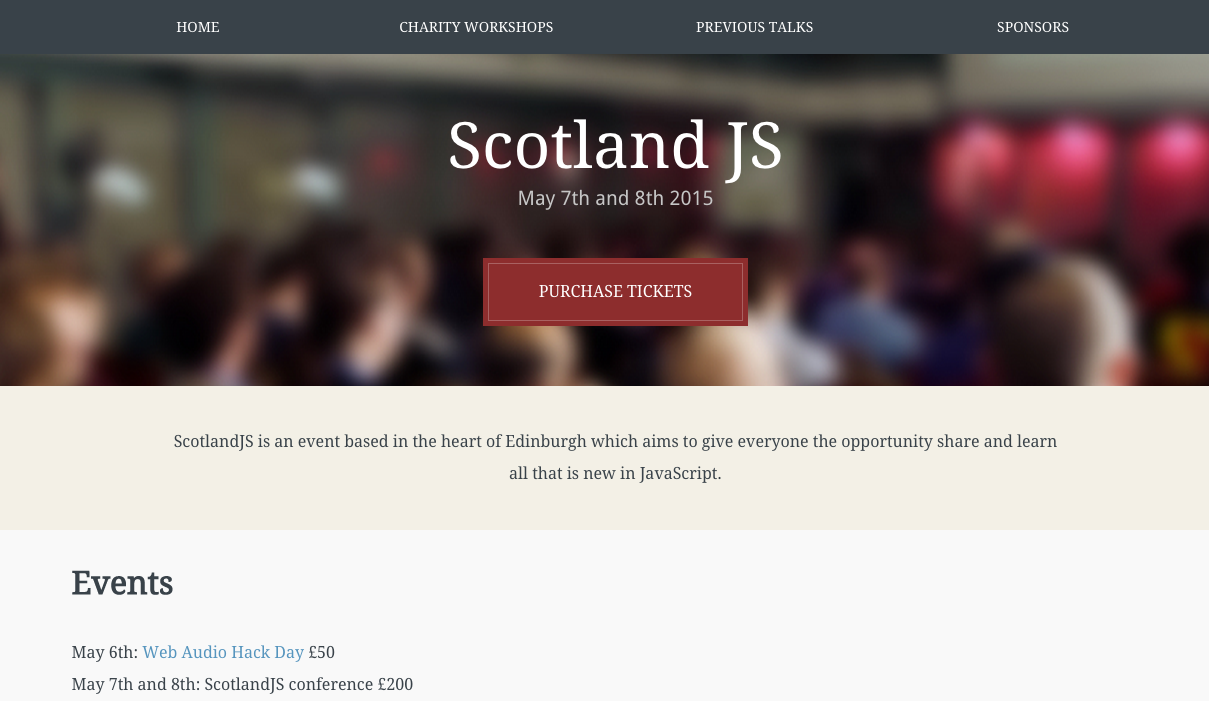 If you are a JavaScript developer, you would want to attend this two-day event and learn more about all that is new in JavaScript. Keynote speakers this year are Lena Reinhard, a CEO, and co-founder, project and communication manager and a part of the Open Source Projects Hoodie and contributor to CouchDB, and Philip Roberts, JavaScript developer and a contributor to AmpersandJS.
Why should you attend?
See the list of speakers at the event, and judge by their expertise and knowledge. This is a great chance for every developer to improve their knowledge and skills.
#4 Beyond tellerrand, Düsseldorf, Germany, 9th-13th May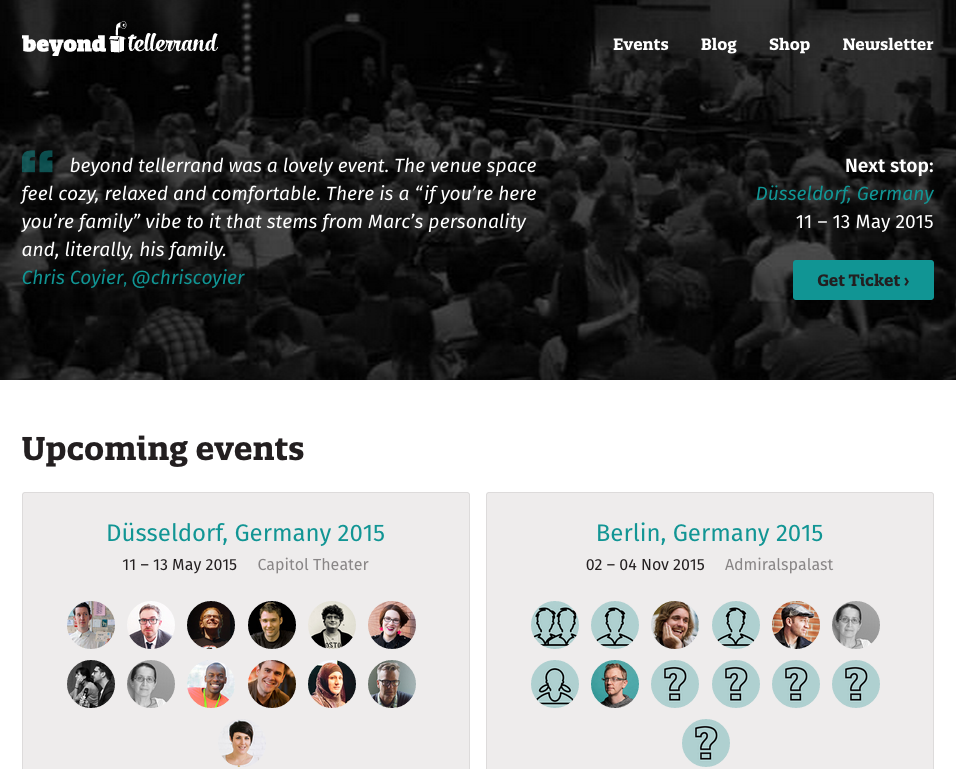 As one of the best conferences in Germany, a 3-day conference brings a broad range of topics, from design to marketing and business, relevant for different IT industries, including front-end developers.
Why should you attend?
This year, the conference brings interesting educational programs and full-day workshops on animation, web design for mobile devices,  and more gathering professionals such as Jeffrey Veen, Scott Jehl, Sara Soueidan, Dave Shea, Rachel Nabors, Mr. Bingo, and Sara Wachter-Boettcher and more to be announced. Although tickets are sold, there are still some seats left for workshops, or you can attend many free Side Events (IndieWebCamp, Afternoon with Shopify and Friends). To follow everything about the conference, their official hashtag is #btconf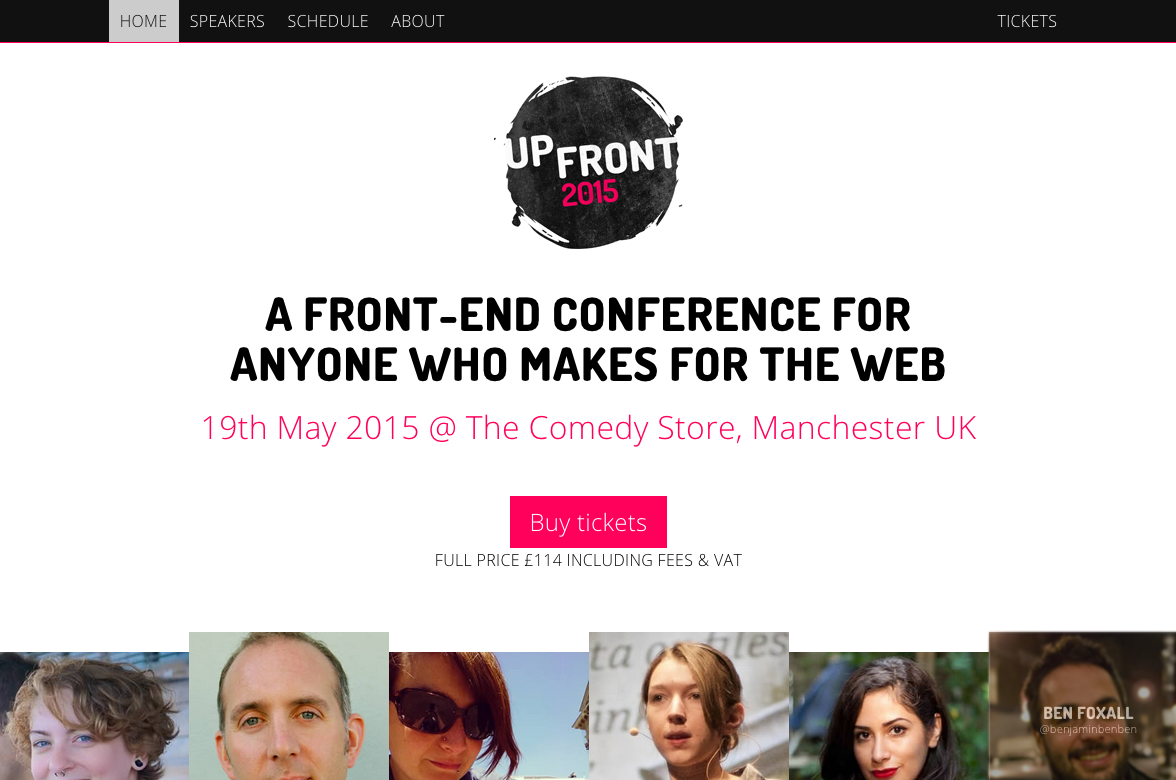 A full day front-end conference for anyone who makes for the web, covering topics such as responsive web design, tooling, performance, front-end testing, web typography and more.
Why should you attend?
Confirmed speakers are Brad Frost, a web designer who created some very useful tools and resources for web designers (Pattern lab, Styleguides.io, Mobile Web Best Practices, and more), Alicia Sedlock, a user experience and front-end developer who is a teacher for Girl Develop It, Richard Rutter, who created a website The Elements of Typographic Style Applied to the Web and co-founded Fontdeck service, and many more.
Update: Fontdeck service is no longer available to its customers since 2015.
Follow their Twitter account to stay up to date.
#6 uxLx, Lisbon, Portugal, 3rd-5th June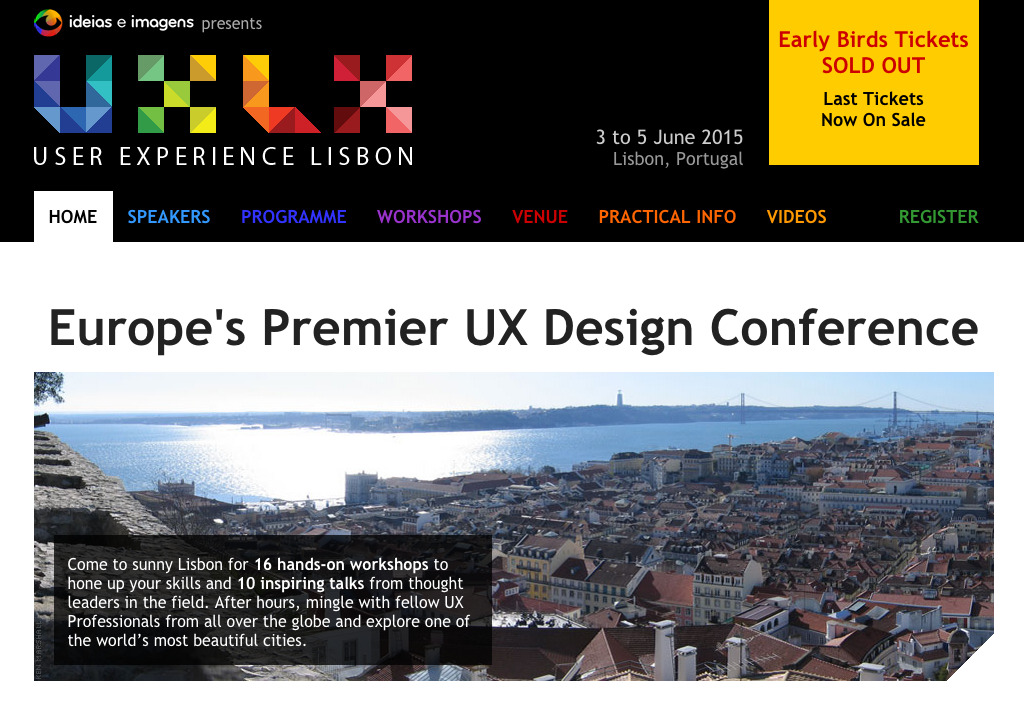 uxLx is a three-day must-attend conference for professionals and enthusiasts in the UX industry. The conference brings together usability experts, interaction designers, and information architects to share their knowledge and experience through 16 practical workshops and inspiring, thought-provoking talks.
Why should you attend?
The speakers include Stephen Hay, the author of Responsive Design Workflow, Josh Seiden, the author of Applying Lean Principles to Improve User Experience, Andrew Hinton, the author of Understanding Context, Theresa Neil, the author of Mobile Design Pattern Gallery, Nicole Fenton, the co-author of Nicely Said: Writing for the Web with Style and Purpose, Brad Frost, Brian Thurston, and many more prominent speakers.
#7 CSSDay, Amsterdam, Netherlands, 12th June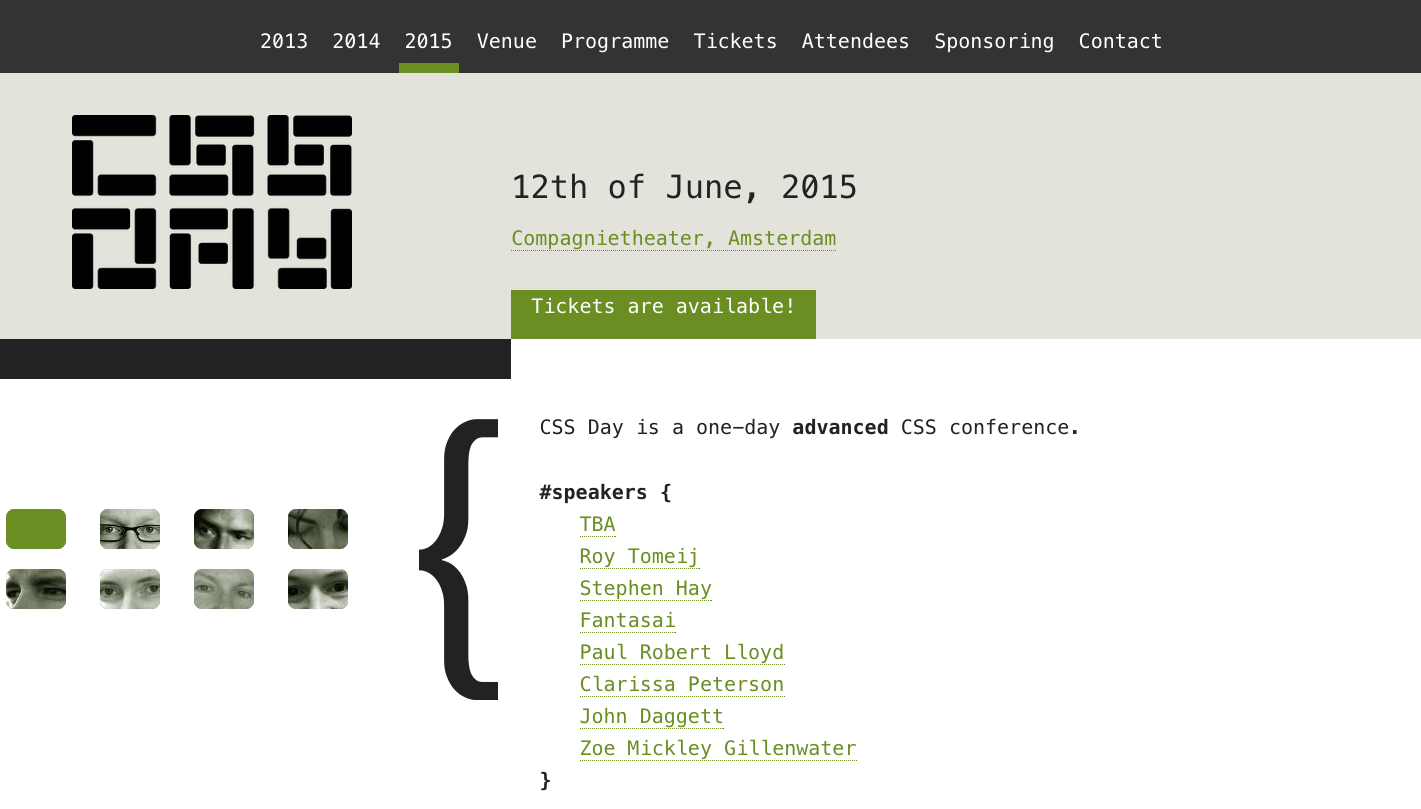 A one-day conference in Amsterdam is an excellent opportunity to learn where the web is headed, and what technologies are the latest to keep an eye on.
Why should you attend?
This advanced CSS conference gathers world-class CSS speakers and professionals such as Paul Lloyd, a designer at the Guardian, Clarissa Peterson, UX designer and developer, the author of Learning Responsive Web Design, Stephen Hay, Zoe Mickley Gillenwate, the author of Flexible Web Design: Creating Liquid and Elastic Layouts with CSS and Stunning CSS3: A Project-based Guide to the Latest in CSS, and more. The event brings eight great talks from people who are passionate about their work.
To stay up to date, follow @cssdayconf
#8 Full Stack Fast, Barcelona, Spain, 1st-5th September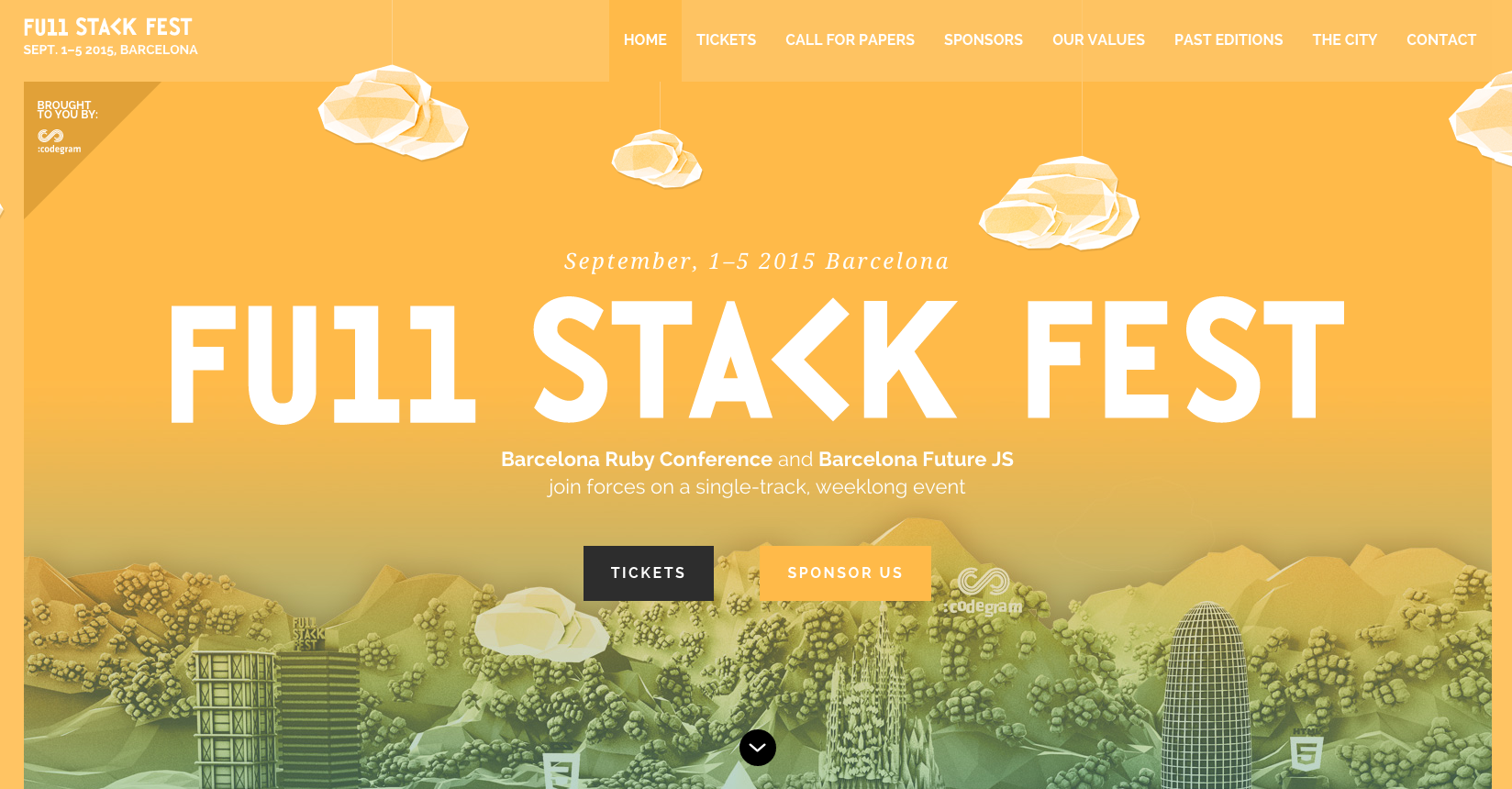 Full Stack Fest is divided into two conferences, Barcelona Ruby Conference and Barcelona FutureJS. The first week of September will gather many professionals and enthusiasts from around the world to talk trends and share the experience.
Why should you attend?
A program is created to bring together the best from the programming world, and it's also an excellent opportunity to advance your career by becoming one of the speakers. Visit their website to see the list of speakers, or to apply. To stay up to date follow @FullStackFest
#9 GenerateConf, London UK, 17th-18th September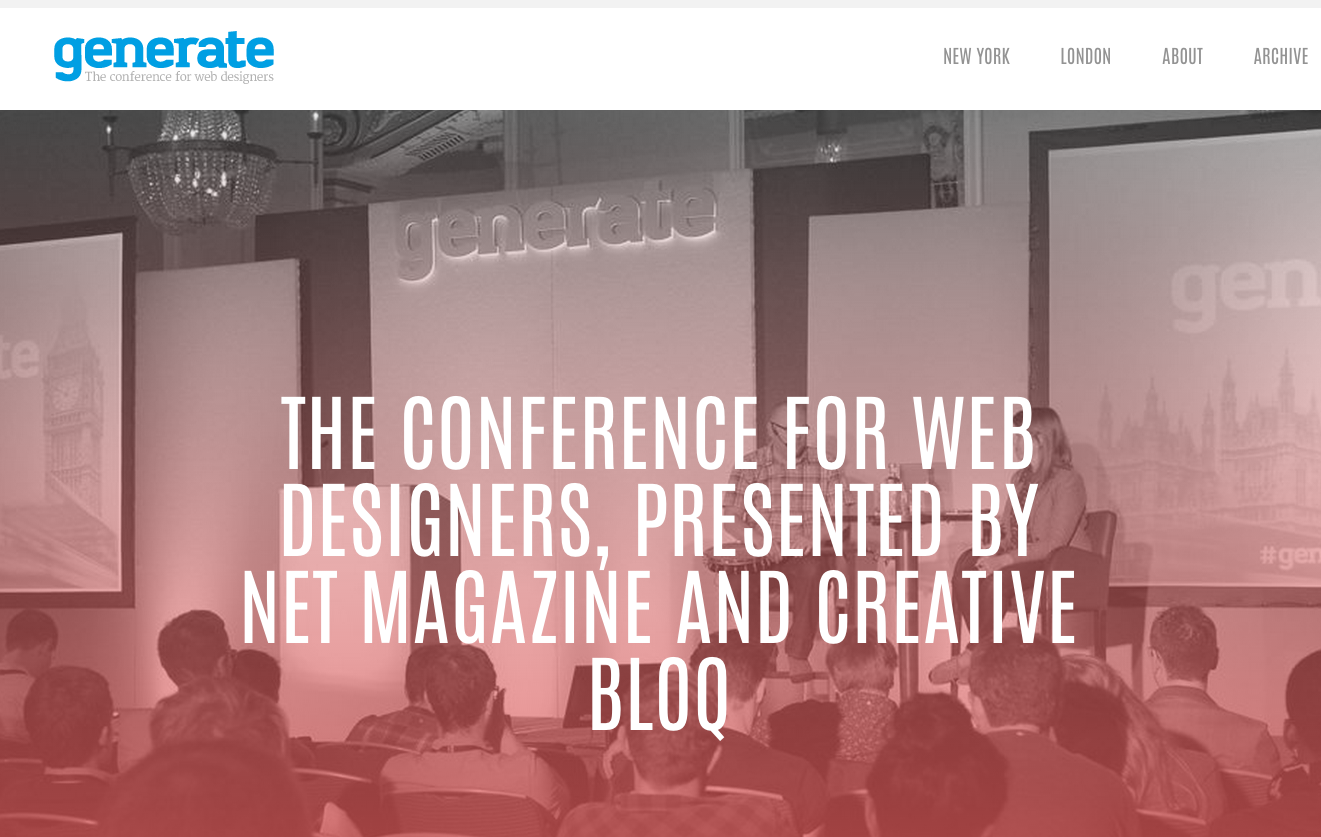 Presented by the .net magazine, which was established in 1994, and Creative Blog, this is the third edition of Generate conference for all things web design and development.  The speaker lineup is soon to be announced,  but judging by the success of the previous conferences, and the credibility of organizers, this year will certainly bring world class speakers on web design and top presenters from the industry.
If you have any suggestions or questions, feel free to contact us or leave a comment.