Being a chef is no longer reserved only for the kitchen space, cooking, and stirring. Now, chefs and culinary experts around the world can present their cooking and baking mastery via their own digital space.
If you love cooking and baking, you will be happy to hear about our new project. We present the Craft Guild of Chefs, an online magazine, designed to provide fast access to the latest news from the culinary and food industry, all in one place.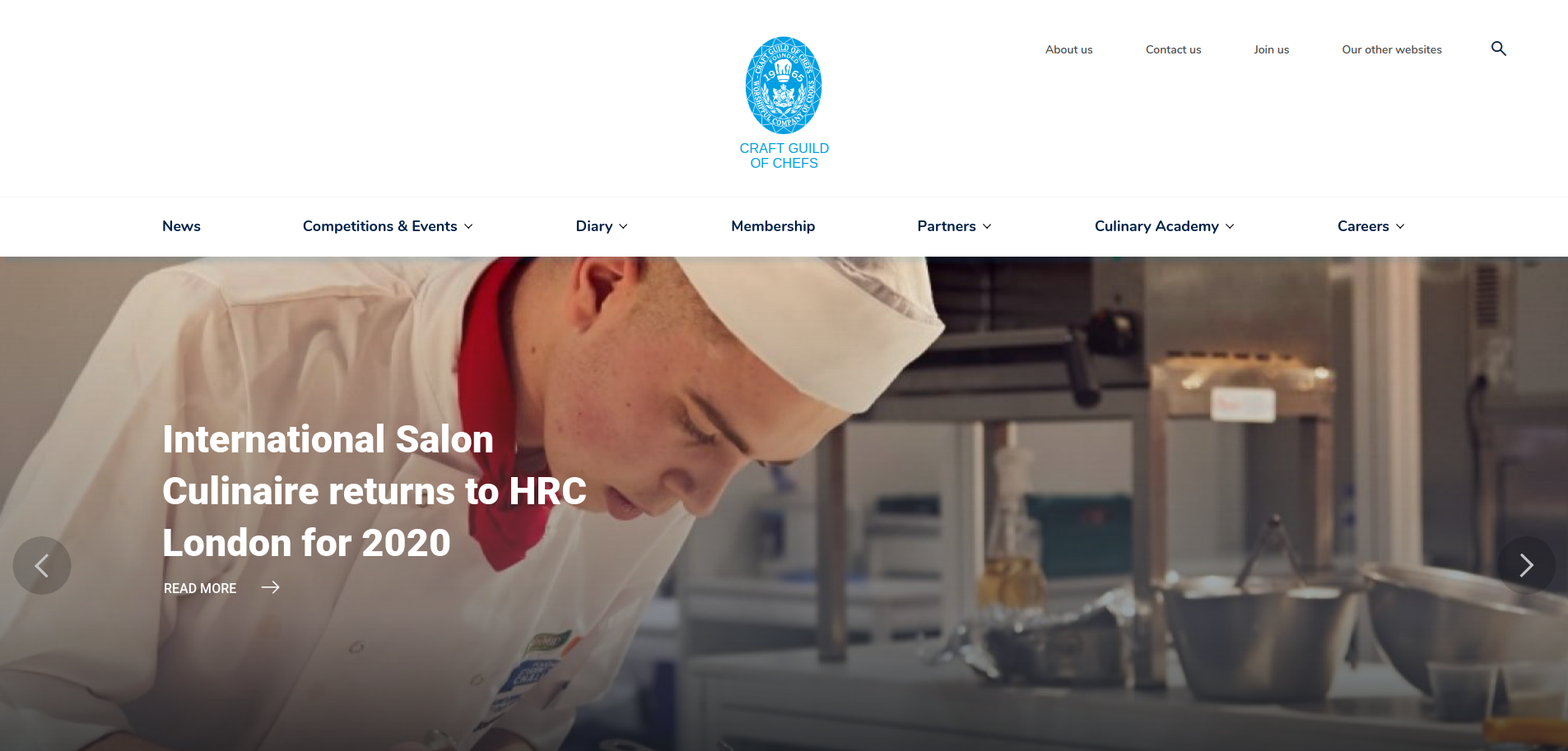 Craft Guild of Chefs On The Mission
Craft Guild of Chefs website is a trustworthy place where chefs and those who want to become chefs can discover hot news, attractive events, available culinary courses and information from the cooking spheres.
It is a website with the mission to inspire young and future chefs and head-cooks to join the association. Moreover, it offers support and possibilities for young chefs to enhance their career prospects.
Above all, it has a goal to ensure an informational and educational safe haven for all chefs and those who want to become one.
Who Are Craft Guild?
Craft Guild is the leading UK's professional body for chefs with over 1200 members and 101 business partners. Their members come from all aspects of the foodservice and hospitality sectors working, from students and trainees to top management.
The idea of the association is to respond to many of the challenges the culinary industry faces today.
Now, with the new website, they want to widen their membership base, support, encourage and engage all sectors of the culinary industry.
To quote one of the founders:

We firmly believe that Chefs should have a clear voice, a right to the enhancement of their career development, the right to inclusion in decision making in industry, education, and training".
About The Project
The attractive and highly customized online magazine is a solution we come up with as the most suitable to answer the challenges that the culinary industry has.
Wishes and needs of online users to have quick, fast and easy access to the content they are searching for, is driving the UX approach.
On the whole, our focus is always to deliver a personal experience, and personalization and customization go hand in hand.
That's why we strived to ensure all relevant content is easily accessible and available for the website visitors. We created a smooth and quick user flow through the pages that contain news, competitions, and events.
The end result?
With an intuitive content organization, a modern interface, and straightforward and attractive design, we made sure that the presentation of information is clear and legible for reading, browsing and engaging.

What will readers get browsing The Craft Guild of Chefs online magazine?
News that are industry-related
The Craft Guild of chefs is not only about sharing relevant information. It is also about educating their users about the industry.
We developed an easy-to-navigate news page where users are able to discover everything about culinary award winners, culinary courses other career-related news from the industry.
Users can easily discover upcoming events, browse open vacancies and career opportunities.
Competition page – the assembly of the most important events related to chefs
One of the website's requirements was to ensure transparency and equal career and personal branding opportunities for chefs. In addition to their needs, we built a single page that offers credible lists of all important and relevant events for chefs.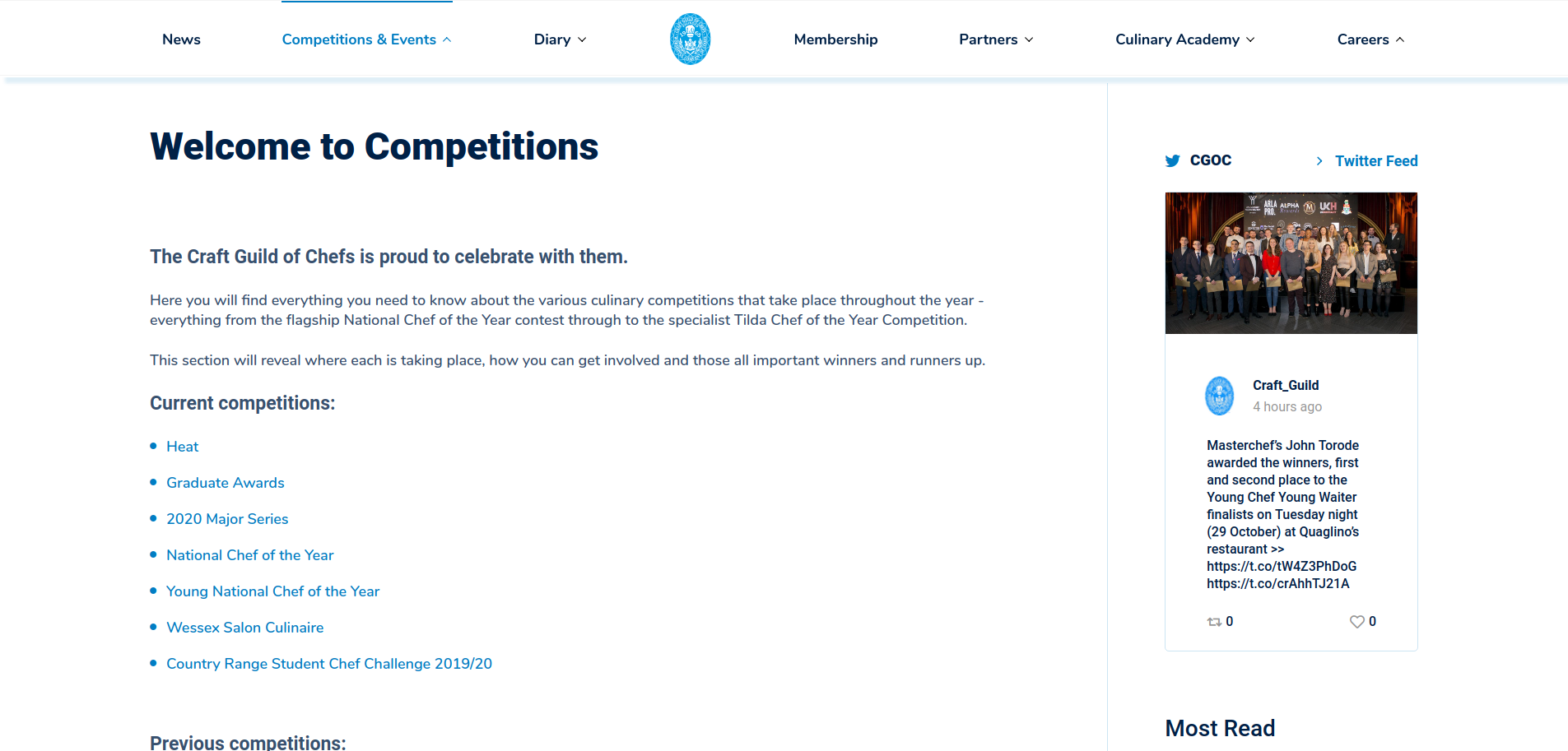 Users can find every piece of information related to various culinary competitions. They can discover events placed throughout the year. From the flagship National Chef of the Year contest to the specialist Tilda Chef of the Year Competition.
Interactive event calendar with custom-built filtering options
For the promotion of a particular culinary event, we designed and developed an interactive calendar with suitable users-driven filtering options and features.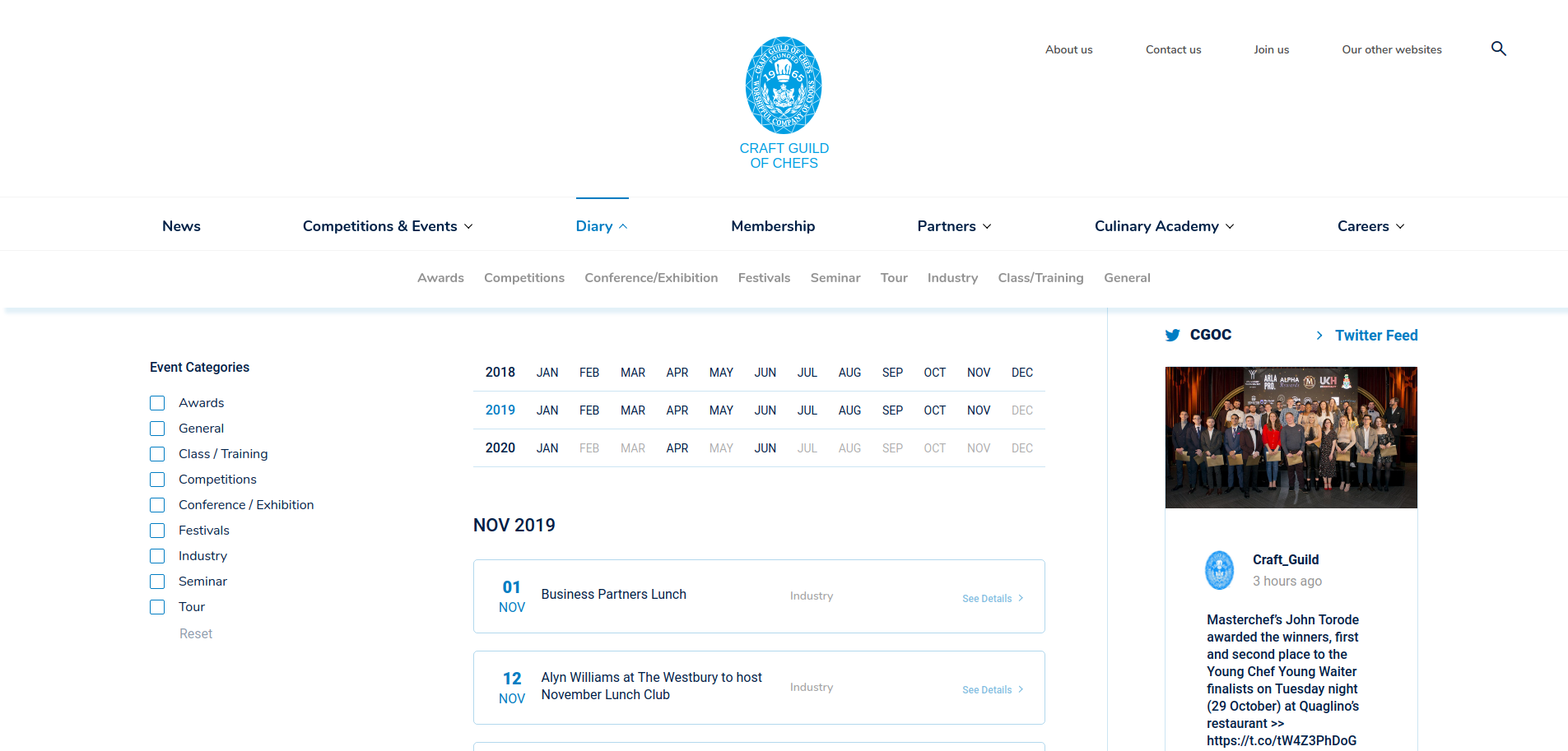 Users In The Focus
Craft Guild of Chefs is an organization dedicated to empowering the culinary community and industry.
Their members are the driving force behind and those who shape and change the industry. Therefore, one of our tasks was to provide an easy, fast and uncomplicated way for interested users to join.
A dedicated page that provides clear Sign-up forms enables every chef interested in joining the association to easily fill the form and sign up.
The organization with a focus on providing important and timely information and news would want to keep their members and users informed at all times.
The Craft Guild of Chefs wants to enable easy distribution of relevant news and engage and actively involve their users.
To help them inspire active involvement, we built a customized newsletter by integrating third-party apps with Drupal CMS. Users can receive a customized list of news as a weekly digest directly to their inbox.

End Product Aligned With The Idea
Our goal was to create a modern magazine that will promote and share important information about the specific industry that The Craft Guild of chefs presents.
We are happy to see the positive reactions of users and trust that the new website is going to change the career path for many future generations of chefs.