If you are THE motoring enthusiast, you do need a place to show off your car, right?
Have you joined TopMotors?
We present you a great project we have been working on – TopMotors, the fastest growing motor enthusiast network and community, now redesigned and fully responsive, to help you get your daily dose of fun and fresh news from the industry.
Do you want to buy and sell, or compete with motor enthusiasts all over the world?  Care to know who drives the best car in the UK? Do you want to chat about wheels and tyres?
Look no further, visit TopMotors. This is a place for petrol heads.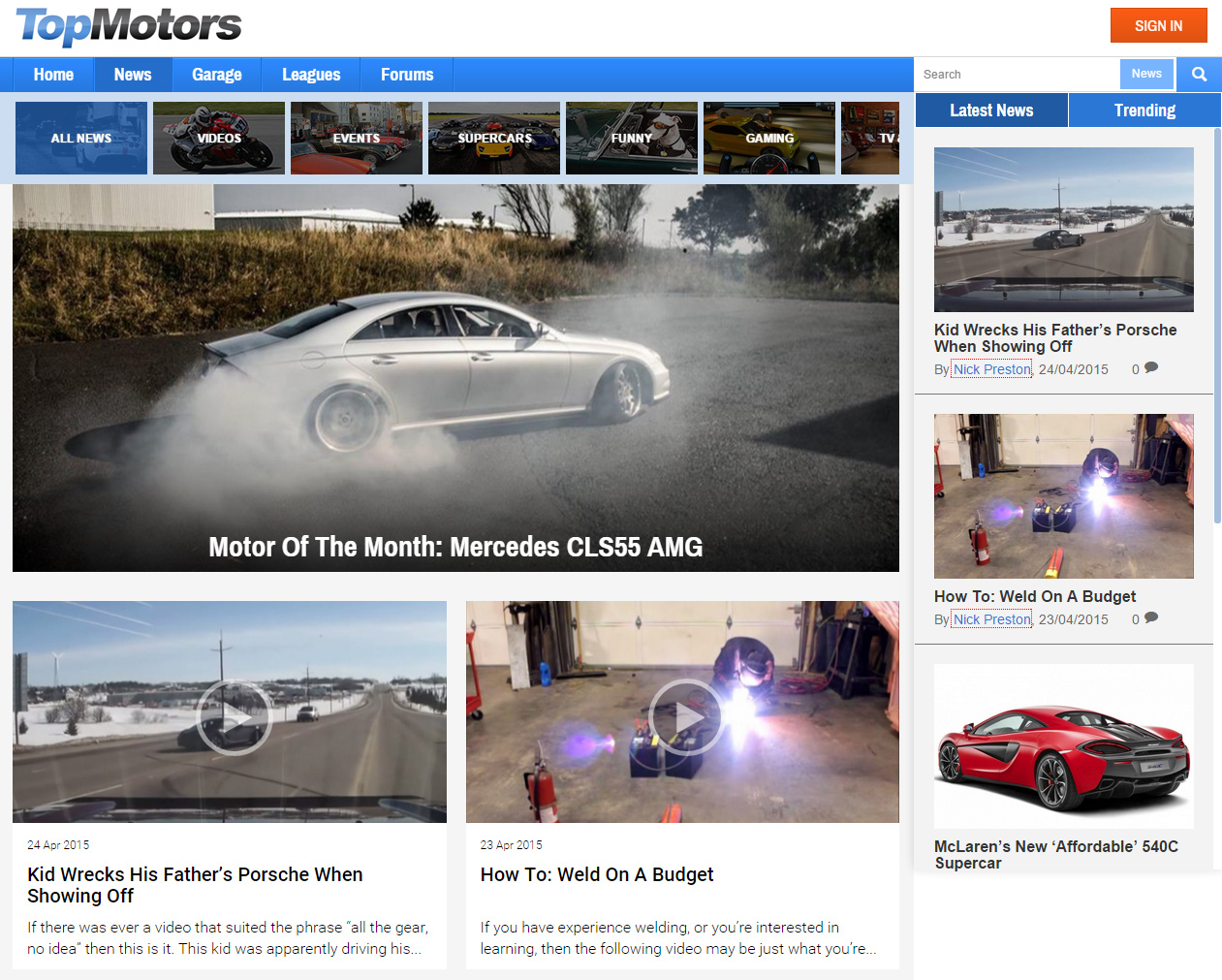 The story of TopMotors started in 2010 with the blog and a forum.
"The idea behind the blog was to share interesting articles and videos in the automotive niche, but this niche is very competitive. We had to break away from a traditional news style website to try and create something more unique and engaging for our users; this is when we decided to create a social network", explains Nick Preston, the founder.
With over 300,000 fans on Facebook, TopMotors is becoming a popular place for all motor enthusiasts to gather and share their passion.
"If you have a hobby or a passion the only way to get your "fix" on Facebook, for example, is by liking pages and reading posts, but this isn't enough for most people. With a niche social network your content is geared around a specific idea or interest, so you know that when you use that website, you will only see what you signed up for, and in our case, that's everything cars", says Nick.
"Our focus is purely on our members."
To become a member, there is a simple two-step registration that takes seconds, but all the fun begins with the second one where you get to create a social identity for your motor vehicle.
Once you set up your motor profile, you will receive comments and rating; as your score goes up, you get to collect awards and points. If you reach a Top 20 rank, you will enter into a free competition to win prizes every month. How?
The network has a virtual league system that allows the members to compete democratically with other users or vehicles for the best motor vehicle position. The system automatically filters users' motors into different categories, based on views, ratings, and feedback.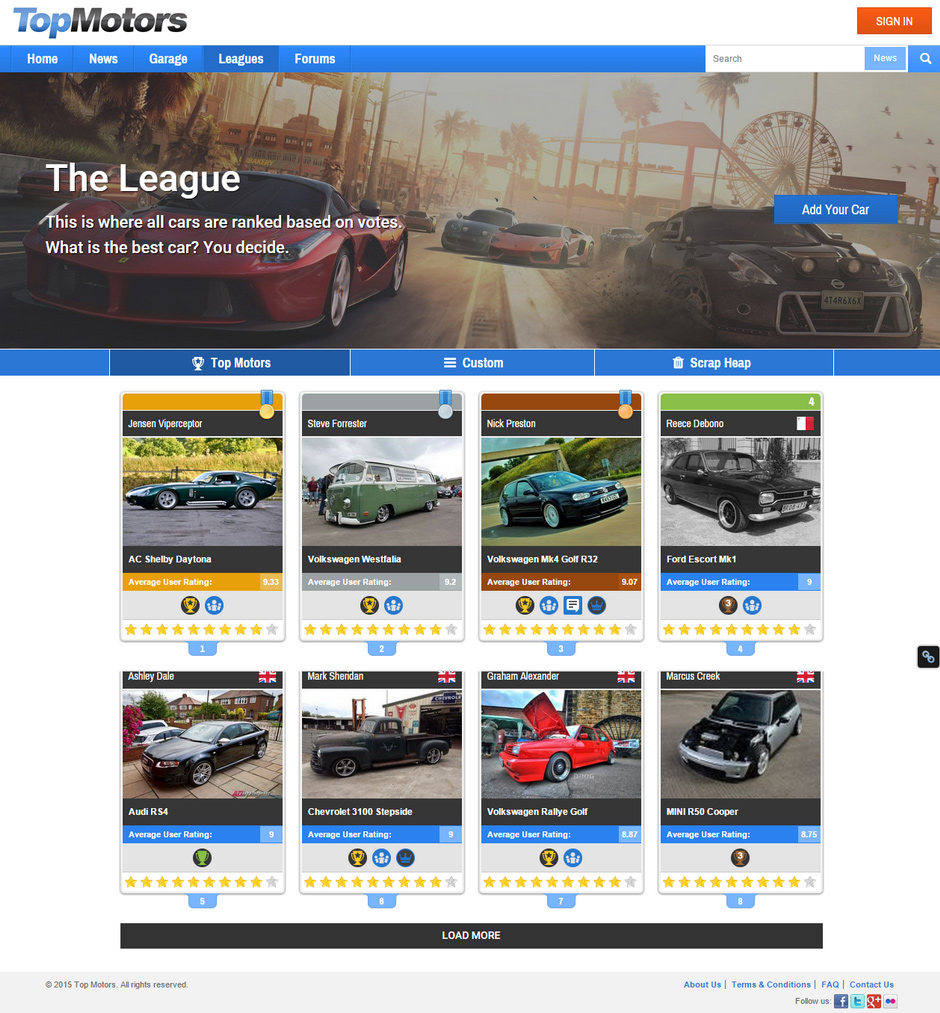 Some of the leagues are User Location, Manufacturer, Motor Type, and Custom Leagues and Private leagues, for motor clubs and organisations. Check out their Facebook page; that's where the winners are announced.
Genuine motor enthusiasts are specific users, in both interests and online behaviour; that's why the network offers free image hosting and unlimited storage for all your personal and motor profile images, and news and forum integration with social functionality.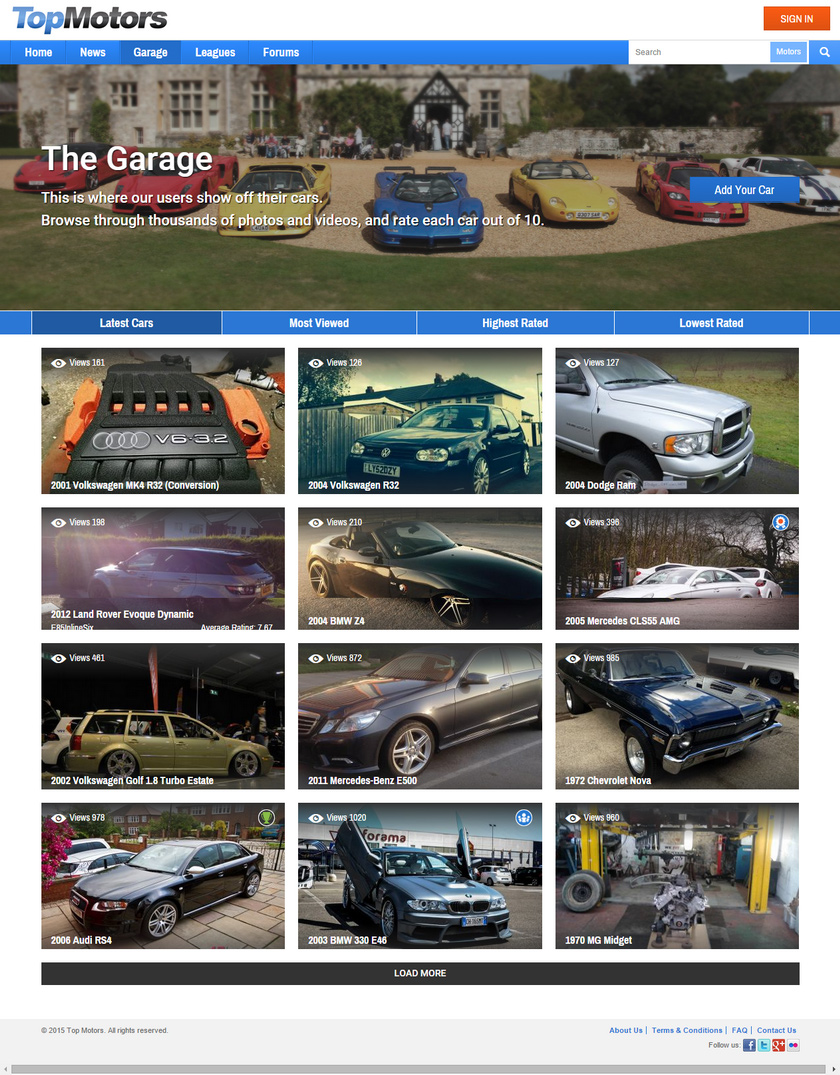 "We are currently finding ways to give back to our members, and we are in talks for partnerships with various companies to host online competitions in which a lucky member wins something free every month. It's little things like this that make your members feel wanted, and part of a community. I didn't start TopMotors to make money; I started the site because I have a genuine interest in cars, and I wanted to build a community around people who share this interest."
We can expect more great content soon, as the members will be able to contribute to the website. They will also run their car shows in the UK soon, and have a classifieds area on the website for the public and professional businesses, so stay tuned.
So, Nick is currently driving a Volkswagen Mk4 Golf R32 in Moonlight Blue (one of only 57 currently in the UK), a 3.2 V6 producing around 250bhp.
And you?