Do you need help in finding professional home health care? Happy to present you the latest from our kitchen! MyWorkMode is a booking web application that brings an innovative way of helping people in need of medical care.
Why do we need a booking application to find professional home health care?
Too often the employers lack trust and confidence in care workers and their service. Even more, many of those who need help or certain medical care can't afford it at a reasonable price. MyWorkMode booking application changes this situation for both employers and carers.
A revolutionary and practical web booking app
MyWorkMode was envisioned as a simple, flexible and transparent way to find a first available carer and quality support. MyWorkMode founder approached us with a clear idea that offers a solution for employers, whether companies or individuals, who are looking for professional home health care in their local area.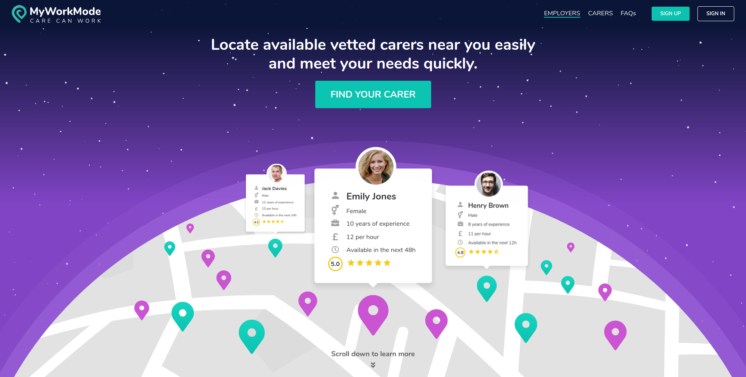 We created a booking app from scratch focusing on developing a practical web booking app that will improve the way home medical care in the UK works.
Our solution was to develop features that will easily connect healthcare workers and families, individuals or businesses that need qualifying, trusted care workers.
How we created MyWorkMode brand?
We designed the heart shape symbol with a combination of an inverted-drop-shaped pin icon which represents the ideas of healthcare and locality.
Warm colors were our choice to create a user-friendly, undemanding and clear interface that responds to the users' needs and invite them to act.
We created simple but attractive custom illustrations for more engaging and intuitive UI.
This was a final touch that added fun on the entire UX. We have created small, simple animations that are engaging and interesting to users.
The design team did a great job with branding and designing the effective user journey that guides each user towards their goal. Moreover, every part of the brand tell its story and completes the mission that MyWorkMode has.
Want to create an effective design? Know your users/audience
No matter the project, knowing users' needs influences the end result of the interface. What we discovered led us towards design that is fluid, straightforward and that invites the users to engage.
The booking and search functionalities were our primary features. We developed a smooth, easy-to-use interface that is user-friendly and available across all devices.
See more about how we worked on this app in the case study.
Carers only a few clicks away
We can describe MyWorkMode web booking app as a practical and budget-friendly way for professional home health carers, and employers to connect and for businesses to find a first available carer and quality support.
A unique map shows available verified carers as pins, spread on the area that can be filtered according to the employers' requirements.
By clicking the pin, the app will show carer's profile and information about his/her ratings, experience, price, and availability.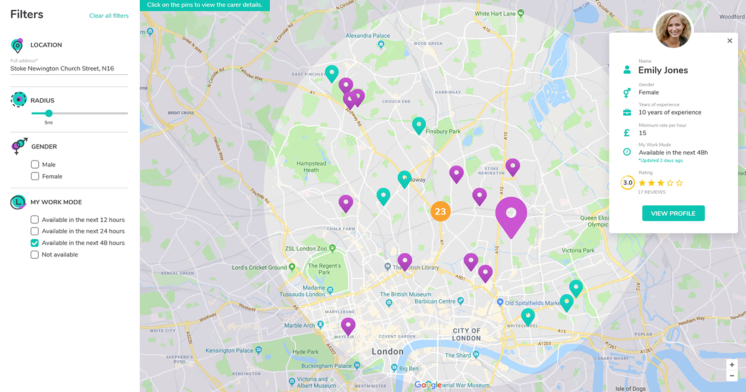 If they are a match, the employer can instantly book a carer and arrange the service.
However, privacy is something that guarantees the quality of this booking app service. Verified professional home health carers are exclusive and available only on this app.
We created a carer's profile that manages to hide personal information until the booking is accepted. Before that, employers can see the ratings, comments, experience, price, and availability of each carer.
Still, employers can count on transparency that is guaranteed through the ratings and comments. After each engagement ends, the employer can rate the health worker and publish the comment about their experience with a carer.
Who are MyWorkMode professional home carers?
We developed MyWorkMode booking platform to minimize the time one needs to spend to find the right carer in the local area. At the same time, MyWorkMode booking platform secures the improved quality of life for both carers and employers.
Before they become part of the MWM platform, all signed health carers, as well as employers, are going through the background check to ensure they can provide the highest possible standards of care.
After that, their identity, professional references, qualifications, criminal record check, and company status are verified and they can join the online platform.
Tokens – a user-friendly paying
We created a simple and effective way of paying that is quick, affordable and user-friendly. MyWorkMode tokens are introduced as currency and as parity to British pounds.
Once the employer finds the health carer that is suitable, he uses the tokens to send the booking enquiry. After the service is over, the carer has an obligation to send an invoice to the employer who pays directly and only for the hours worked.
Tokens are also implemented to cover the fees for the background check and paychecks carers' services.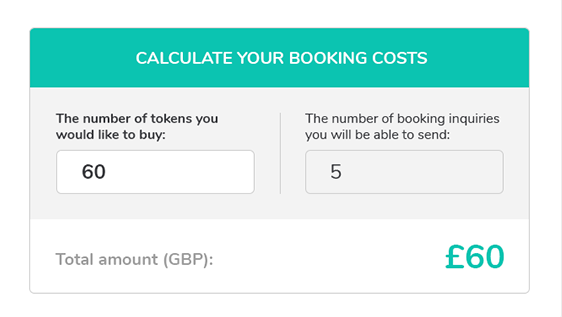 At the moment, the platform is available all across the UK. That means that healthcare professionals or those who need one can sign up easily.
In the end,
MyWorkMode is certainly a pioneer of its kind that will bring professional home health care on a higher level and at the same time improve the way of living and caring for many people.
Medical care anytime anyplace doesn't have to be a privilege anymore.