One of our latest projects is CoinaPhoto, a social network that goes beyond a simple trend of sharing digital photographs, but rather as a home for both amateurs and professionals where they are rewarded for their creative work.
As a niche social network, CoinaPhoto, a social network that sees photography in a new light, is a platform where you get to build your network of friends and followers and share passion and skills with other like-minded individuals being recognized for your work and rewarded for it.
Who is it for?
The network is created bearing in mind those who are passionate about good photography and enjoy this art form, and those who are communicating through photography.
"CoinaPhoto is unique in that it focuses entirely on this huge creative output. Not only will it provide a means by which users can share their photos, but more importantly, a medium for creative amateurs and professionals alike to gain recognition, both in terms of peer feedback and financial reward", explained Shahab Fraz Mirza, CEO of the network.
Once you log in, you will find useful video guides to get you through the network, which is designed to simplify users' experience, and offer the best experience focusing on providing quick and easy access to creative content.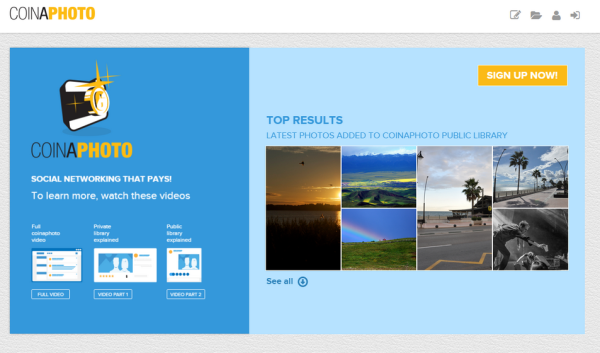 As a unique stock image gallery, CoinaPhoto fosters networking and collaboration, and, this way, if you only seek a place to stock your photographs and keep them private, you can organize your photos and create albums in a private library.
How can you use CoinaPhoto for your professional work?
Sharing your photographs with the public, you get an opportunity to earn money from your original creative work or donate the money to favorite photographers using CoinaPhoto tokens.
With tokens, you can buy and download photographs from the public library and reward photos from your connections. The network is a gaming and entertainment platform as well, engaging users in online games.
"Users have the option of gifting these games to online content they like and the content owner plays these games and his/her final score is credited to his/her account in the form of Coinaphoto tokens. User response for the gaming element has been extremely positive, and we will be looking to add more online games in the future", said the CEO.
Focusing on creative content, the public library is easy to navigate through. Being mobile-optimised, you can also create and share your content on the go, and stay connected with your networks of friends.
One can quickly see the latest uploads and news searching the photos by keywords (title), users or categories.
The network fully integrates with Facebook, Twitter, and Google+, while iOS app is coming this month.
To inspire the people, the network launched a "Journey" contest for the best photography collaborating with professional photographers Lucinda Grange and Paul Steele.
"I have always been a huge fan of social media and its power to inspire people to create amazing content. However, I've often felt that the incredibly beautiful and artistic photos that people were taking and sharing on other social networking sites weren't being recognised, particularly from a financial standpoint. Moreover, we all know that in this economic day and age it's a difficult time to earn money from creativity and so I wanted to make a platform that would help acknowledge the content, and let those who had created the content earn something for their work", explained Shahab Fraz Mirza , CEO of the network. "The future of the Coinaphoto is extremely bright as long as we listen to our users".
More than one thousand photos are already uploaded, so if you are passionate about photography and want your work to be recognized, sign up and check it out.