Where do IR professionals gather online to share and promote the best investor relations practice?
We give you IRspace network, where IR professionals can gather, network, share knowledge and discuss trends in the industry.
What makes IRspace new global network important for IR professionals?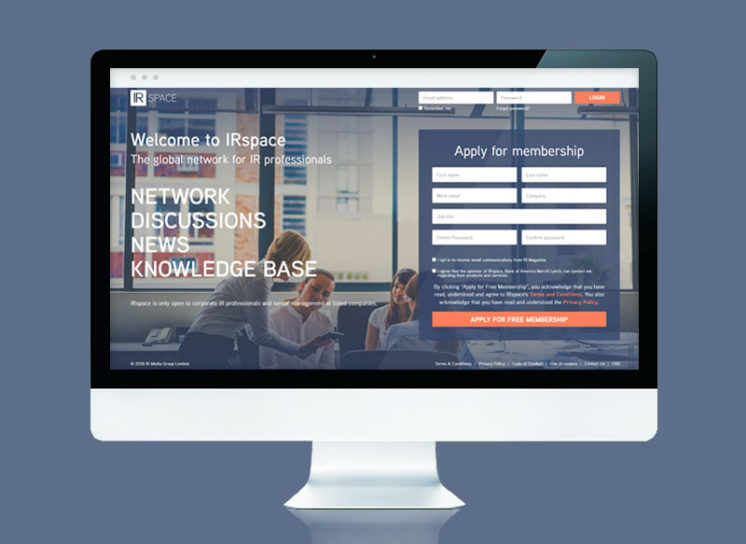 IRspace network is a go-to forum for all those involved in IR. The network only open to corporate professionals and senior management listed at IR companies.
What do you get from the IRspace network?
Access to the latest news and trends
A community of like-minded professionals and experts
Insights into best practice, practical tips, and guides
An opportunity to network and collaborate with experts
How?
You can do what's important to you.
IRspace offers a valuable social networking experience for the IR community.
Once you become a part of the network, you can create new posts, like and comment on interesting content, follow a post and receive notifications when someone replies.
If you are interested in a particular subject or industry, you can visit the Knowledge Base and search for the latest news and insight, case studies and reports from the IR industry leaders. Here you can filter content by topics and content type, or type in a keyword and receive all related content.
The content from the Knowledge Base is featured on the homepage, so you can quickly see what new content people are posting or find valuable.
Find the information you need
The fact that people who are involved in IR come from a wide range of backgrounds calls for an interactive online space where they can exchange ideas and talk about the development of practical solutions. IRspace precisely gives you that opportunity.
Visit the IR Community section to see the latest posts from various, interesting topics.
You can find the specific content in numerous ways: filtering posts by the type of the post (article, discussion, news, blog, events and more) and searching posts by topics. To interact and participate, you can follow the posts you like and comment.
IRspace network is here to help you grow your network
As more and more businesses realize the value of the Investor Relations, demand for IR professionals is increasing and the profession itself is gaining more recognition.
Search the database of IRspace members filtering by sector, position, location, market cap, primary roles, company or name.
You can send and receive networking requests and grow your network easily. Further, you can join public groups, which are available for anyone to join, and private groups, IR Associations. To join private groups, you need to apply for the membership, but you can easily create your group.
Apply for free membership by entering your business email address and explore the network.