How many times have you given up on visiting your GP just because you couldn't be bothered? Or aren't you simply tired of having to wait on doctor's appointments and having to deal with another medical bill? Our latest project might just be a thing for you, a way to get many of your health issues away. Also, an opportunity for us to show the benefits of WooCommerce integration with WordPress.
Our task was to find the best way to show you what this amazing piece of writing is all about and offer you a chance to pre-order the book.
The Book And The Author
Although medical experts everywhere spend their lives trying to help others, the capacities of health systems worldwide are limited. This is why Nigel Crisp's latest book — Health is Made at Home, Hospitals are for Repairs — deals with the causes of health issues and teaches you how to build health and eliminate the need to visit hospitals.
"Health is Made at Home, Hospitals Are for Repairs" intent is to help solve the existing health crisis in the UK by challenging the NHS and government to listen and learn.
"Health is Made at Home challenges us to take off our NHS spectacles, see the world differently and take control of our health."
You can read about the ways to help yourselves, people you live with, as well as entire communities by recognising the weak spots and being creative. Learn about the people who have already done this and follow in their footsteps.
As the title of the book says, hospitals are just for repairs.
Together we can work to beat the underlying causes of many health conditions and rejoice in making this world a truly happier place, not just as a phrase, but a real thing.
Lord Nigel Crisp is an independent crossbench member of the House of Lords.
"He writes and speaks widely on global health and his book Turning the world upside down – the search for global health was published in 2010."
His main current interests are global health partnerships, health creation and nursing.
Our Approach To Design And Development
Our task was to design and develop a custom one-page e-commerce website for the purpose of promoting and pre-ordering the client's book. Using WordPress development to create a promotional website was a logical choice and integrating WooCommerce with WordPress to empower the commerce side of the website and enable easy and intuitive online shopping experience was because it is a perfect fit for WordPress.
When we sent our first design, the client was very satisfied with the website configuration and section order we proposed. Our next suggestion was to re-brand the website in order for it to be consistent with the existing cover of the book.
Upon receiving the cover, we adapted the primary and the secondary colours of the existing website to match the ones they used on the cover. We also replaced the Hero image of the website with the graphics that was on the cover and used the book's title font for the website's title font.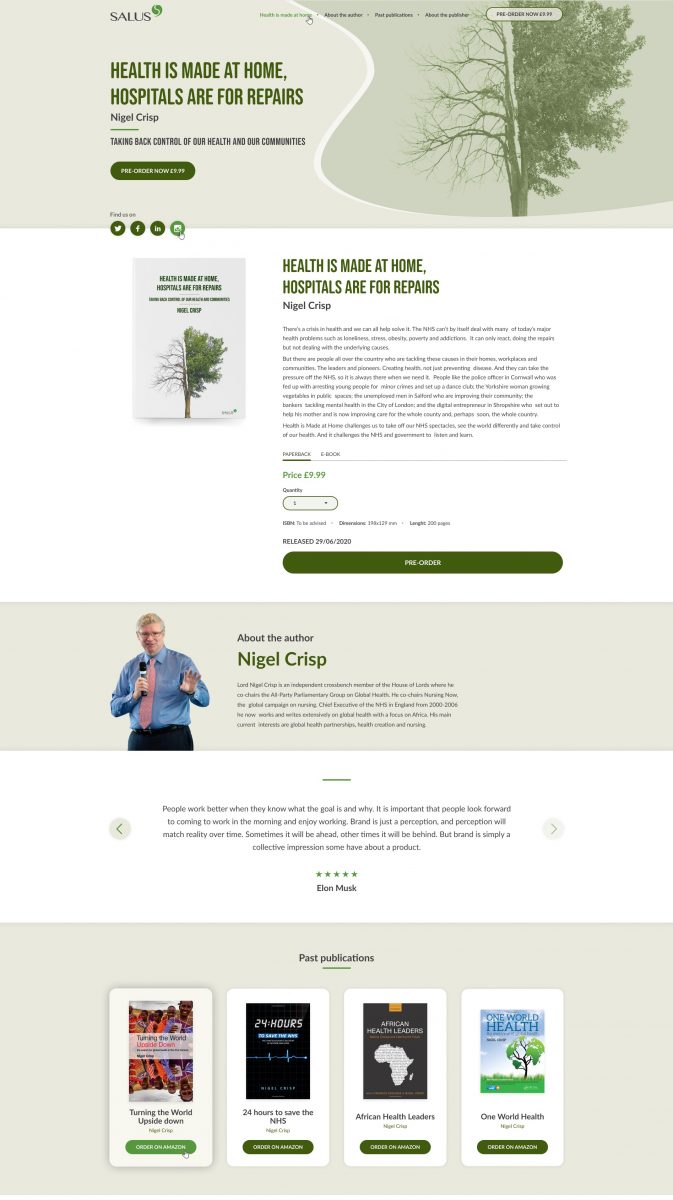 For the end-user, we simplified the shopping process as much as we could. There's no shopping cart, you just click on the item and purchase it. Also, there's no delivery address when purchasing the e-book, because in that case you receive a download link for the publication.
Why WordPress Content Management System
WordPress is a great solution for this type of project because it offers easy content manipulation. No development skills are required and our client is able to quickly add new or edit an existing item.
With WordPress we were able to fully optimise this website to get meaningful analytics data, good content organisation and great customer experience.
For this project, we opted for ACF Pro — a plugin that is used for creating custom fields. For example, on our clients page we created custom fields for the book cover, book description and ordering info.
We first determined how these items should appear on the page and then ACF got their dynamic data and created the field. With ACF we gave our clients the freedom to choose which items to show on the page and how to lay them out.
Why WooCommerce As A Solution
WooCommerce is a complete e-shop solution. We suggested it (and the client agreed) because of its fast integration with WordPress and the fact that it's a perfect fit for a project like this one.
WooCommerce allows the user to easily manage orders and add new products. Another reason we chose it for this project is because of the option to sell a downloadable virtual product. Here you have a paperback and an e-book. As soon as you make the payment, the order goes through processing and you get an email with a download link.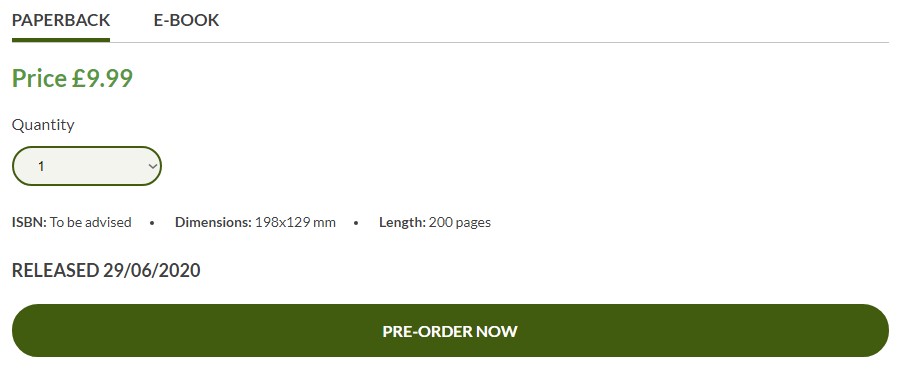 All the payments go over the interface of First Data Connect, a secure payment page with fully customisable branding.
When making a payment, customers will be redirected to a payment page hosted within First Data's secure data centre to complete their purchase. Once the payment is complete, the customer will be redirected back to Health is Made at Home, Hospitals are for Repairs to confirm the order.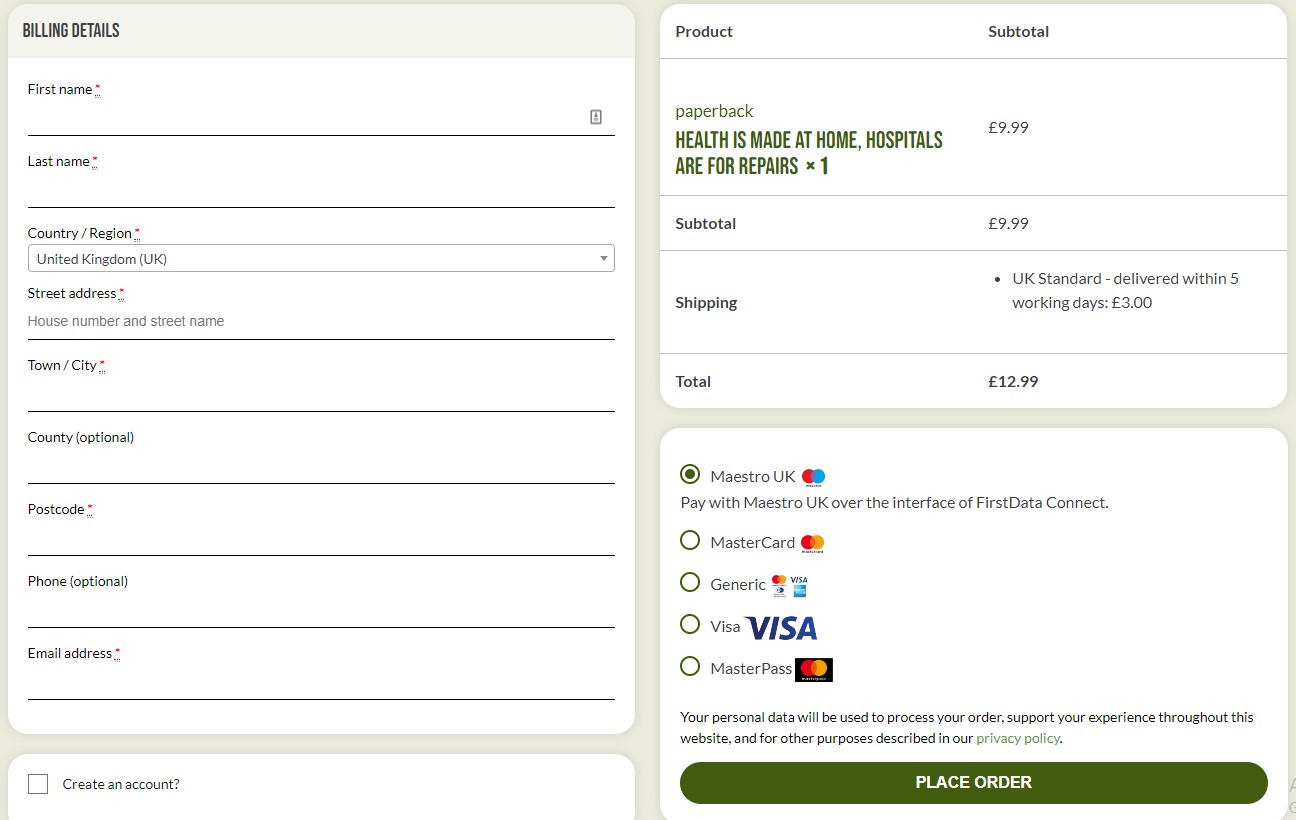 Currently, only pre-orders are available, because the publication is set to be released on 29/06/2020.
WooCommerce integration with WordPress proved to be a perfect match for this project.
If you are considering a project similar to this one and your are thinking about WordPress or WooCommerce development for your project, feel free to contact us and get a free quote.