Protecting, nurturing and supporting the most vulnerable children in the UK is a priority of Barnardo's – a children's charity that has been doing this for over 150 years.
Barnardo's was founded by Thomas John Barnardo who was hoping to help the most vulnerable children in society. He decided to set up a school in 1867 where children could get a free education. Thomas Barnardo dedicated his life to helping children, opening homes for boys and girls, giving them a roof over their heads, providing them with an education, apprenticeship opportunities and much more.
'Our hope for a better future for all children is the source of our inspiration.' (Barnardo's)
Barnardo's now supports and protects vulnerable children in fostering and adoption, emotional wellbeing, young carers, disabilities, substance misuse, sexual abuse, domestic abuse, trafficked children, children seeking asylum, children with a parent in prison, homelessness, and much more. They believe that every child should feel safe from harm and are dedicated to a number of causes.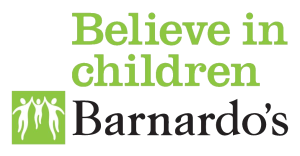 One of these causes is keeping children safe from harmful practices, which is why they have set up the National FGM Centre, in partnership with the Local Government Association; a national Centre in the UK with international reach, looked at by many worldwide as a Centre of Excellence.
The National FGM Centre's vision is to keep children and young people safe from FGM and other Harmful Practices, including ending new cases of FGM by 2030. They aim to:
Prevent new cases
Protect children and young people
Support those affected by FGM and other Harmful Practices
And with the help of an eLearning platform that explores harmful practices in great detail, the National FGM Centre is able to educate and empower professionals and continue to keep children, young people and their families safe from harm.
'We do what we do for children and their families.' (National FGM Centre)
Children are one of the most vulnerable groups in our society and they require special care and support. Family, statutory organisations and the educational system are there to provide the support they need, but sometimes – that support is missing or is just not enough.
Thanks to the National FGM Centre, who are there to look after the most vulnerable, these children are given the opportunity to reach their full potential, no matter how difficult their life circumstances are.
National FGM Centre: Protecting children from harmful practices
Harmful practices are persistent practices and behaviours that are grounded on discrimination on the basis of sex, gender, age and other grounds as well as multiple and/or intersecting forms of discrimination that often involve violence and cause physical and/or psychological harm or suffering.
Harmful practices that the National FGM Centre helps in preventing and protecting children from, include:
Female genital mutilation (FGM)
Breast flattening
Child abuse linked to faith or belief (CALFB)
Although these practices are a violation of an individual's human rights, they are still performed around the world, and are not limited to any one specific group of people; and in order to address these issues, raise awareness and educate professionals that work with children and families affected by these practices, the National FGM Centre decided to create an eLearning platform, which our team carefully developed to suit their needs.
Harmful Practices eLearning tool
With the help of our team, the National FGM Centre developed a first of its kind eLearning on harmful practices that is intended to improve knowledge, skills and practice of professionals working with young people. By completing this course, the learners will be able to think about harmful practices holistically.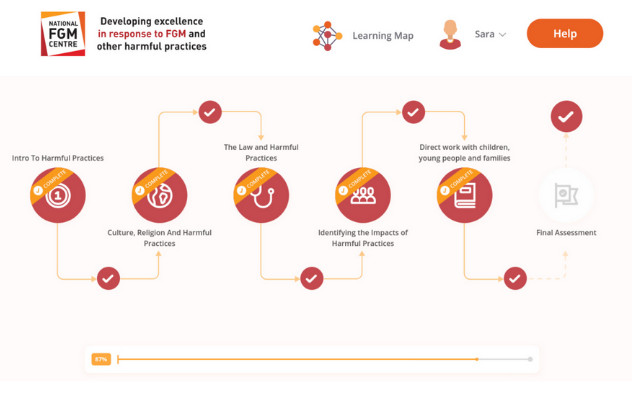 Perfect mixture of theory and practice
To help professionals understand every segment of the course, the Harmful Practices eLearning tool contains both theoretical and practical examples, along with quizzes, case studies and videos. Content is divided into several topics and each topic is followed by a quiz that helps learners test their knowledge. In addition to this, there is a final assessment after which learners receive a certificate.
By having such a clear content structure, professionals are able to learn in small chunks which allows them to fully understand every topic covered in this course. In addition to this, because they are not required to learn everything in one sitting, every learner can create a learning schedule that suits their needs. This is why a microlearning platform is the right choice for these kinds of courses.
Interactive learning journey
In the digital world we all live in, professionals and their employers seek engaging and reflective courses to improve completion and success rates. This is why the interactive learning path was the perfect choice for this course, especially since it deals with sensitive content that takes time to understand.
The Harmful Practices eLearning contains a learning path that is engaging. By completing topics and quizzes, the learner earns medals and follows the learning path until they complete the entire course, and they know exactly how many topics they have to go through at each moment, which is a huge benefit.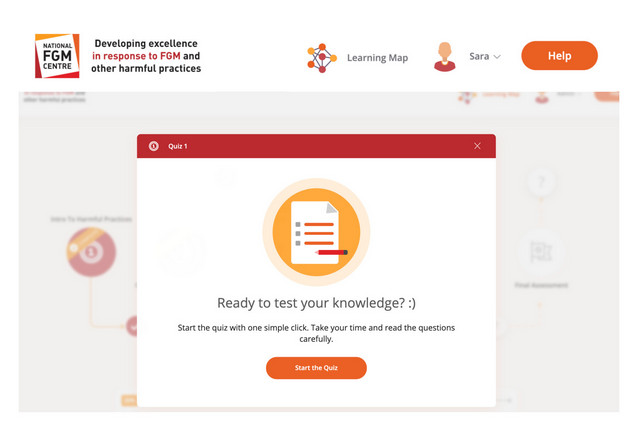 New eLearning features
The Harmful Practices eLearning is a tool for agencies and organisations. This means that their members are supposed to be able to register and create accounts without administrators having to do that for them. This is especially important if an agency has hundreds or thousands of employees, cutting out administrative time and on-costs.
Eton Digital team therefore implemented a new feature that allowed only users from certain domains to register, after being approved by the Harmful Practices team at the National FGM Centre.
In addition to this, in order to combat thousands of users under one domain all accessing the tool, it was necessary to create another verification step to differentiate those who needed to have access to this tool from those who do not. By implementing the code validation feature, only those users who are approved can access the Harmful Practices eLearning tool.
Lastly, another important feature that we implemented is the option to delete users, which can be easily done using the simple content management system set up by our team.
Charity and eLearning – perfect partners
eLearning platforms are proving to be a valuable ally to charities. Not only can they be used to educate and inform charity members and employees, but they can also be used for education of members of other organisations and interagency collaboration. They are reliable, modern, interactive and they boost completion rates.
By choosing an eLearning, the National FGM Centre is able to share its expertise and knowledge about important topics with professionals across the UK; helping more children and young people until harmful practices are rooted out completely.
Interested in finding out how eLearning for health solution can help your charity?

Get in touch with the Eton Digital team today.