If your sphere of interest is politics and economics, we present you Corporate Secretary, a website for government experts now redesigned to help you get the daily dose of the latest news from these industries.
We have had a great opportunity to work with the IR Media Group on the youngest member of their media assembly – Corporate Secretary.
Altogether, the IR Magazine, IR Space, a social network for IR professionals, and the news website Corporate Secretary, offer economy insights and business trends to readers, industry professionals and researchers at hand.
What is Corporate Secretary?
Corporate Secretary, as the name suggests, offers the latest, first-hand experts analyses of the high-powered politics and far-reaching economic issues.
The website exists from 2002. and since then, the site has been guiding governance professionals into the deeper understanding of their roles in politics.
Corporate Secretary is a digital and print platform, a trustworthy place where governance experts can share their experiences, insights and best practice and write about the latest news from political, corporate and economic spheres.
Now, we present you their brand new website, improved to give an amended user experience and fast access to the latest news from the industry.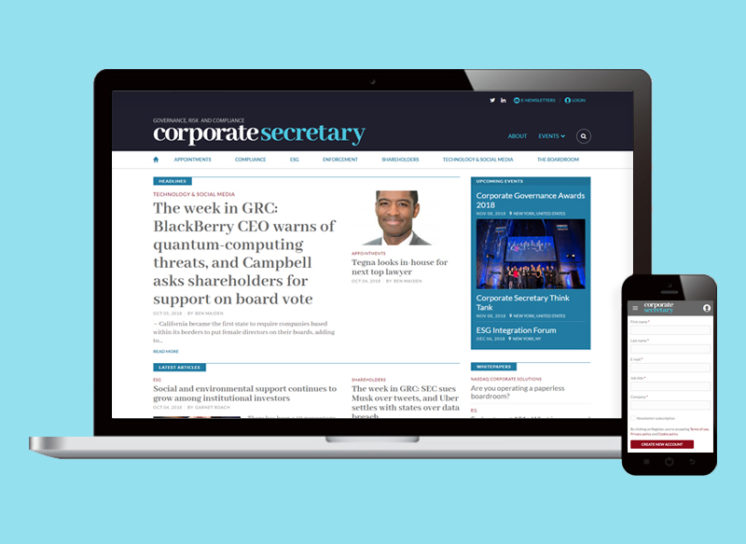 What will readers get?
Every part of the site is mobile friendly, available on every gadget you own.
Entire news content is free and readers can find their preferred way of consuming the content, whether on the desktop, tablet, mobile devices or a print version. The only condition is to register your account.
From big league boardroom reports, interviews with the prominent executives, experts, and politician, with Corporate Secretary you can feast on one fine balanced frame of reference and prominent lists of headlines.
Everything you want to know about businesses and economy you need not look any further than the Corporate Secretary news website.
Moreover, as the digital world is momentous today and its events affect entire industries, the Corporate Secretary writes about dominant IT industry trends and enterprises that you shouldn't miss by any chance.
Corporate Secretary provides a forum "where governance experts and service providers can share their experience, insights and best practice recommendations on a wide range of critical issues.

You can read about corruption, internal investigations, e-discovery and records management to succession planning, executive compensation, proxy actions and shareholder engagement. "
To emphasize:
They need to manage the immense and complex content that require profound work on quality user experience, so we come aboard to offer the solution that meets the needs of the users.
The main goal was to have all relevant content easily accessible and available. With the implementation of the brand new website and modern interface, we made their content clearer and legible for reading.
Share your thoughts in the comments below, we would like to know.