Raise your hands if you agree with this statement: "First we eat and then, we do everything else". Come on, don't be shy!
And now take a few minutes to ponder what we eat.
Organic markets are growing but we can still see a huge gap between a demand and a supply.
Social marketplaces with location-based services are increasingly popular and successful, but no such solution was offered in the agriculture sector, yet.
That's why we are excited and proud to present you our solution, an online social marketplace that connects consumers with organic food producers in their local area and wider – OrganicNet.
Over the years we've helped many startups launch – from great ideas and visions to detailed business plans and investment proposals – we invested our best – knowledge, skills and expertise.
But we want to do more, provide more business opportunities and bring a real change.
Building social networks and knowledge sharing platforms is our expertise and a field in which we can show what we do best.
Our Journey Just Started
It's been exciting months for us, yet we've only just started!
We kicked off in September, but, if you believe in coincidence, which I don't, it's interesting we decided to start introducing ourselves in October, being that the 16th is the World Food Day!
Coincidence? No.
We were competing with many great fellow enthusiasts and visionaries and their ideas, and although our idea wasn't selected the first time, we didn't give up easily!
The second time we selected a program that was more suitable for our project and headed once again to the market to do some research, to promote our platform, explain the benefits and have our end users agree on testing our network.
In July we received wonderful news –  the German accelerator FInish decided to fully finance our project! Thanks once again for supporting us!
So you may ask,
What is the problem we want to solve?
This is what OrganicNet will do.
OrganicNet is a knowledge network and a social marketplace that connects organic and local food producers with nearby buyers.
We will help consumers find organic food in their neighborhood, and wider, and provide organic food producers an online marketplace to market their products and reach their customers.
How?
Producers set up their online profiles that act as their online personal stores.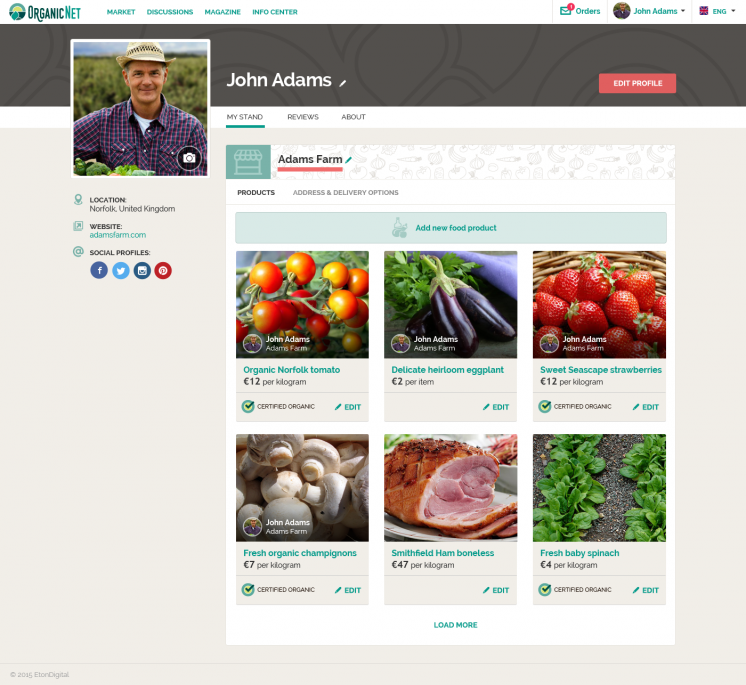 They can create product listings, set the price themselves, choose delivery options and add their certifications if they have one.
Consumers can register on our platform for free and browse and search products and producers any time. We created different filters to enable easy and fast search and built a platform that recommends products and producers based on user's geolocation.
Here you can see a Product page.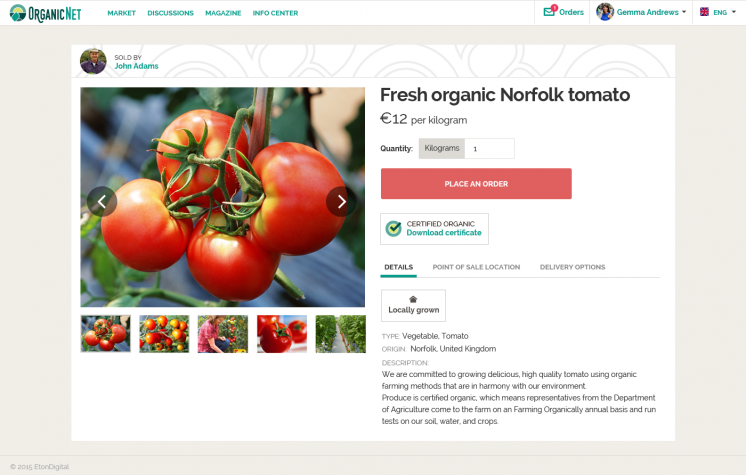 Once they place an order, consumers coordinate the delivery method (via courier service, delivered by producers, or picking up by themselves) exchanging messages through a private messaging system on the platform.
Here's a sneak peek of Place An Order Form:
And a screenshot of My Orders Page:
Certification bodies will be invited by the OrganicNet team to join. We will create a database of the certification bodies so they can either 'claim' their profile if it's already in the database, go through the verification process to gain access, and update their business information, or create a new profile.
We Want A Trusted Platform
As we are enabling real people to build real connections, each member of the platform evaluates the overall experience.
Consumers and producers can leave references, reviews and comments, rate different indicators and the whole process while producers can rate certification bodies. This system allows each party to receive feedback and build credible online reputation and validity.
We Provide Knowledge Sharing And How -To
But OrganicNet isn't only a marketplace, it's a knowledge sharing platform – a place for you to get information on all things organic.
The Magazine will contain articles on different topics (recipes, articles on how to store food, food tips and tricks, nutrition and health tips) tagged with the type of food to offer readers contextually relevant and tag-matching products or producers.
The Info Center shows information from agricultural sector curated from relevant sources and moderated by our editorial team.
This is a place to find useful articles, links and documents about local agricultural legislation, organic food regulations and acts, list of certification bodies, tips on how to get the certificate, upcoming agricultural events, market, local weather forecast and more.
The Discussions section is edited and organized by the community of producers, consumers and certification bodies. The members can share their best practice and knowledge, ask and answer questions, and discuss on the latest developments in the industry, building a strong community and enabling organic food industry to grow.
More Benefits For The Producers
Producers can earn extra income for sharing resources as the platform enables them to rent their fleet of agricultural machinery to other producers.
After the producer lists and describes the machinery or service, sets available date and price, the other producer can send a booking request. After the booking period ends, they are encouraged to evaluate each other.
What's next?
We are very excited to have been selected by the EU as the best startups to participate in two great startup pitching events.
In November, we are heading to Hamburg for the 3rd European Conference On The Future Internet, the event that will become the heart of European startups.  
As one of the best projects, our team is also selected to attend one of the greatest conferences on Startups and Lean Management, The Lean Startup Conference in San Francisco where we will have a chance to pitch our idea in the center of the startup world!
The Challenge?
As we rely on Symfony PHP, the core of OrganicNet is built on this framework, however, one of the conditions is to use Fiware. A challenge, but we are up for it!
We have designed and developed a dozen of social networks and knowledge sharing platforms and we believe OrganicNet is a disruptive innovation that creates a new market and new value to the agriculture industry.
The platform will be available in several languages: Serbian, English, German, French, Italian, Spanish and Russian.
Support us by spreading the word and get notification when we launch!