This is the third consecutive year of the IT Soccer League, the friendly competition where soccer fans and enthusiasts from the IT companies gather to play and enjoy the game.
From the first ten companies who supported the event, there are now 15 teams involved. What might seemed like an impossible thing to accomplish, now looks like a professional five-a-side competition, but when and how everything started?
We are very proud of our Marko Marovic, who is one of the founders of the initiative, so we talked to him and asked him to share his experience and thoughts with us.
Hi, Marko. Can you tell us how IT League started?
Sure. I remember it as one of the coldest winters in modern history when we began a discussion in a smoke-filled pub in Novi Sad, by the Danube. It was during the winter of 2014. Sounds quite exciting, right? :)
The idea was born in the mind of few guys (IT people of course) that were playing five-a-side soccer. We discussed a League topic a few times, but someone would always say: "It's impossible to organize it between a few companies, we barely manage to find guys for one game!". We agreed that more IT professionals should be involved and that initiative should be made.
And so we decided to contact the people in other IT companies, organize a meetup at the local pub and see what we can do about it. After a few beers, we have found that we have ten companies that are eager to try to compete in five-a-side soccer. Then we got in contact with the local sports center, defined the game rules to protect the "fragile" IT professionals, looked for the judges and tried to find someone to deal with the match statistics, arranged the payment, etc.
And after a few months of calling, texting, and organizing, we finally organized our first game. So, I can say that it's POSSIBLE to start a League…
It's the third consecutive year of the competition. Is there something different?
Yes, I must say that plenty of things are different. In a good way, of course.
We have learned a lot, optimized the game rules, grew in numbers of participants and teams (i.e. companies) and of course, corrected few mistakes, which is a natural course of events.
How many companies are now part of the initiative?
From the first ten companies, we can proudly say that we have 15 companies that are competing in the third year. Considering the size of the city and the number of IT companies, I believe that we can further grow in numbers.
Of course, few companies couldn't continue to compete due to employees leaving the company/country. But on the other hand, we have quite a lot of businesses that are interested in the idea of the IT League.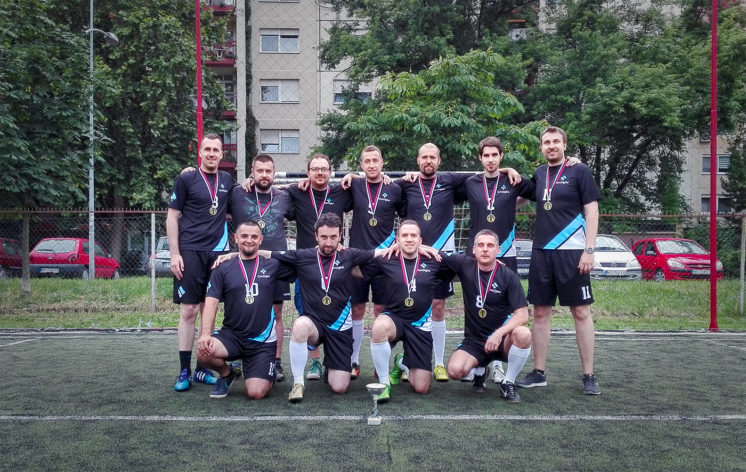 The opening game is a charity event, and you will be playing with children from Children's Village, an organization dedicated to helping children without adequate parental care. Can you tell us something more about that?
Yes, I had an idea to extend further the influence of IT companies in the city of Novi Sad regarding support to the local community. When we started the League, our opening game was with the children from Children's Village. It was a beautiful and warm event, where children had a central role.
This year, besides the opening game that we'll play with the kids, we have also collected a quite amount of money from the companies participating in the IT League, so we will be able to provide the children with some of the necessities and improve their overall accommodation in the village.
I will use this opportunity to express my thanks and gratitude to all companies that have donated. It would be great if we could make this competition a traditional event and I will give my best to make it happen.
You are one of the founders and initiators of the competition. What has changed for you? Are you now a better player/person/worker? :)
Everything has changed. :) I have met great people and found friends that share the same passion for soccer like me. Furthermore, I saw how people from my team (including myself) are much more interconnected at work.
The game affects people so they have much more confidence and trust in their team members during the work hours. This atmosphere positively impacts the work, the productivity is increased, and teamwork spirit is shown in its full potential.
So when I look at the past three years, I see I have become better in all aspects of my life. Hopefully, this period will last much, much longer and we'll improve even more in the coming years.
What attitudes and beliefs about this competition do you want to hold?
All the current ones and hopefully, to introduce new ones :) Team spirit, innovation, open-mind attitude, trust and honesty, positive attitude, and so on. The list is long.
Now, let's talk about sports and work.
Can a sporting spirit help employees put their best every single day? Do you think the sporting spirit can drive innovation? If so, how?
I have seen it happen on a daily basis. As I have already mentioned, the bond between team members on the field is turning them into a more coherent team in the office. People feel relaxed; I can see their decision making and innovation abilities are enhanced.
Can we see benefits from organized sports events and competitions for the company culture?
People are the foundation of the company; it's engine and brain.
I firmly believe that sport (in general and not only soccer) is very beneficial. People are active, healthier and thus more confident. Combined with the family-like relationship in the office, the company culture of such company is improving exponentially.
When we talk about IT soccer league, can we talk about strengthening IT community?
Absolutely! :)
People in the IT world are connected in many ways: social networks, applications, conferences, associations, meetups, etc. IT community is setting new standards in the business world, with the sports activities (in this case IT soccer league).
I can only say that I'm proud to be a part of it.
Where do you see IT league in 5 years?
Well, hopefully, beyond the country's borders :)
I would like to connect with other countries and try to organize the League matches, or at least the Cup games with the best IT teams from Europe. We'll leave the rest of the world alone for the time being. I'll start thinking about it when the time is right :)
Thank you. Good luck in the games!