It's the time of year for you to create a list of top conferences that meet your interests and budget.  
But, every year, more conferences are competing for the attraction, and although most events offer great educational content and networking opportunities, you might feel overwhelmed.
So what should you do?
We wanted to make it easier for you to decide where to invest your time and money.
Here are the requirements we believe a conference should meet before anyone books the flight:
Focus on facilitating dialogue and collaboration

Providing experiences that build long-lasting relationships

Supporting and empowering the community 

Enabling attendees to leverage skills and knowledge

Enabling a connection on a personal level

Attracting a balanced audience

Offering value for all attendees 

Leveraging technology to help conference goers build connections before, during and after the conference  
Here's the list of the top conferences in the UK that meet these requirements. 
We have grouped events according to the target audience, for developers, designers, marketers, and for those who are interested in IoT and wearables, but you'll see that many events offer content and engagement to a much wider audience.  
Are you ready? Take your time :)
Tech Events For Developers
16th – 20th January 2017, London

NDC conference started in Oslo in 2008 and quickly grew into one of the largest conferences in Europe that focus on .NET and Agile development. Today, NDC conference is a 5-day event, with 3 days of sessions and 2 days of pre-conference workshops. This year, the event holds around 160 talks from 142 speakers and 18 workshops.
16th & 17th February 2017, London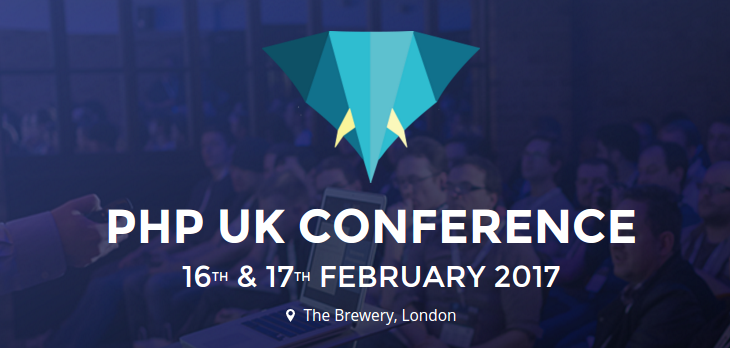 The 12th Annual PHP UK conference brings two days of learning through amazing talks from 34 speakers. and offers the most up-to-date PHP information and training and related technologies. It's a must-attend event for PHP developers. Stay up to date via Twitter.
6th – 8th March 2017, London (conference), 9th-10th March 2017 (workshops)

Software is changing the world. QCon empowers software development by facilitating the spread of knowledge and innovation in the developer community. A practitioner-driven conference, QCon is designed for technical team leads, architects, engineering directors, and project managers who influence innovation in their teams.
Within 3 days, you have an opportunity to hear speakers from Google, Facebook, Uber, Twitter and more and to listen to 8 editorial tracks and choose from 17 workshops.
25th March 2017, Brighton

UX Camp Brighton is "an 'unconference' for anyone involved or interested in user experience design, user research, interaction design, information architecture, usability, accessibility and other associated fields." This is a great chance for anyone to participate as a speaker.
30th & 31th March 2017, Oxford

Render conference, which offers practical talks on front-end, returns to Oxford. In two days you can hear inspiring talks that can offer advice and insights on how to be a better developer. Follow their Twitter account to stay up to date with news.
11th & 12th May 2017, London

In two days, you can enjoy 120+ sessions from 100+ speakers. It's the annual conference organized by developers for developers, focused on Java, Android and HTML5, and other related technologies that welcome around 10k people every year.
15th -19th May 2017, London

Software Design and Development (SDD) conference is the leading event for developers and designers that offer over 100 in-depth talks and workshops by the world-class speakers, experts, and professionals. Subjects covered during a 5-day event are Angular, software project design, Agile Architecture, microservices architecture, ASP.NET Core, Async Programming, Debugging, Machine Learning, and much more.
8th & 9th June 2017, London

When you're busy leading a team, coding and maintaining standards, how do you find the time to stay ahead of new technologies and develop yourself as a technical lead?
Lead Developer conference offers knowledge and advice from experts on how to lead and motivate a team. In two days, visitors can attend sessions on new technologies that can help build effective and powerful teams.
9th & 10th June 2017, Portsmouth

The conference is organized for the PHP community by a non-profit organization that is collaborating with six PHP user groups in the South UK. The aim is to bring challenging talks that can broaden skills and knowledge of PHP developers. Call for papers is still open.  
12th – 14th July 2017, London

The fourth edition of FullStack conference brings new and interesting speakers in London in July. The conference is focused on gathering together the international JavaScript community and professionals and experts from around the world to share and explore the future of technology. If you are interested in JavaScript, Node, Angular and IoT, this is the conference for you. Other topics to be explored include CSS3, machine learning, functional programming, testing, software, various frameworks and more.
26th & 27th October 2017, London

Droidcon, as the name says, is created for and by the android community. In its 9th year, droidcon is all about sharpening your skills and networking opportunities. This is an opportunity to learn more about the latest developments and advances in the mobile industry from the experts. The conference is all about Android technology.
7th & 8th November 2017, London

AngularConnect is Europe's largest conference about Angular. The event is a two-day conference that gathers the leading experts on Angular. Participants will be able to take part in high-quality workshops and thought-provoking talks and connect with the Angular community.
8th & 9th November 2017, London

Code Mesh is a unique conference as it focuses on promoting non-mainstream technologies. The idea is to promote and discover "the right tool for the job" instead of automatically choosing the tool at hand. The conference offers presentations and case studies of lesser known technologies and tools one can use. The speakers and presenters are both professionals and amateurs, with a wide range of experience and skills. Tracks will cover the history and philosophy of computer science, programming languages, infrastructure software, next generation databases, and more.
Top Conferences For Designers
2nd & 3rd February 2017, London

Awwwards conference is all about creativity, at large. Workshops and sessions will focus on discovering and introducing new trends in web design, creative work process, web typography, different programming languages and front-end techniques, and more. This year workshops will present the latest within virtual reality and data visualization.
21st & 22nd April 2017, Oxford

The conference on UX with the strong practical focus is returning for the second year. UX in the City is organized by UX Oxford, popular monthly meetings that gather great speakers and UX community in Oxford since 2011. Teams behind UX Cambridge and UX Scotland are co-organisers of the event.
24th May 2017, Manchester

Camp Digital is created for a design and UX community to share and discuss the latest trends and insights in the industry. This is a great opportunity to meet and networks with people who are shaping the future of design and business industry.
24th – 26th May 2017, London

We bring engaging industry leaders from around the world to present a combination of inspirational talks and lively, hands-on workshops.
Brilliant insights and ideas about user experience are explored during 3 days of workshops, networking sessions and keynotes from prominent design experts. It's a must-attend conference for UX designers who want to go into details about the certain specific area of design. The first day is dedicated to the product, the second day focuses on service and the last day is all about design.
10th – 14th June 2017, Edinburg

The focus of DIS conference is the future of interactive system design. It is created for designers, artists, user experience researchers, system engineers and other interested in this field to discuss and debate the future of interactive system design and practice.
The most interesting things happen at edges and boundaries, and so the aim of the 2017 conference is to examine different approaches to framing knowledge about the design of interactive systems.The theme of DIS 2017 is bridging and connecting – across disciplines, practices, places and understandings.
13th – 15th June 2017, London

As part of London Tech Week's festival "TechXLR8", the conference gathers developers, professionals, and brands to discuss how to maximize technology and marketing to engage consumers. The focus is on the user experience, mobile marketing, the "rise of the bot" and the ecosystem of BotWorld.
20th – 22nd September 2017, London

The fourth Generate conference comes to London in September and brings 2 days of practical and inspirations presentations that cover design, UX systems, user testing and animation, and more, and one day of the workshop. Given the conference is organized by Creative Blog and .net magazine, it's a must for both designers and developers. You can expect to hear world-class speakers that can help you sharpen your web design skills.
Top Conference For Marketers & Researchers
16th March 2017, London

Brand safety, including viewability, transparency, ad blocking and fraud, has emerged as the most important issue media buyers are facing in today's increasingly complex ad technology landscape.
The event will bring together publishers, investors, developers, agencies and brand marketers to debate brand safe experiences.
4th – 7th October 2017, London

Festival of Marketing (FOM) event holds the Guinness World Record for the "Largest Marketing Session". The conference gathers around 200 speakers from around the world to share their experience, discover, learn and shape the future of marketing. FOM also celebrates the "Masters of Marketing" award.
The Masters of Marketing are the awards that celebrate and reward true mastery in marketing. It's more than marketing excellence. It goes beyond best practice. The Masters award the work that combines creativity and innovation with effectiveness – setting new standards for the industry.
12th & 13th October 2017, London

Conversion rate optimization is changing. Discover the latest strategies and tactics about.
Conversion conference will gather international experts and professionals to talk and discuss website conversion rates. The focus will be on the latest techniques in A/B testing, data analysis, usability, landing page design, optimization, paid campaigns and more.
24th – 26th October 2017, London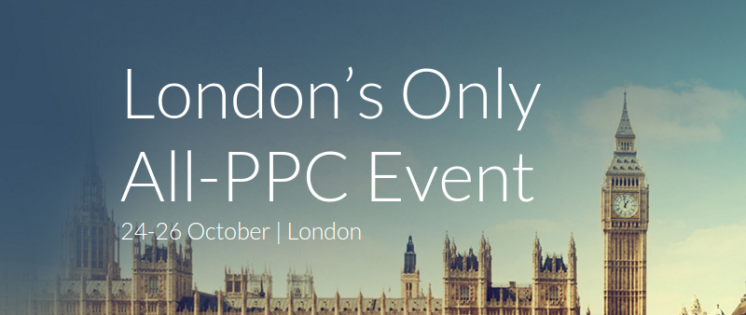 Hero Conf is London's Only all-PPC conference, and once again brings the biggest names and brightest minds together under one roof to discuss the tactics, strategies, present and future of pay-per-click advertising. A conference is a must-go event for everyone who want to improve their PPC skills.
Conferences about IoT and wearables
7th & 8th March 2017, London  

The fourth Wearable Technology Show will gather around 200 speakers and over 6000 delegates to network, share and shape the future of IOT landscape. Apart from featuring and showcasing cutting edge technology from diverse fields – smart home, fashion, and fitness, healthcare, enterprise, augmented reality, and more, the conference offers 6 tracks that explore and go into depth of the different industry related subjects.
15th & 16th March 2017, London

The conference presents the impact of Internet of Things on our future and the transformation of digital technology.  Smart IoT is a prominent event that gathers some of the best speakers on IoT industry. Smart connectivity and device management, smart platforms, big and smart data, and the security of IoT are some of the topics of the conference.
12th – 16th June 2017, London
London Tech Week fuels innovation and strengthens London's status as a global powerhouse of tech.
London tech week, as the name suggests, is a series of events organized across the city that present the best of tech.
1st & 2nd November 2017, London

Global Innovation Forum is an inspiring and engaging event that brings together the most diverse speakers – innovators and entrepreneurs who are shaping the future of the industry. The event focuses on the latest trends in design, the new product development, and innovative technologies, giving insights into the innovation practice. Prominent keynote speakers will discuss and present all future innovations issues.
Read more tips that can help you choose the conference for your needs and wishes.
Anything we miss?
Share with us in comments.