Looking for ways to give back to the community? Why is it so important that every business takes an active role in the community?
We all have a social responsibility to help give back. 
How did we start?
Ever since our company was founded, in 2005, we've been actively participating in the development of the tech community.
The fact that we use Open Source technologies means we are working on providing top quality IT solutions for our clients.
To do so, and accomplish expected results that meet the needs of our clients and partners, we are constantly learning and improving our knowledge and skills. We love Open Source and with it, we always strive to do better.
We firmly believe that one of the greatest values every company should nurture is the ability to donate knowledge. It's crucial to share what you know with others, only then we can give our best, together.  
But that's not the only way you can be an active participant, and neither are we.  
By helping others we can make a difference, thus it's important to seize every opportunity to network and collaborate with those who see value in proactive involvement in the community. 
How can a business contribute to the development of a community?
Motivating others to give back and promote volunteerism, enhance your motivation as well.
Sponsoring local charity events isn't the only way one can participate and contribute to the development of the community. We do so in various ways, empowering our community involvement. We want to share our experience, hoping we can help and inspire you to do the same.  
Here is how you can help give back.
Donate Your Knowledge
You might be an expert now, but you were once a beginner, right?
Before you became a leader in your industry, you were hungry for knowledge. You've probably asked for an advice from colleagues or industry experts. Can you remember the overwhelming feeling of desperation while you were searching for accurate information, but didn't have anyone to help you?
There is always a high probability that a colleague sitting next to you knows something you don't and vice versa.
As an expert, your knowledge is of value to others. Share it.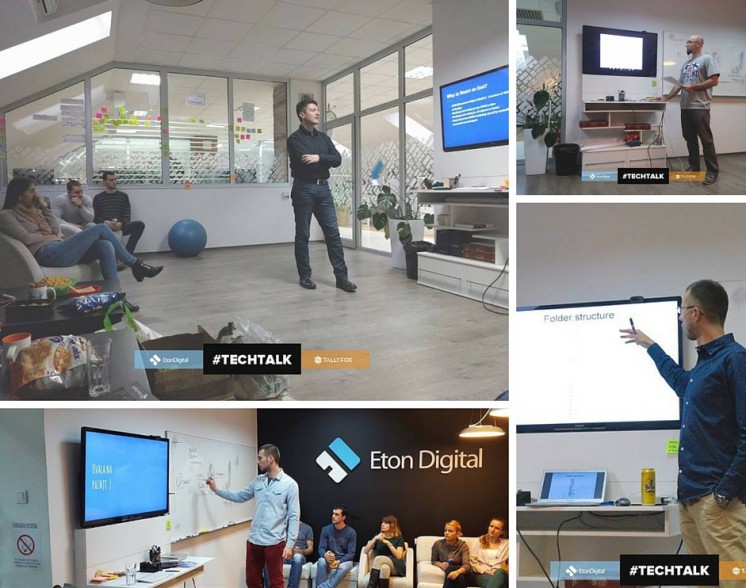 Every two weeks we organise a one-hour talk on a particular subject, covering different topics from web design and development, marketing, SEO, and more. Our tech talks are great ways for each of our employees to show and share their knowledge and skills. You can visit our Facebook page to see some great photographs from our tech talks.
Tech conferences and events are our favourite types of gatherings where we contribute to the community whether as visitors or speakers. 
Encourage People To Volunteer Their Time
Time is… precious.
We all have experience with poor time management. But you can learn to use your time for good cause.
The way you can donate your knowledge, you can also find a way to volunteer your time. Whether small or big, businesses can show their support and willingness to help by encouraging their employees to volunteer.
It's common for companies to give a specific amount of time for volunteer work, either monthly or yearly. Doing so, the employees have an opportunity to find organisations or charities of their choice. Another option is to create an annual plan or strategy and specify what causes, events or charities you will be volunteering at.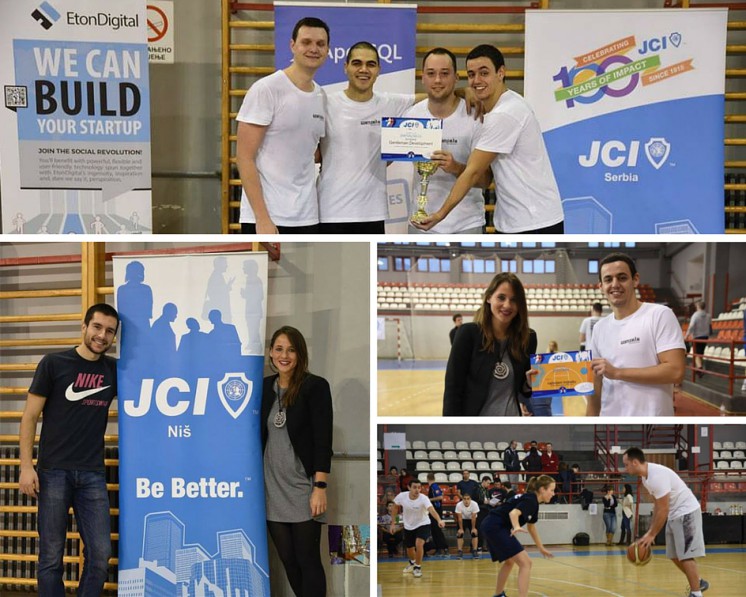 Whichever you choose, with volunteering you can increase a business community involvement, and give back. Moreover, volunteering can create stronger bonds between people and become somewhat of a team building activity.
Sponsor Or Organize An Event
Businesses do have many benefits from sponsoring or organising an event or a humanitarian tournament. There is always an opportunity for you to bring change or help others make a difference.
We are very active in sponsoring charity events and humanitarian sports tournaments as we get a chance to spread a word about organisations that fight for a good cause or are devoted to the idea we believe needs to attract people's attention.
There's a good chance that at least one of your employees is involved in a charity work or has a non-governmental organisation that supports or are active in. Talk to them and see how you can help and contribute to the organisations their care about most. Bring new value to your company culture by fighting for the same cause as your employees.
What is the story behind the IT Soccer League?
What might seem like an impossible thing to accomplish, now looks like a professional five-a-side competition, but when and how everything started? We are very proud of our Marko Marovic, who is one of the initiators and responsible for the organisation of the IT Soccer League. We asked him to share his experience and thoughts about the League, so if you care to know more, head over to the interview.
Donate Money
You can also donate your money, right?
Many great ideas are waiting to attract your attention. We had a great opportunity to meet a group of amazing young inventors with a great project called the Thing, which is a fully functional robotic hand that can be used in medicine, gaming, and other industries. Find causes or projects that you would like to support and find a way to help other realiye their ideas.
Find Other Ways To Give Back
Is there a way for your business to give back when resources and time are in short supply? Easy and fun – that's how your volunteering and involvement in the community can be.
Use the skills you already have to make your community a better place to live.
Business contribution to the community can be a significant support to your company culture.  
Share ideas with friends, colleagues, and coworkers as you can come up with many interesting and creative ways to help. Use other means as well, social media and social networks, or visit blogs and websites that are focused on improving the work in the non-governmental sector.
If you have good intention, you will find good ideas and opportunities to give back.  If you don't know where to start, search online.
As you can see, there are ways in which the owner of the business contributes to the well-being of the community. Remember, no matter how you do it, giving back can ignite change and positive impact.
You can start anytime, so start today.