What Are the Benefits of DrupalCon and Events Organised by the Drupal Community?
There is more than one reason why you should add at least one DrupalCon or Drupal event on your conferences-to-go list in 2022:
Networking & novelties – If you want to stay up to date with current trends, Drupal conferences can provide you with an array of useful and practical information and satisfy your appetite.
Improving and empowering your skills – Drupal community devotedly organises each Drupal event or conference, and the community does take thoughtful consideration about the knowledge sharing, and the choice of the talks, workshops, and lessons for both experts and newcomers.
Engaging with the members of the Drupal community – Whether you are a regular visitor or first-time attendee, you will enjoy Drupal events. These events are famous as dynamic, fun and full of intensive training or lessons.
Meeting Drupal experts and professionals – Drupal events and conferences are gathering the world's best Drupal experts to share tips, trends, news, and knowledge.
Knowledge sharing – Each Drupaler has full access to a tremendous wealth of knowledge to level up their skills.
DrupalCon and Drupal Events in 2022
Here's the list of popular Drupal conferences, camps and meetups held in 2022 and other upcoming Drupal events you should visit before the end of 2022:
DrupalCon Prague 2022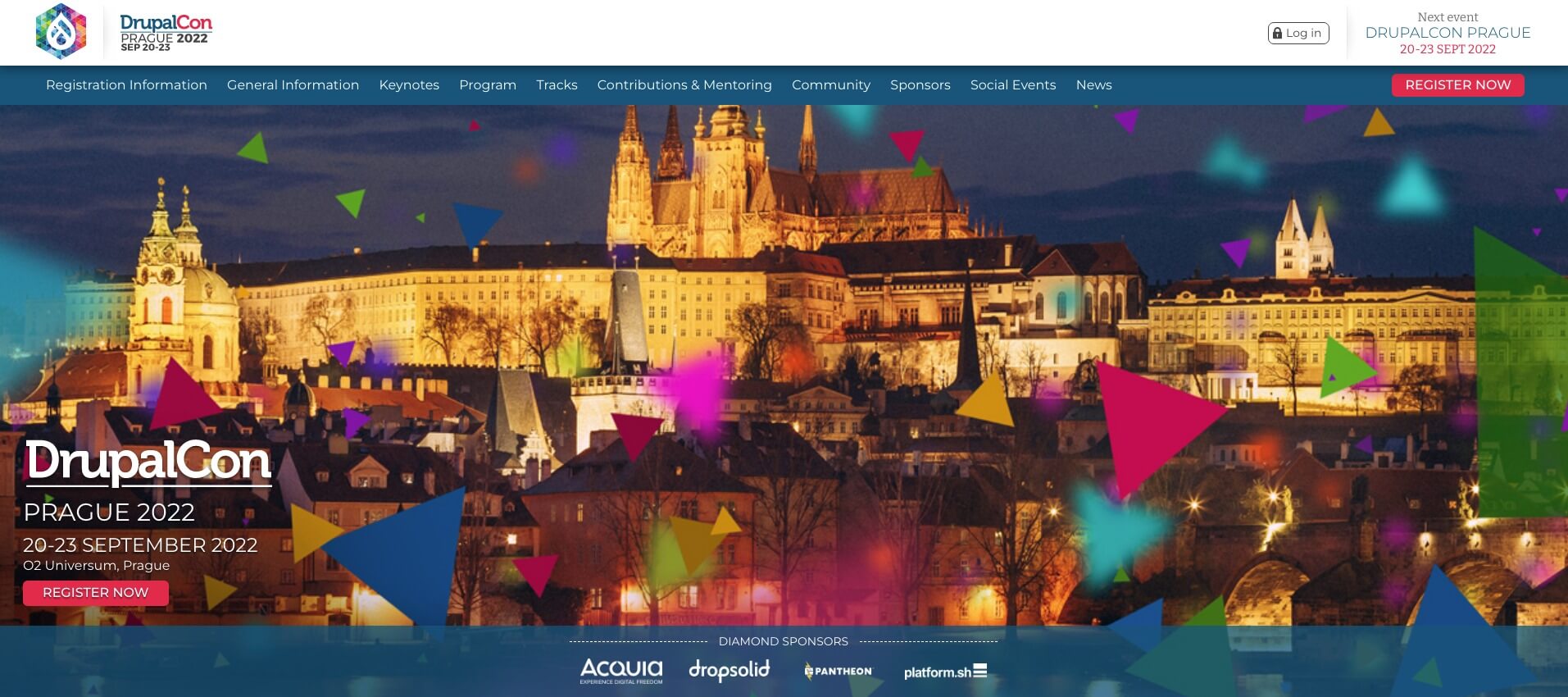 20th – 23rd September 2022
Prague, Czech Republic
The European Drupal community is back as an in-person event DrupalCon Prague between the 20th – 23rd September – full of insights, information and connections. DrupalCon Europe, as the largest event in Europe, will be happening in the capital city of Czech Republic, Prague, and Eton Digital is a Gold sponsor for this event.
During these 4 days the participants can expect inspiring keynotes including Driesnote, Drupal Core Initiative Leads, Taavi Kotka and many other speakers, hundreds of morning and afternoon sessions and BoFs, hours of contributions to Drupal, meeting with sponsors and exhibitors, evening social events, and a lot of fun with fellow Drupal enthusiasts. DrupalCon also offers both knowledge and business opportunities and a chance for everyone to connect or grow business and a client base.
Decoupled Days 2022
17th – 18th August 2022
New York City
Decoupled Days is a conference for architects, developers and business people interested in implementing a content management system as a content service for other non-CMS applications. The mission of Decoupled Days is twofold: sharing best practices in sessions and discussing difficult shared problems in discussions.
DrupalCamping Wolfsburg 2022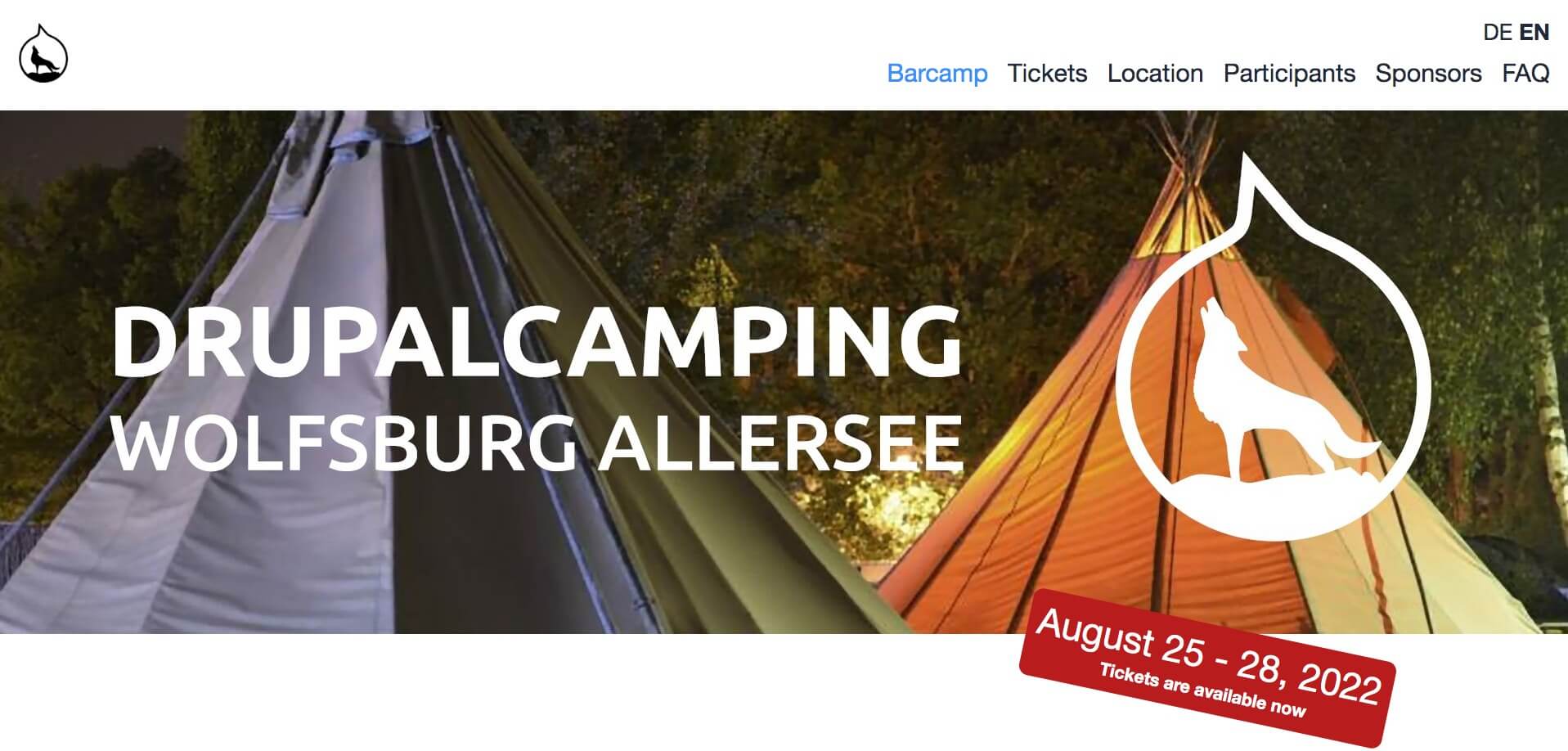 25th – 28th August 2022
Wolfsburg, Germany
The legendary Drupal Camping at Allersee in Wolfsburg will gather people again for 4 days of camping, swimming, barbecue and Drupal. The Drupal community will have an opportunity to discuss the Drupal trends and topics, share experience and build up the skills in a relaxed atmosphere by the lake.
BADCamp 2022
6th – 8th October 2022
Berkeley, California
Bay Area Drupal Camp (BADCamp) has been gathering thousands of Drupal users and enthusiasts from a worldwide community, as well as developers, marketers and content specialists. This year during three days full of sessions for all levels of interest each participant will be provided with a chance to learn from the best, elevating their skills, making new connections and contributing to the community.
NEDCamp 2022
18th – 19th November 2022
Rhode Island College, Providence RI
The New England Drupal Camp (NEDCamp) began in 2014 and was founded by passionate Drupal enthusiasts from Rhode Island with the mission to grow the Drupal expertise and community in New England. NEDCamp is an opportunity to learn, share knowledge and experience, and network within the Drupal community.
Drupal Dev Days 2022
4th – 8th April 2022
Ghent, Belgium
Drupal Dev Days is an annual gathering of people who enjoy learning more about Drupal CMS and engaging in discussions about Drupal. The Drupal community organises this event annually in Ghent, Belgium, which is now considered an incubator for technology. Every year the event brims with interesting sessions, keynote speakers, contribution events and networking with the fellow developers who gather from all over the world to contribute to the progress of Drupal. This event already took place in April, however, it is worth attending and planning ahead.
Drupal Camp Poland 2022
28th – 29th May 2022
Wroclaw, Poland
Drupal Camp Poland is considered the biggest Drupal event in Poland. This year the two-day Drupal Camp was held from the 28 – 29 May in Wroclaw, and the programme included issues related to Drupal, PHP, site building, e-marketing, project management, business, Drupal community and much more. The lectures during the conference were arranged so as to provide every participant with what they needed – from Drupal beginners to advanced developers – and were delivered in Polish and English.
DrupalCon Europe in 2021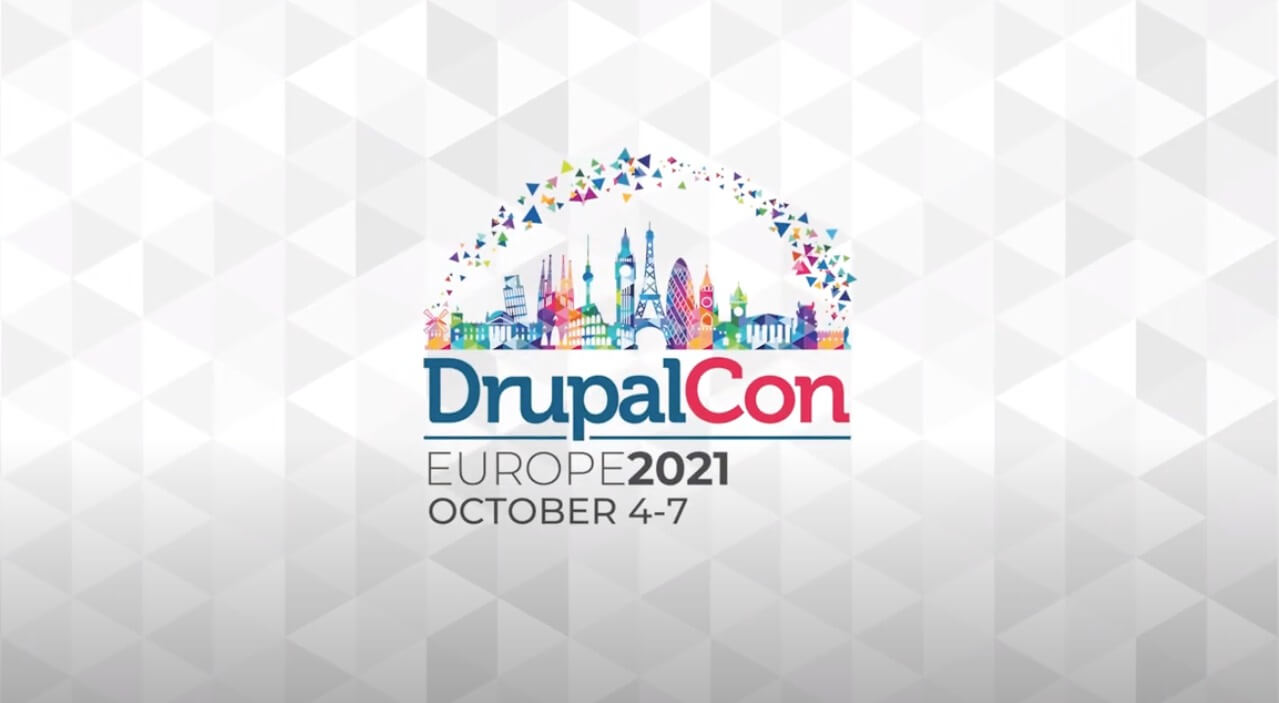 When the whole world started spinning online due to COVID-19 uncertainty and safety concerns, virtual events replaced in-person events so that Drupal enthusiasts could still be connected to the Drupal community.
DrupalCon Europe 2021 organisers decided to run a virtual event gathering the brightest minds in Drupal and merging all popular Drupal events into one:
DrupalCamp Kyev,
DrupalJam,
DrupalGermany,
DrupalCamp Ghent,
Drupal Wroclaw Communities and others.
All brought together at one place, DrupalCon Europe, to take part in it and to support each other and the micro universe called Drupal. It was a unique reunion, not only for the local communities, but worldwide.
Kicking off on 4 September, 2021, DrupalCon ran a full week of Drupal interactive program with multiple talk shows and in-depth discussions with leading techs, hardcore developers and community members. The participant Drupal camps were broadcast live from local studios and embedded within the stage of DrupalCon, making it possible for everyone to join live or revisit the recording later.
Drupal Events in 2020
Looking back at 2020, there is much to reflect since numerous Drupal events worth mentioning were held online, bringing together amazing lecturers, experienced developers and the whole Drupal community, and collaborating on infrastructural needs and key initiatives.
DrupalCon Global 2020

14th to 17th July 2020
Online Everywhere
The Drupal Association held its first-ever fully virtual DrupalCon Global for over 2000 attendees, which was originally planned as an in-person event for April 2020 in Minneapolis. Due to the global uncertainty and pandemic, the Association ceased the opportunity to organise a virtual event, expanding the range of speakers and attendees in a completely fresh way. The DrupalCon Global brought people together to share experience around open source, providing informative, tailored sessions for everyone interested to master Drupal and an opportunity for attendees to directly participate and listen to the best practices and models for increased Drupal adoption, especially related to Drupal 9 release. With 1 million Drupal users worldwide, DrupalCon Global was an opportunity to connect on an international level in order to share knowledge, know-how and build or enhance skills in Drupal.
DrupalCamp London 2020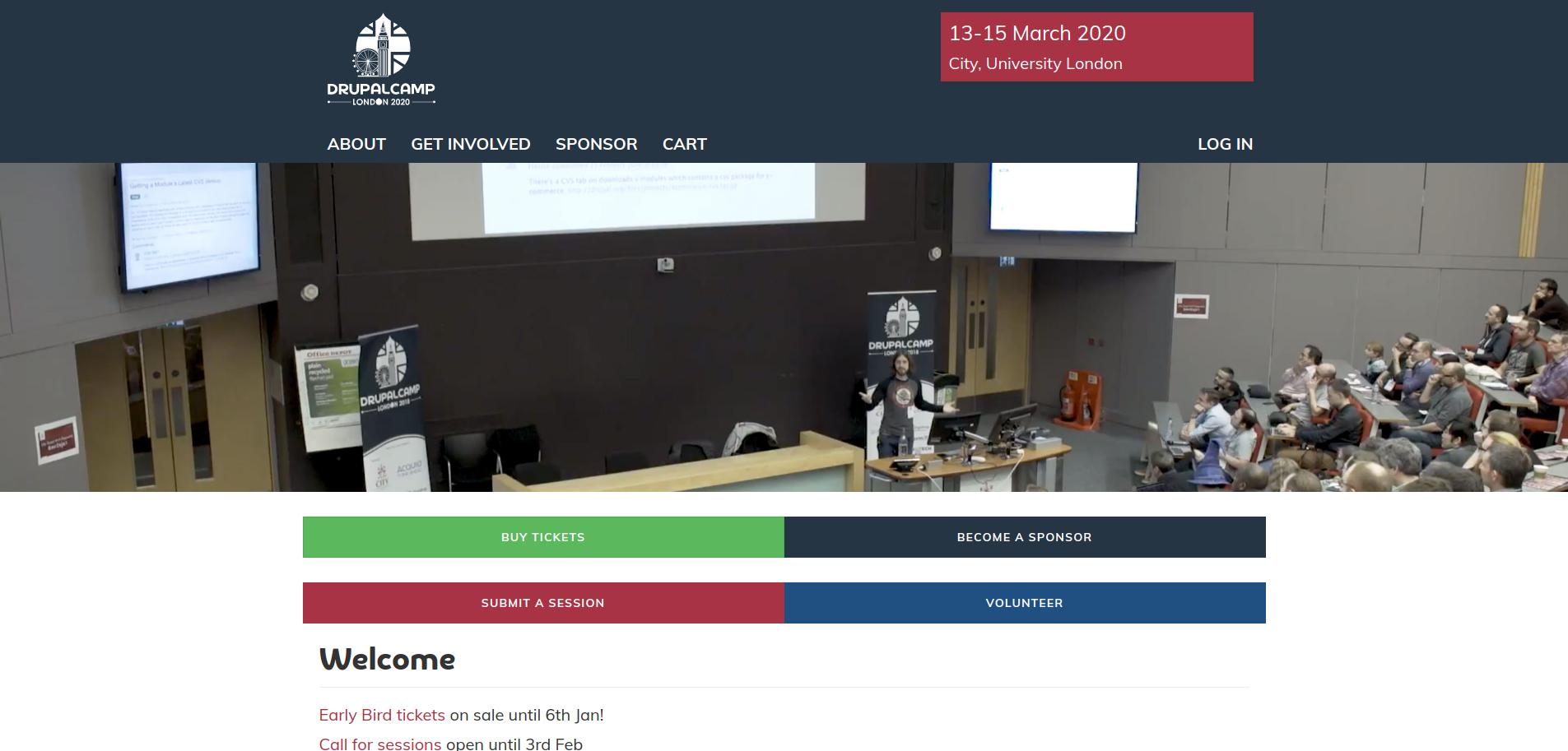 13th – 15 March 2020
Virtual event
DrupalCamp London was held from 13th – 15th March 2020 as a virtual event. It was a fantastic three-day opportunity to learn, meet old friends and make new ones, network, and give back to the community. This Drupal event brought together hundreds of people from across the globe who use, develop, design, and support the Drupal platform. It was a chance for Drupalers from all backgrounds to meet, discuss, and engage in the Drupal community and projects.
DrupalCamp Poland 2020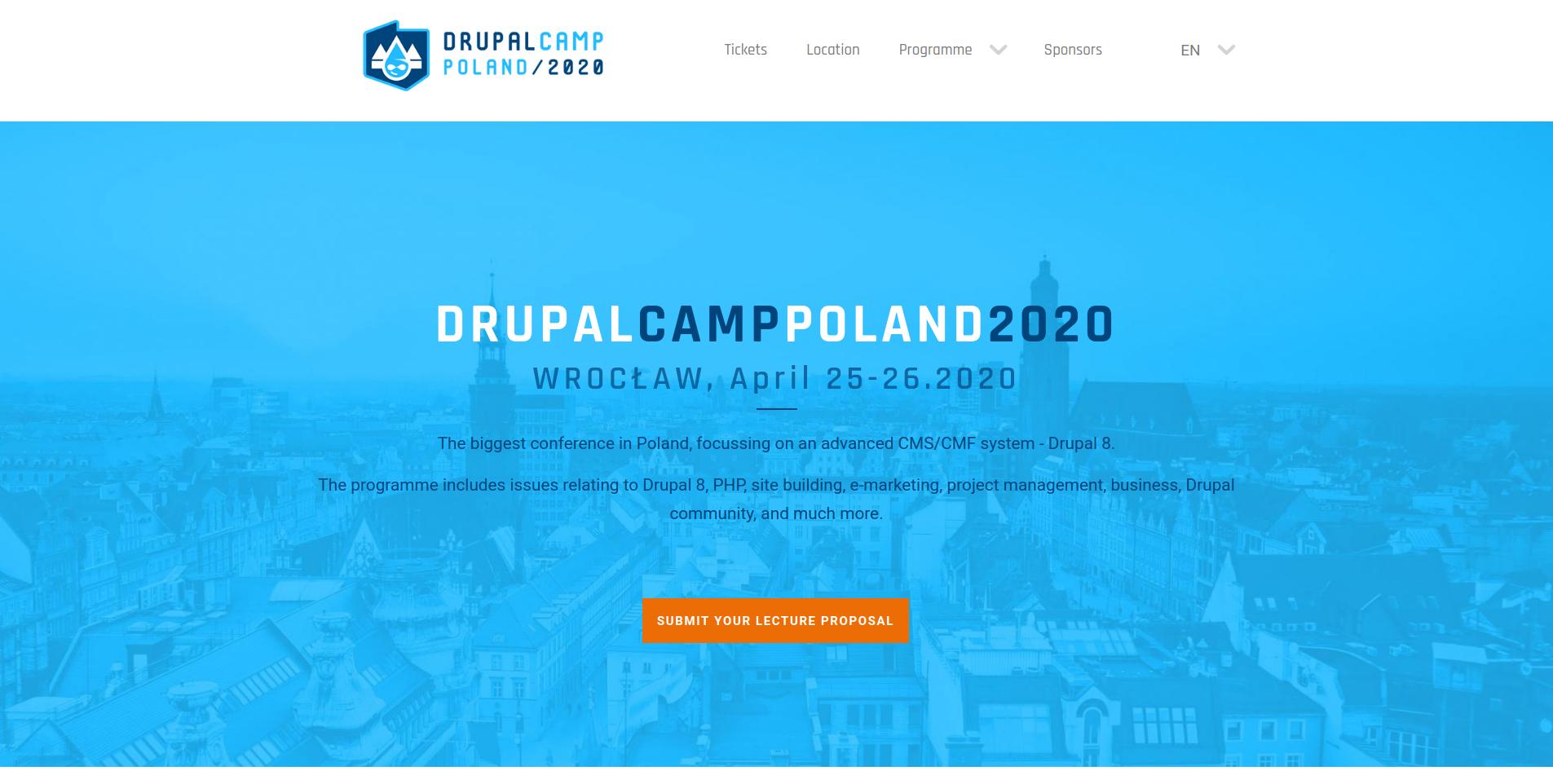 October 2020
Virtual event
Although DrupalCamp Poland was originally planned as an in-person event in April 2020, it was held online in October 2020. Attendees had the opportunity to tackle Drupal related topics ranging from presenting the features of Droopler 2.0 and Druppio to some key fundamentals of building an open-core SaaS business and building Drupal 8 websites. The sessions were held online in English and Polish.
Drupaljam 2020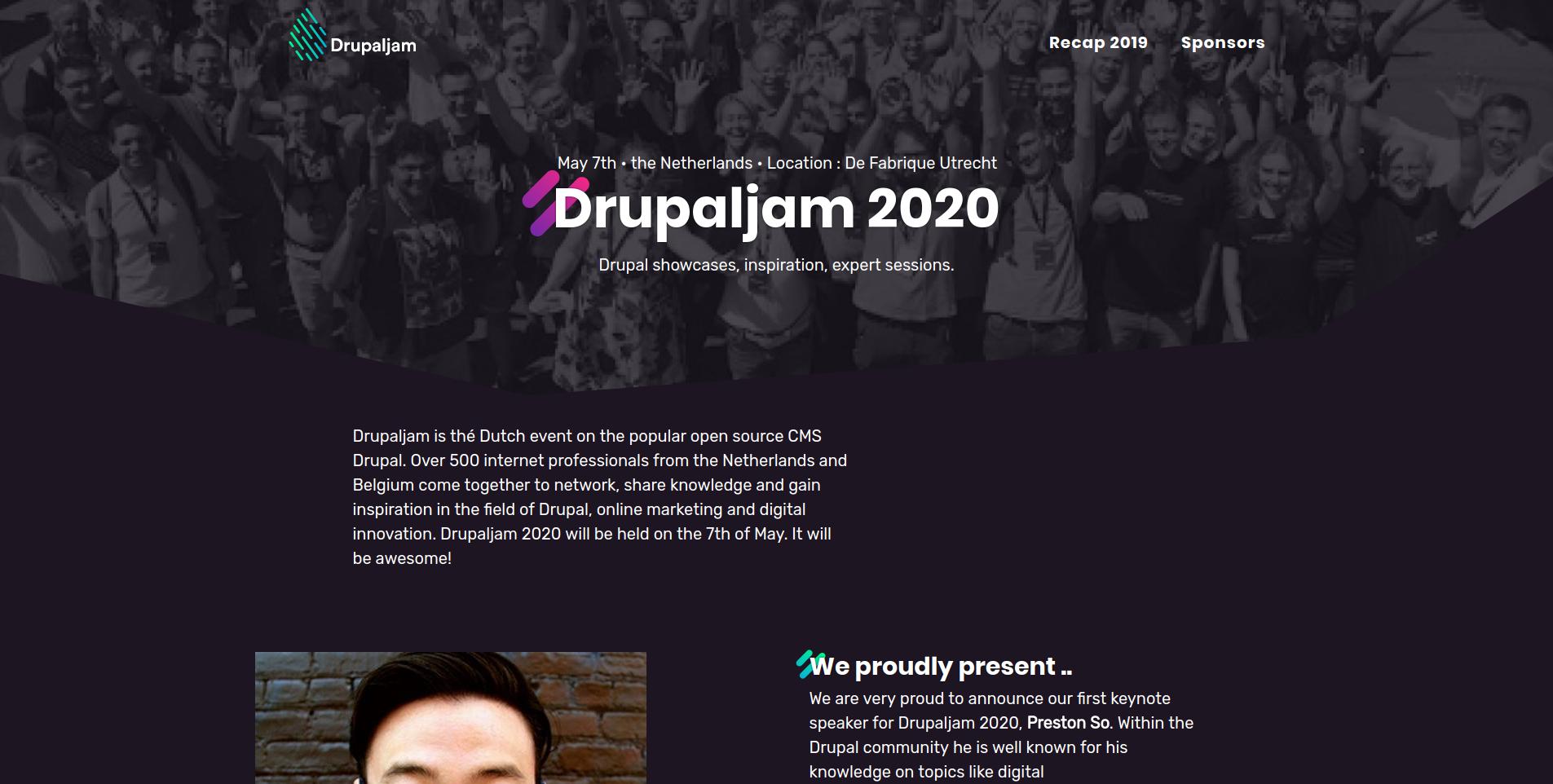 6th November 2020
Virtual event
When Drupaljam went virtual in 2020 it was renamed Drupal re:Boot. This popular Dutch event aimed at creating an online gathering that was not just a broadcast of sessions, but allowing interaction, socialising, exchange of ideas and conversations, sharing feedback directly with the international community, meeting content and marketing peers. It included Drupal showcases, inspiration and expert sessions, as well as the famous Drupaljam pop quiz. It gathered internet professionals interested in sharing knowledge and gaining inspiration in the field of Drupal development, online marketing, and digital innovation.
DrupalCamp Kyev 2020
Since DrupalCamp in Kyiv was cancelled due to the pandemic, the organisers of this event launched it in a new format – Drupal Virtual Cafe – covering the topics such as, upgrading to Drupal 9, Acquia BLT and its benefits, Drupal Gutemberg and other Drupal related topics. DrupalCamp Kyev is considered one of the most interesting Drupal events in Europe with fun activities, great networking opportunities, good coding practice and a variety of the most impressive Drupal speakers.
Conclusion
So, wait no more! With our updated list of top Drupal events worldwide, you can start planning your next trip. Just review some web development terms to help you take part in discussions and join the big Drupal community in 2022!
Do you have an interesting Drupal event or Drupal camp near you or in your local community?