Today's enterprise CMS platforms are built to support the needs of demanding markets, different industries, and tech savvy users. Learn more about eZ platform.
How to know which vendor-based CMS is good for you
Aren't open source solutions providing the same? They do, but differentiating factors are coming with the enterprise tag.
Enterprise CMS solutions are (and should be) created to help you drive revenue, increase engagement with prospects and build a scalable product or service. While the first determining factor for business owners is usually the price, what are the key factors one should consider when choosing an enterprise CMS?
In this article we are looking into the advantages of the enterprise CMS in terms of the three most important determining factors:
You will learn why these are the key differentiators for enterprise CMS solutions and how eZ Platform Enterprise Edition fits into the equation. First, let us dig a bit deeper into eZ CMS.
What is eZ Platform?
eZ Systems has been on the market since 1999. Going from the entirely open-source platform to a combination of open source and the commercial product, Ibexa DXP (former eZ Platform Enterprise Edition) focuses on helping business owners create content-rich websites and web applications. They provide a content-first solution designed and developed to be an all-in-one content management platform for corporations, and large scale businesses.
eZ platform excels when content needs to be reused in different places and contexts and to be presented differently.
The solution can be used whether for large eCommerce businesses and intranets or the Internet of Things, the options are various.
The enterprise platform helps businesses utilise a sophisticated information architecture, empowering the entire customer journey on the web and beyond.
Thus, any business that wishes to meet the needs of their users can benefit from the platform. The platform is built upon Symfony PHP and is continuously developed with new features and functionality.
Symfony development enables you to customise and extend the platform to meet your business's needs, building new features, and integrating applications easily and fast.
The integration is seamless because it uses the leading tools for deployment and testing: Jenkins, Docker, Git and Behat.
The platform offers a flexible repository for content customisation and multi-site support from a single installation. Your business will also benefit from multilingual versioning and language-specific user permissions.
The translated content is in the same location as the root content, so you can easily manage multilingual information. Now that you are more familiar with the eZ Platform Enterprise Edition, let's look into key features that every enterprise CMS should provide. Following factors will help you with your go-no-go decision.
#1 Determining Factor: Reliable Direct Support
Your website is your most valuable marketing asset. How quickly you can email or call someone to resolve a problem has a direct impact on your marketing.
And your marketing – directly impacts your budget allocation.
Why is a professional, direct support from the vendor one of the determining factors? In today's modern business world, where more and more businesses are operating and making money online, the major concern for any business is related to the timely response to technology or infrastructure issues.
Did you know that 38% of people will stop engaging with your website if the content or layout are unattractive?
Whether your business website encounters a problem with the contact form or you have an issue with real-time notification on your eCommerce website or a social marketplace website, the inability to solve time-sensitive issues makes or breaks the deal. You cannot allow yourself to stop using innovative technology.
The enterprise tag means that clients get reliable, direct support from the vendor who solves their problems faster and easier.
Quite often an advice one finds in a forum can be just someone's opinion on the subject. Or one might not get a response at all. Above all, even with the great support from the community, you may not want to wait around for the community to work it through. Or maybe your issue is an emergency that needs to be resolved as soon as possible.
With vendors, you know that you're getting a qualified, experienced technician who knows the technology in and out.
The enterprise tag means that your business or a project is backed by a company which plans future releases. With the enterprise solutions you get a clear upgrade path provided by the vendor for every new version.
With direct support from the vendor, you can better control the risk to better plan ahead.
What type of support will you receive with eZ CMS?
eZ platform is a commercial Symfony project solution built upon the full-stack PHP framework Symfony, utilising the template engine Twig and the package manager for PHP applications, Composer. This combination of technologies and architecture are ideal for large enterprises that operate on worldwide markets, with many languages, sites, and content types.
So, you do not only need an effective content marketing strategy, but also technology that supports it.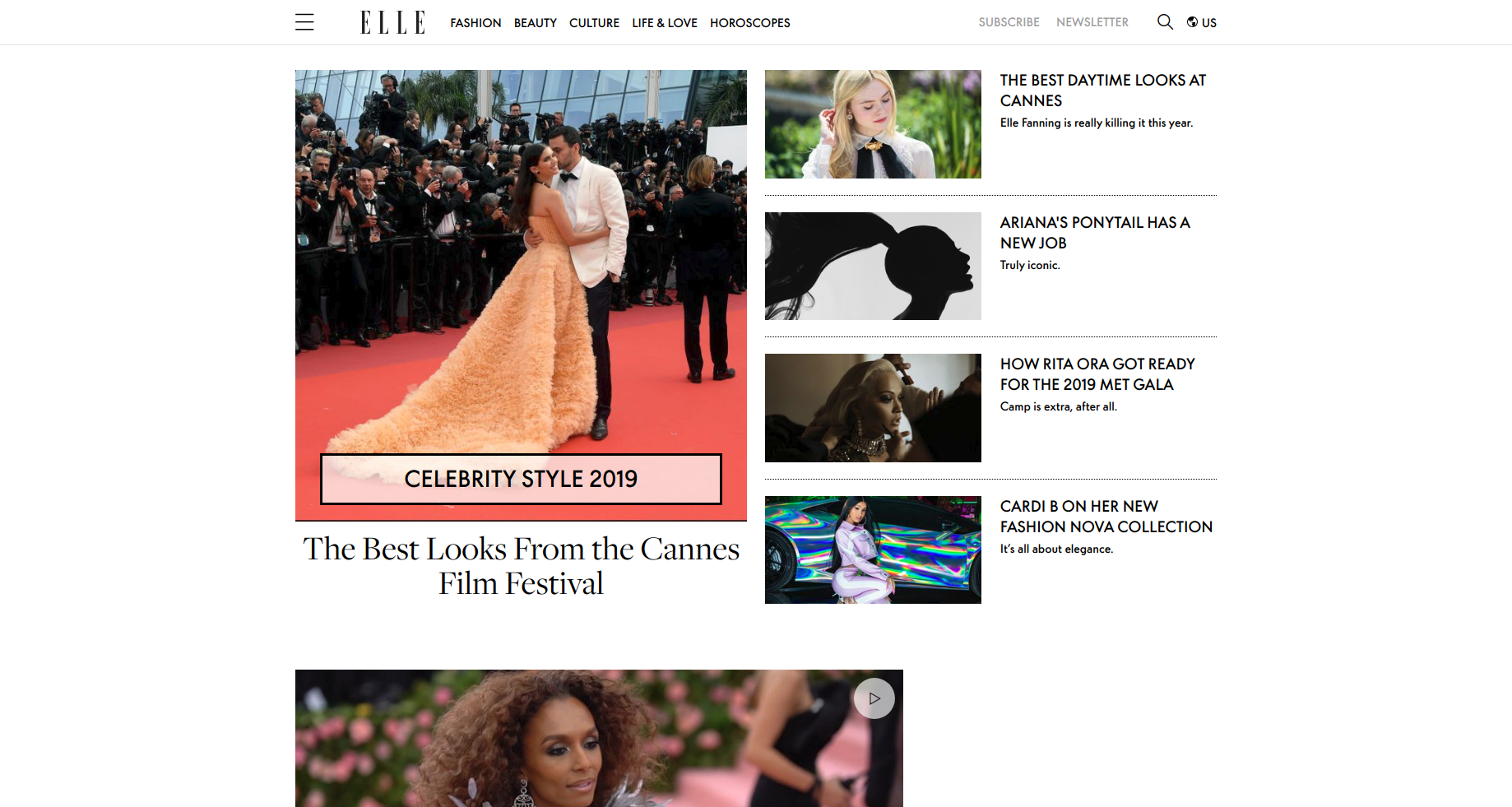 The platform comes with grade services. You will get:
an SLA
bug fix guarantee
access to your own Service Portal
The team also offers an extended support, training and installation audits.
#2 Determining Factor: Marketing – Cloud, Automation & Integration
Online business world is driven by big data. Personalization, real-time data and intelligence and different automation options are crucial if you want to deliver state-of-the-art digital experiences. To do so, you need the right technology.
Some CMS platforms offer third-party integrations with the leading tools or services while other offer native digital marketing and commerce capabilities and solutions. The better their support is, the better are the solutions they offer, as well as the results and data you get.
The two main business benefits of cloud computing are reduced costs and increased speed of development and deployment. The solution you choose for your business should offer good cloud computing options.
CMS platforms with good user role management and actual data on how users are behaving are there to maximise your marketing and sales goals.
What do you get with eZ Platform Cloud?
With eZ Platform Cloud you can rest sure your content is optimized for the individual needs of users.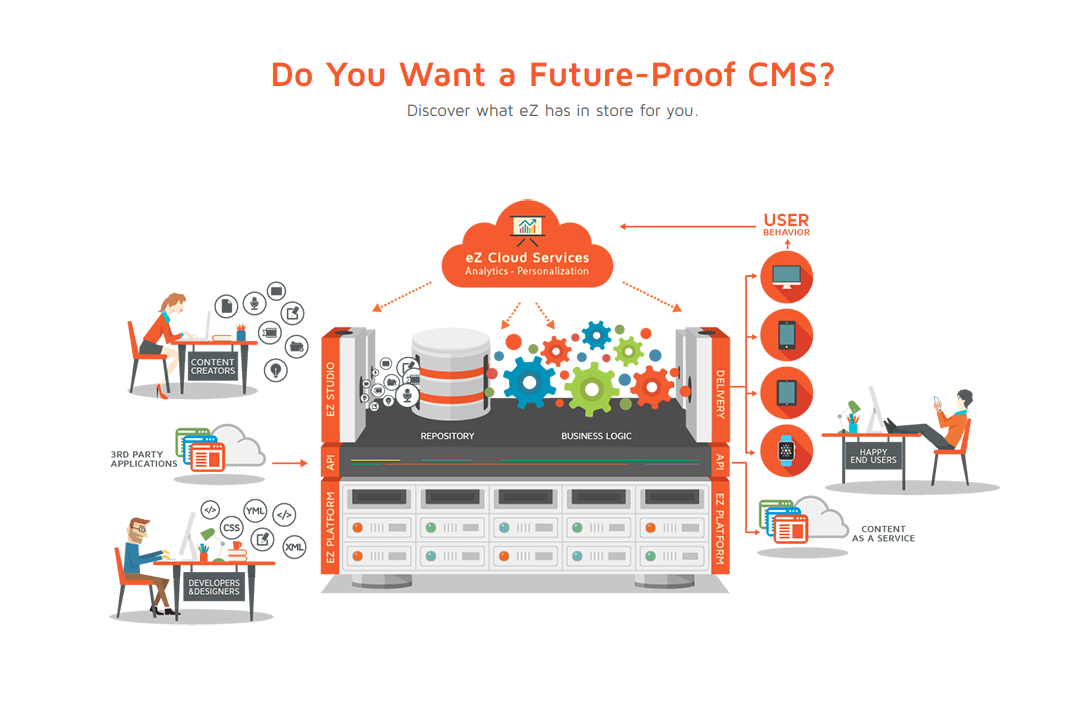 You can keep track of visits, trends and referral sources by article or sections, identify your top and under-performing content and get recommendations on how to rearrange content to increase traffic.
With tracking all data in real-time, you can automate your marketing activities for the best results, saving time and money.
eZ Platform integrates content from other applications and enables Content as a Service (CaaS) delivery to any app, site or device, in any language.
The features provided in their cloud solution enables you to effectively engage users with targeted campaigns and to report, analyze and optimize campaigns with web and email analytic. The end result any business is searching for is to be able to track everything in real time, which is what you will get with eZ platform.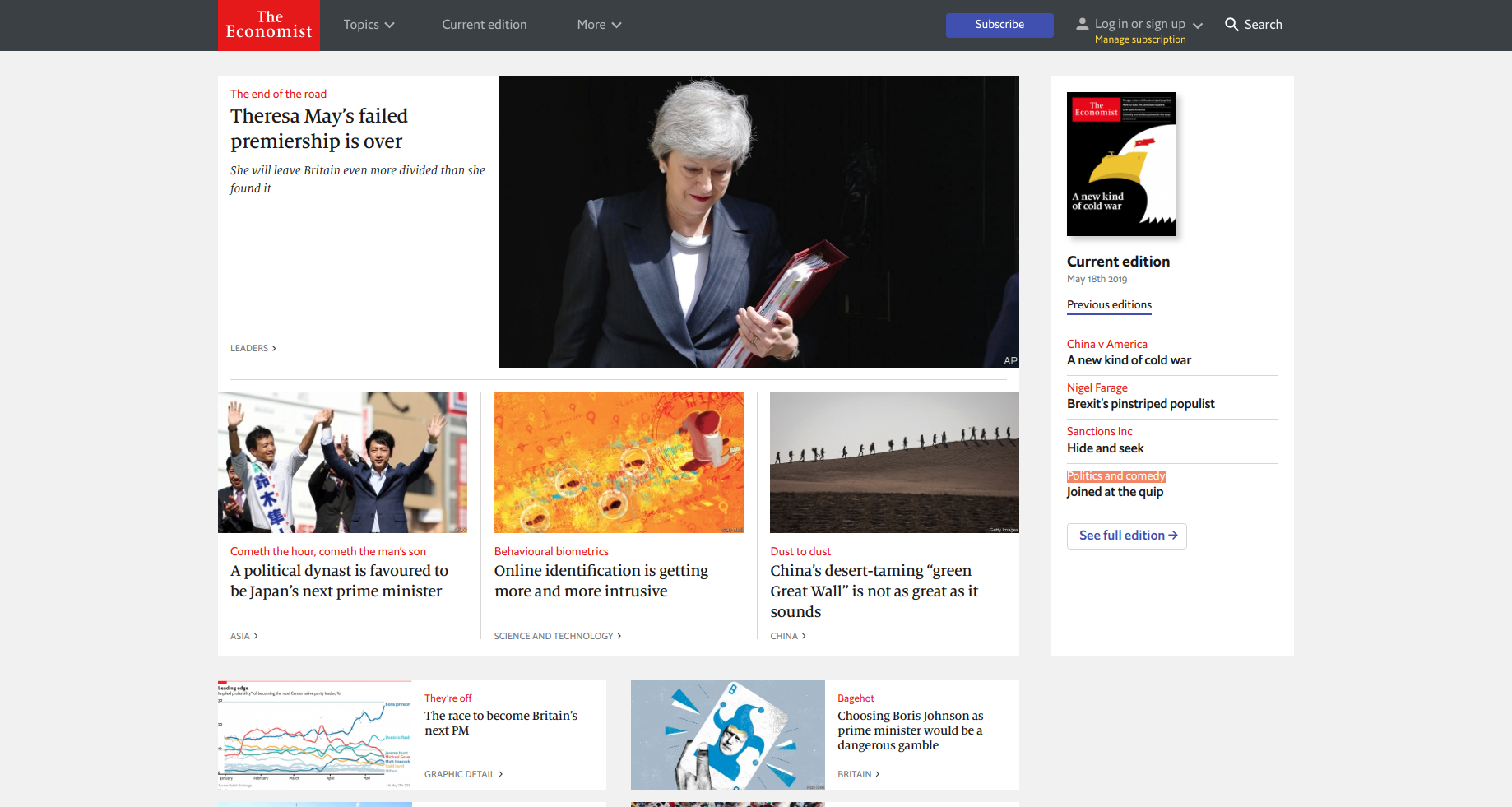 You can also easily use great features of some of the best marketing automation solutions such as Marketo as you can simply integrate them with the platform.
With eZ Personalization service you get improved UX because your users get:
Relevant product recommendations based on their needs
Personalized content tailored to their on-site behaviour
Targeted email notifications that help you to drive conversions
Personalized search to make your products more discoverable
#3 Determining Factor: Security & Data Protection
The CMS platform's security options are a crucial factor in your decision-making process.
When evaluating CMS enterprise solutions, you must consider the security implications and understand the importance of data privacy and data protection. Today it is no longer important whether you run a small e-shop or have a business that operates around the world, security should be your priority.
If you do not want to worry about the potential technical issues, with enterprise products you have direct access to technical support teams who develop security patches and software upgrades. The vendor periodically releases the security and feature upgrades to all sites running on their platform.
Can you afford to have your site go down or suffer from a data breach? The truth is that all websites can be hacked when targeted.
However, some enterprise platforms are more secure than others and some solutions offer better protection due to the technology implemented in the core architecture.
Security & data safety with eZ CMS
Cybersecurity is one of the top priorities of eZ Systems. To address security and privacy concerns, eZ offers a unique combination of open source and enterprise models to empower the architecture for the highest level for protection.
In case of any security flaws, the security patches are first solved by the maintenance teams confidentially and then communicated to customers. This means that you, as a business owner, can be sure that the team will always implement these patches and that the process will remain completely confidential.
The software architecture of eZ CMS is designed with the "framework" approach, meaning that it extends a central core. It's based on a single content repository, ensuring a consistent and compact code base. For you this ensures good access control to the core components of the platform, minimising the risk and providing secure fixes in case fault in an underlying component.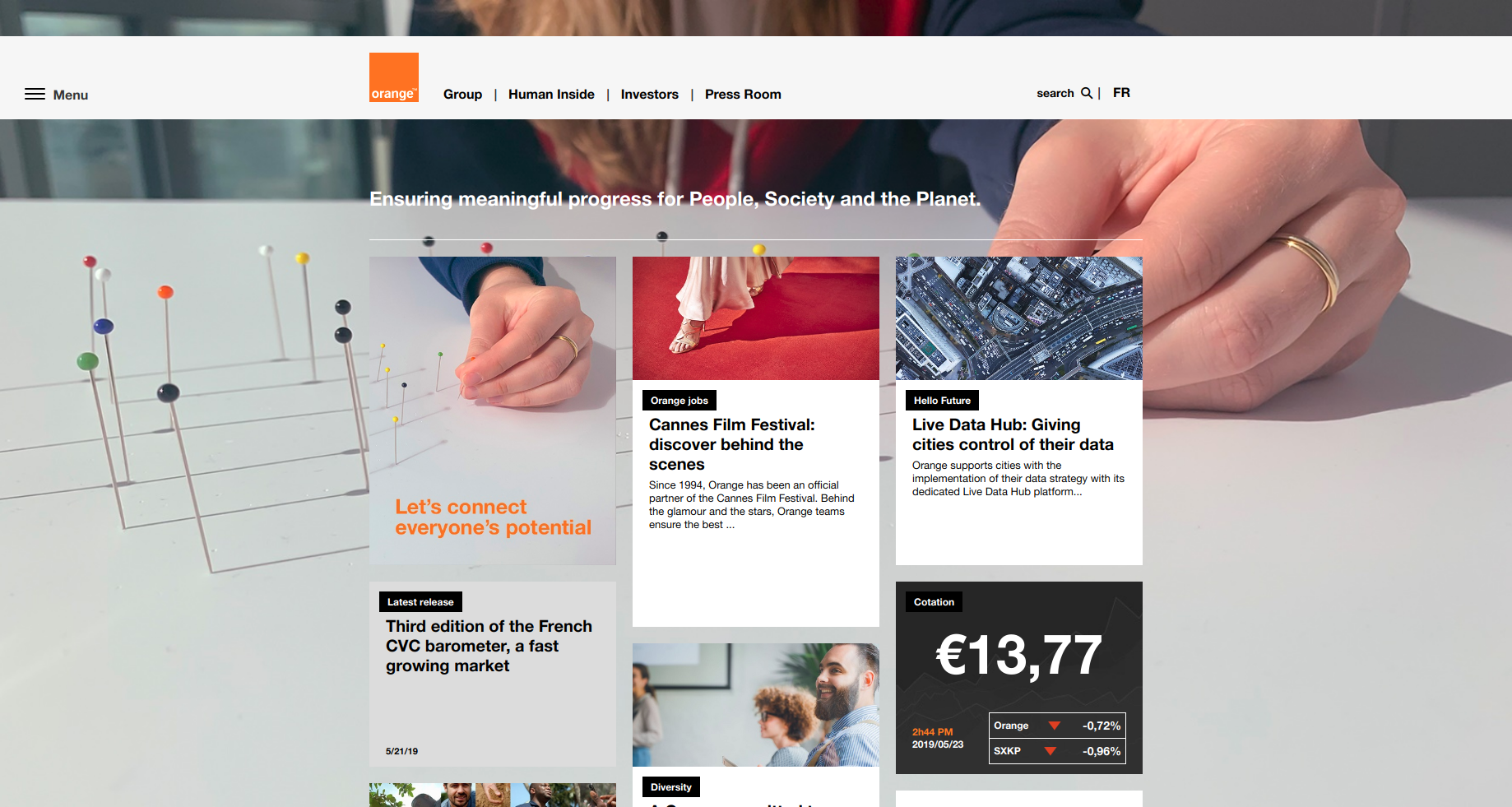 eZ Content Management System is used by organisations with critical expectations for example, The Economist, Orange, John Deere, the French Ministry of Defense and The European Space Agency (ESA), to name a few.
To sum up
The technology you choose to build your website has a long-term impact on the success of your business. When evaluating enterprise CMS platforms, review what features and functionality come with the product and if they meet your and your business's needs.
Any product is only as strong as the features and functionality it provides.
Choosing the right enterprise CMS solution should help you to avoid security vulnerabilities, ineffective budget allocation, and bad UX.