We partnered with ITF Global, The International Transport Workers' Federation and developed a complex, multi-language web solution to connect and inform a large scale of their specific users.
Our job is always to make people's lives better. Once again we got the privilege to contribute to such cause. To achieve what ITF Global needed, we developed an intuitive digital platform with a focus on content filtering options, customised online campaigns layouts, news alerts, and emails.
ITF Global – Organization on the mission
ITF Global is a democratic, affiliate led federation recognised as the world's leading transport authority. Currently, they are the voice for 19.7 million working men and women across the world.
They fight passionately to improve working lives. They connect trade unions, secure rights, equality, and justice for everyone in the transport industry.
From headquarters in London and offices around the globe, they've already made a strong stand. Now, with the freshly new website, they aim to achieve more.
How did we start the project?
ITF Global representatives approached us with a desire to enhance their strongest tool – a website. Furthermore, they wanted to be up to date and more accessible to a considerable number of users.
We gathered forces to spread their voice loud and clear towards every transport worker on the planet.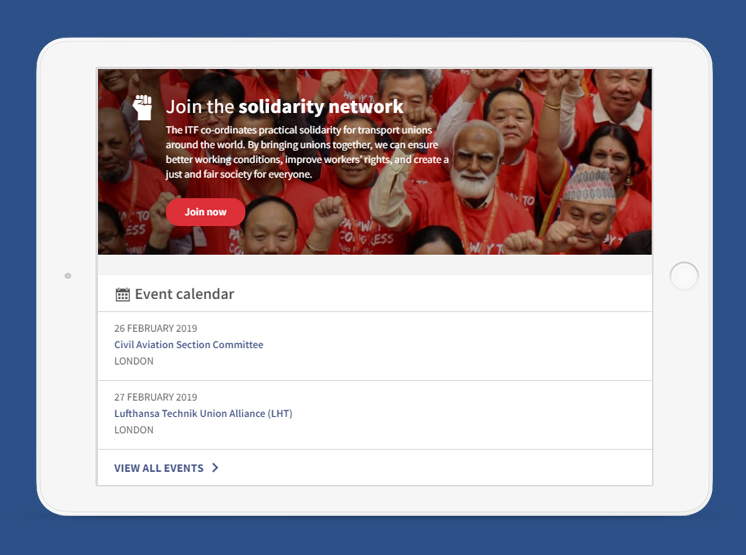 In a close and successful collaboration with the ITF Global team, we inspected and adapted features according to their users' needs. We wanted to ensure a modern and accessible digital ally for a vast number of transport workers.
For the purpose of rebuilding the platform, first, we completed the full migration of previous website data to the new Drupal platform and further empowered the website opting for Drupal development.
Why we choose Drupal for ITF Global
A solid and well-structured website is essential for complex enterprise-level sites. For this reason, we needed a strong and flexible content management system.
The main purpose is to maintain a large number of users as well as different types of content.

The choice was obvious. Drupal has a powerful system that provides excellent content organisation and improved performance.

With Drupal 8, we succeed to achieve:
improved code organization and database structure
increased page speed
a fully optimized website that provides a seamless customer journey
excellent content organization due to its powerful editor
improved tracking and analytics results
Original content and first-hand reports
Besides news that ITF Global is able to collect and share, a significant amount of original content comes from ITF authors. For content editors and writers, it's crucial to be able to easily manipulate, organize and control the text and content.
Thanks to Drupal content structure organization, the ITF team members are now able to easily create different types of content.
What comes as an advantage with Drupal is the fact that Drupal easily handles multiple users with different roles and permission sets.
A site administrator or an editor can give different permissions to authors and have a good insight into the performance of each author. For writers and editors, decreasing the percentage of possible mistakes related to publishing is a prerequisite of quality content.
Drupal's intuitive editor and Drupal SEO and content modules can significantly improve the effectiveness of publishing and proofreading. For the news website, this is important condition.
New ITF Global speaks 8 languages
As a global organization, 'speaking the language of your audience' is mandatory. To make the cause of ITF Global more visible and to reach users around the world, we used Drupal multilingual modules to develop a fully translatable website.
The platform is therefore available in 8 different languages: English, Spanish, German, Russian, French, Italian, Arabic, and Japanese.

Now, the transport workers from 140 countries around the globe can have access to valuable sources of information.
Interactive user – friendly news website
Besides providing general assistance to transport workers in difficulty, ITF Global provides research and information services to its affiliates. Therefore, we developed a straightforward user's journey that will provide users with the desired information in no time.

A vast amount of content is presented in a clear way and contributes to the simplicity by using standard constructs.
Users can easily browse different content, and search topics of interest using various filters. Such content organization helps users maintain a clear focus on their search intent, fulfilling their needs without unnecessary bells and whistles.
All content is sorted according to continents, language, specific industry sector, keyword tags, and breaking news.
The landing page is built on standard patterns which are well understood and communicate a clear intent. Engaging call to actions are drawing attention to breaking news and reports.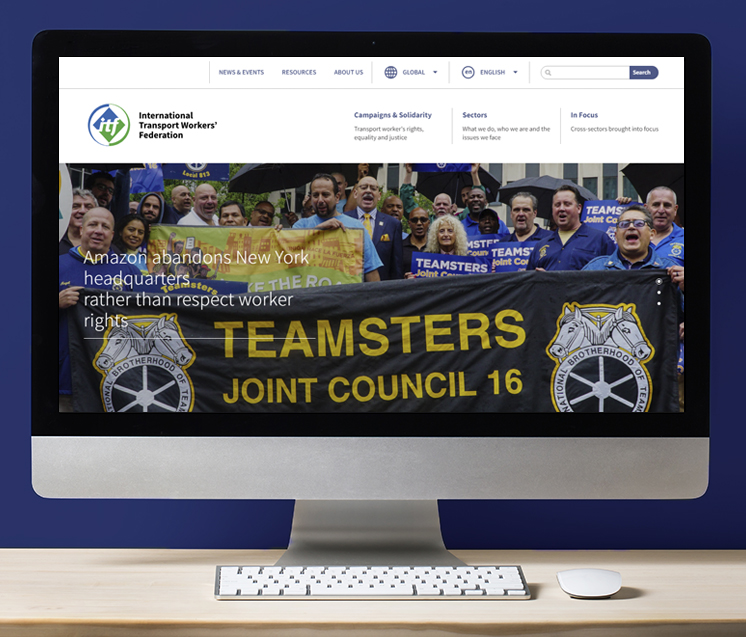 Advanced filtering options and search capabilities
The attention span of internet users is decreasing, even when they are looking into the subject of interest. The wish of online users to have a quick, fast and easy access to the content they are searching for, is driving UX approach. Our focus is always to deliver a personal experience, and personalization and customization go hand in hand.
Thus, our development and design solutions are focused on enabling users to make their own choices about what they want to see.
We developed custom filters that set preferences for how information is organized or displayed increasing the accessibility of information. Filters allow searching for information, an event or a resource based on the keyword, year or a topic.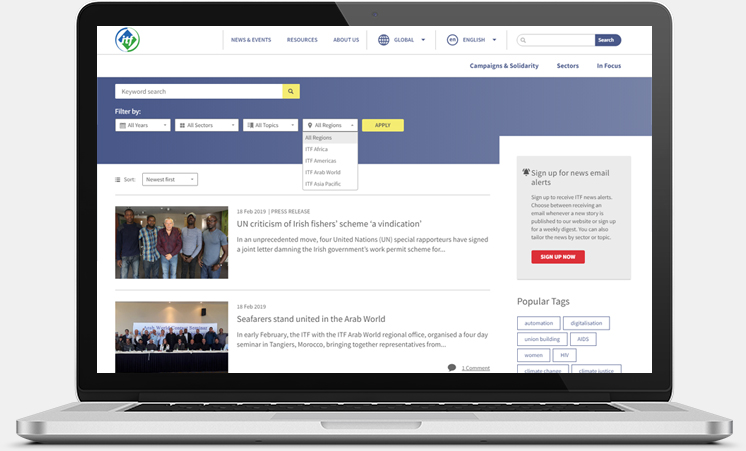 Any transport worker or affiliate representative can easily discover or learn the desired topic from different transport industries. All that sorted according to relevancy and region from where the user is coming from.
Also, we integrated several third-party apps to implement the algorithm that allows ITF Global to collect and share all related news and articles published on any media or website, making it a knowledge hub for all thing related to the transportation industry and related services.
ITF Global is a place for continual learning and education
ITF Global is not only about disseminating relevant information, but also about educating their users about the industry.
Users can easily discover the upcoming local events, browse educational videos, and download reports and e-books. Filtering educational materials by desired keywords, language, sectors, or the topic, users can control their learning approach and comfortable seek information of interest.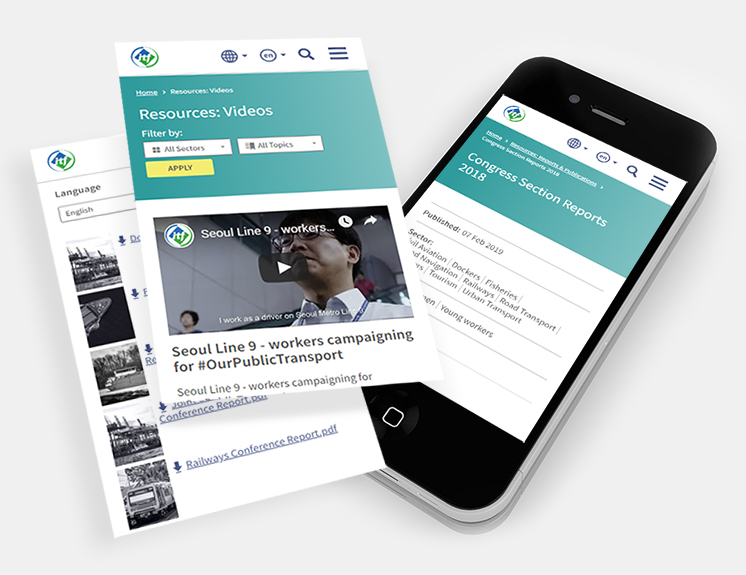 The power of an online campaign
ITF Global gives special attention to fights for a different cause and to help them continue their work, we developed customized campaign layouts.

The idea was to raise voice about different matters with a help of those who believe in the idea and would support it. Once published, campaigns are visible on the landing page where users can find out more, and get engaged.
Users are also able to involve themselves more deeply as they can subscribe to receive campaign updates and materials.
Breaking news, anywhere, any time
ITF Global wants to keep their users informed at all times, so a customizable newsletter was one of the key features they needed.
Users can receive a customized list of news as an alert on a daily basis or as a weekly digest. They can also set different preferences and choose alerts for the language, sector, and topics they are interested in.
Caring and supportive ITF Global community
Besides resources and information, ITF Global is gathering a community of supporters who would empower the industry and lead the way to a better future.

For each affiliate member, we created dedicated support pages where they can get detailed information about ITF Global values and guidelines, information on how to become members, and seek advice, and help.

Likewise, the contact page offers an extensive list of all ITF offices around the world, so they could be on disposal at any time.

In the end, to show how much they appreciate their activists and contributors, we developed a page for sharing a lovely memory and life achievements for each respectful member of the organisation.
Want to know more about ITF Global and the transportation industry? Check their other website, ITF Trust.
Wish to build your website with Drupal? Learn more about Drupal development and contact us to get a free quote.