Do you have a successful horse but nowhere to speak about it? Anyone can be a horse lover, but the fun is sharing your passion with others.
So why don't you present your horse (and your love for these animals) in the best and most professional way?
Now you can do that, and more!
We are pleased to present you an interactive platform where anyone can shout out the story of their horse!
Meet Digital Horse, the social media platform built for equestrians, but especially horses.
Why Digital Horse?
Even though horses are here for centuries and horsemanship is familiar to people, even this area needs an upgrade to keep up with digital trends.when Digital Horse founders approached us, and when we started working on this project, we were very excited about this great idea of having a special online space dedicated to these beautiful animals.
But it was clear from the start that the platform will not only serve as presentation, but as a community for equestrians.
To be more specific, one of a kind equestrian interactive community portal.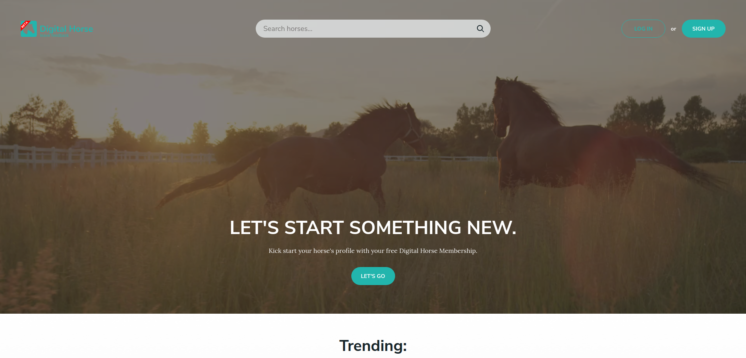 When you are working on a project that is to gather a group of like-minded individuals around the same idea or passion, you need to understand what lies behind the idea and the need of the future users. From specific functionalities and features to good user journey and design, your mind should think in terms of fulfilling the intention of the user who wants to be part of a community.
To meet this goal, we created a custom-made social media networking platform  that goes beyond a social networking service that many are familiar with.
Here equestrians can promote and present their horses, connect with like-minded thinkers, and enjoy the online community, but also grow that community. Thus, the mission of Digital Horse is to increase transparency within the equestrian industry as a whole.
Our goal was to develop a modern, easy-to-use interface that was user-friendly across all devices. 
The part of making something easy is not always easy to accomplish. Easy is in fact another word for making something undemanding yet straightforward in terms of functionalities, creating a specific feeling for the users making them feel as they have been using a product for years. This is where certain specific features and functionalities come in.
What specific features we have developed
News Feed – For everyday equestrian's activities
We can describe Digital Horse as a social media hub that offers a unique place for equestrians and their horses and where companies can promote their products, events and all other things related to horses. We developed features that enabled the members of the DH community to post status updates, share their images and links on their wall. Furthermore, they can like, comment and share posts on the newsfeed.
Each member can follow other members, horses, and companies. Therefore, their newsfeed is also full of activities of the content and users they follow.
My Horses – A Social media page for each of your horse
The idea behind this feature is to make a place where horses can gain recognition for their achievements, qualities, and personalities.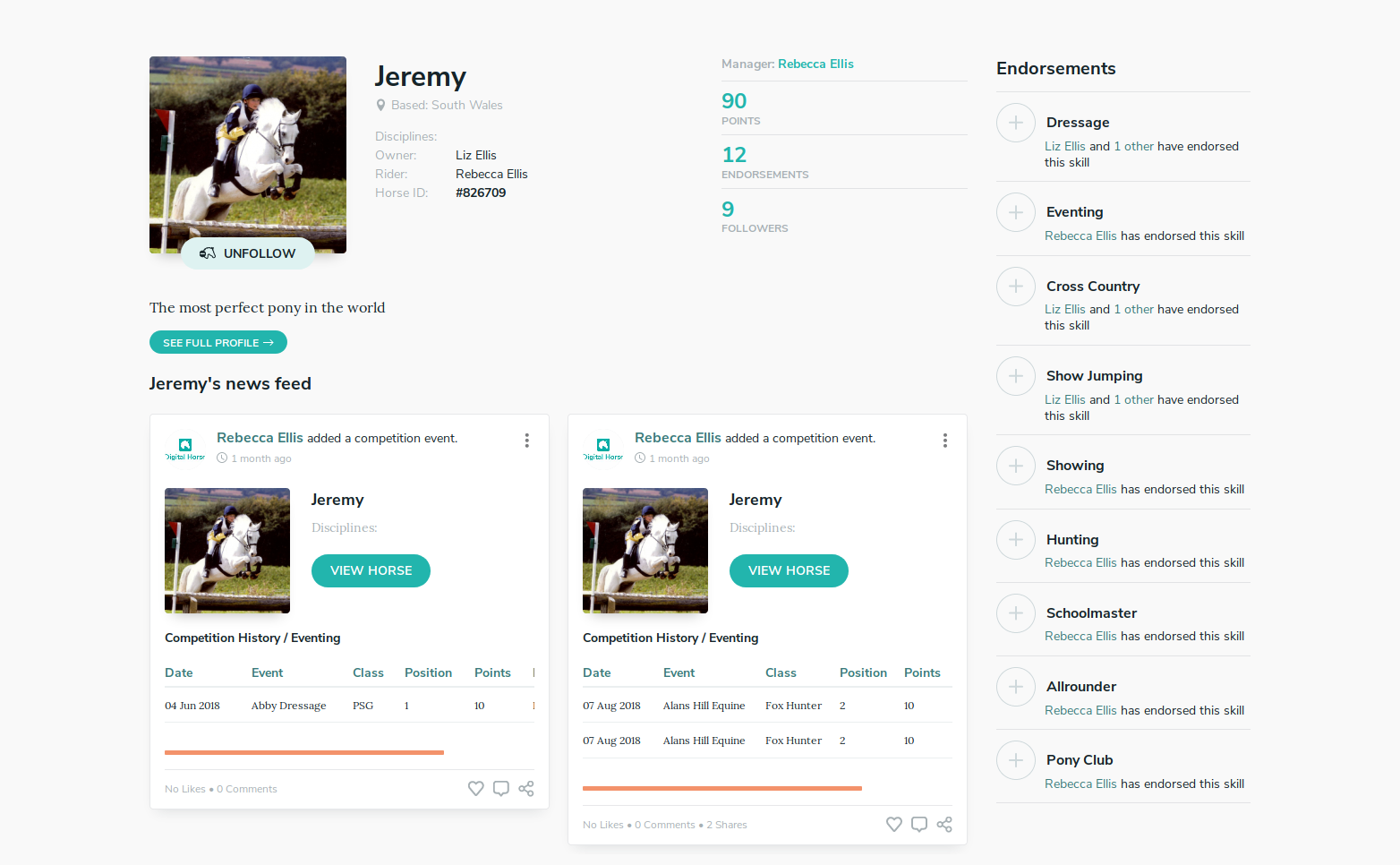 Organize your horse's day
The functionality we developed, enables users to create profiles for each horse they have. They can use it to present the most important information about them.
Each profile has an option for users to organize the horse's day to day stable management data efficiently.
Users can mark important dates and events, and add information about the races and other equestrian events they attend.
Users can notify the horse's followers about any new additions to the profile.
Other users are able to give endorsements for various disciplines to each of the horses on the site.
A social media platform that works for any horse industry business.
Apart from networking and promoting horses, each user can open its business page that other members can follow or contact.
That's how equestrians and other users can promote their products, attract sponsorship, clients and create crowdfunding opportunities.
Networking above all
Besides all useful features, Digital Horse platform is created to provide a unique online place where all horse lovers could enjoy in what they cherish the most – beautiful horses.
We could all relate to this:
"The essential joy of being with horses is that it brings us in contact with the rare elements of grace, beauty, spirit, and freedom." Sharon Ralls Lemon
Currently, Digital Horse is available to any horse owner or equestrian in the world.
You can try out the platform right now.
Meet the world of horses.
Want to learn how to create a social network from scratch that will suit your business needs? Discover our blog for more how to articles.