What do you want to learn today? What skills do you want to share? What questions are left unanswered? InfoDepot teaching platform can help you to grow your teaching career and satisfy your hunger for knowledge.
One of our latest projects is InfoDepot teaching and learning platform, designed and developed to take lifelong learning globally.
The platform enables online learning in a form of easily digestible, bite-sized classes. All a learner needs is access to the Internet and a mobile device to start learning.
By easily connecting teachers and students, InfoDepot creates opportunities to bring online education to the next level.
Whether you are a professional or an enthusiast who wishes to share learnings and skills, you are equipped with features and functionalities to offer your video lessons and tutorials to interested learners.
What can I learn today?
InfoDepot helps you answer this question. By offering 15 to 30 minutes video lessons and tutorials, the online video teaching platform further enhances the educational format modern learners seek today.
Whether you are looking for a cooking lesson, a photography tutorial or a 15-minutes lesson on how to mix colors to get different shades of purple, you can jumpstart your learning process via a pre-recorded "how-to" educational videos or a live tutoring phone call.
Shorter video lessons and video tutoring and live phone calls provide a quick and easy way to get specific answers to your questions and to reach out to an expert educator to ask for and advice or information.
InfoDepot video teaching platform is empowering lifelong learning
In the era of busy schedules and short attention spans, bite-sized method is a near-perfect learning model.
Shorter video lessons let the learners enjoy casual learning whenever they have some spare time.
InfoDepot virtual community is envisioned to be entirely shaped and built by learners and teachers, empowering them to share knowledge and skills, improve the learning process and based on feedback and reviews, promote and impact on the creation and dissemination of quality content.
Learn a thing a day via 15-minutes video lessons
All video classes and live phone calls are easily accessible to students and can be browsed based on your interests, teacher's expertise, and rating as well as skills levels and price. Both videos and live calls can be also searched using a keyword or words.
Teachers can create courses that give a broad overview of a subject or even create ones for complex topics.
Students can preview the first 30 seconds before they decide to purchase the lesson by simply clicking onto the "Preview video" button under the selected video.
When a student buys a video class, the money is transferred to the teacher's InfoDepot balance account from which they can request a payout anytime.
Consult experts and educators via live tutoring phone calls
Oriented towards making a quick connection between teachers and students, live calls are adding up more benefits to the bite-sized learning process. Freelance teachers who are experts in their area can offer their skills and advice via peer to peer tutoring call lines.
Once a teacher signs up, all they have to do is define their live call preferences by setting the time, dates, days, and hours when they are available and set their fee.
Users can see teachers who are online and immediately available to take calls versus teachers who are offline.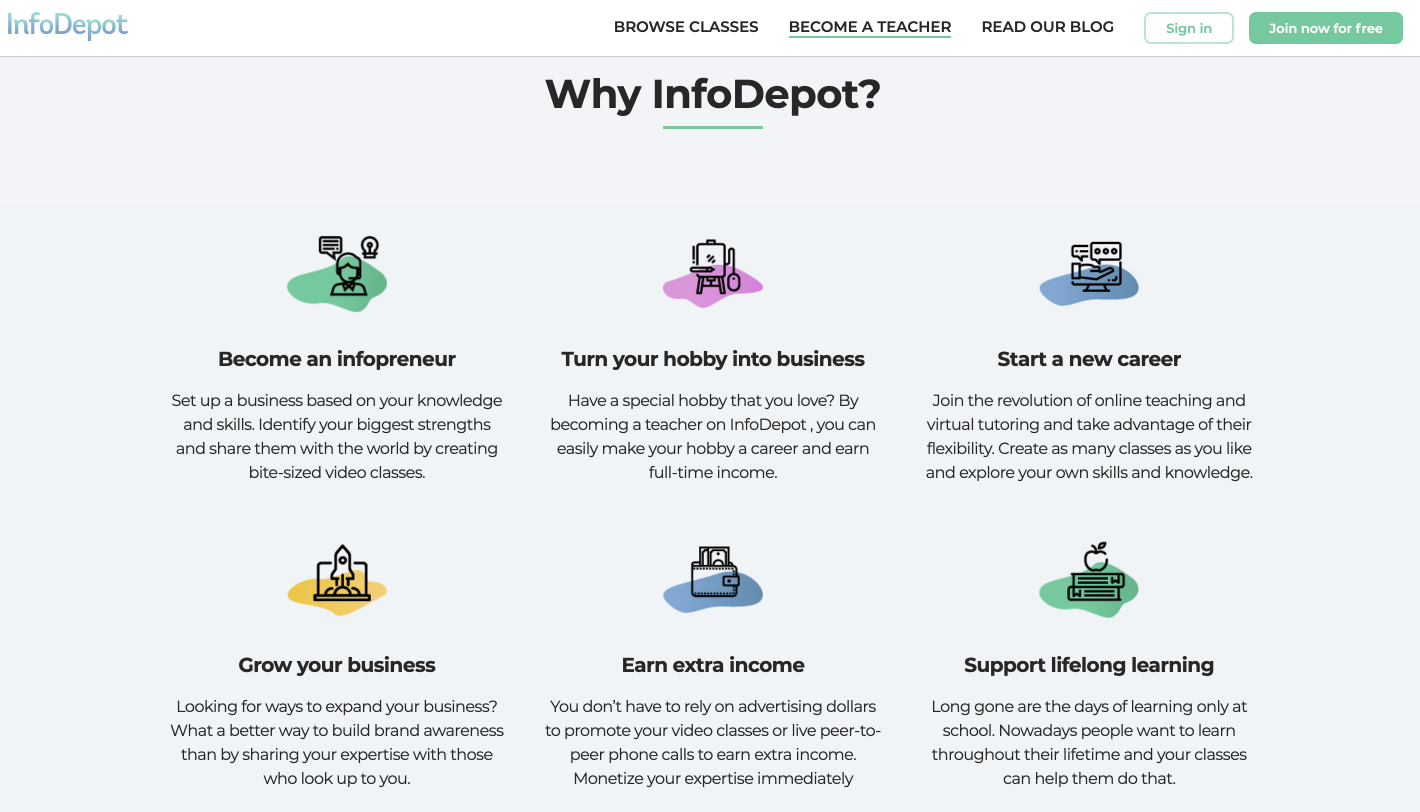 When the student initiates the call, InfoDepot platform first calls the teacher to check their availability, and if the teacher is available, calls the student to connect them.
The members' real phone number is hidden and secured as the calls are made from the InfoDepot phone number.
Before the call, the platform calculates the running time of the call based on the price and the available amount of InfoDepot dollars on the student's account. If needed, it advises the students to top up their balance. This way the platform helps the students prevent call disconnections if the available amount of InfoDepot dollars is insufficient.
After the call ends, the dollars are withdrawn from the student's account while the balance on the teacher's account is increased.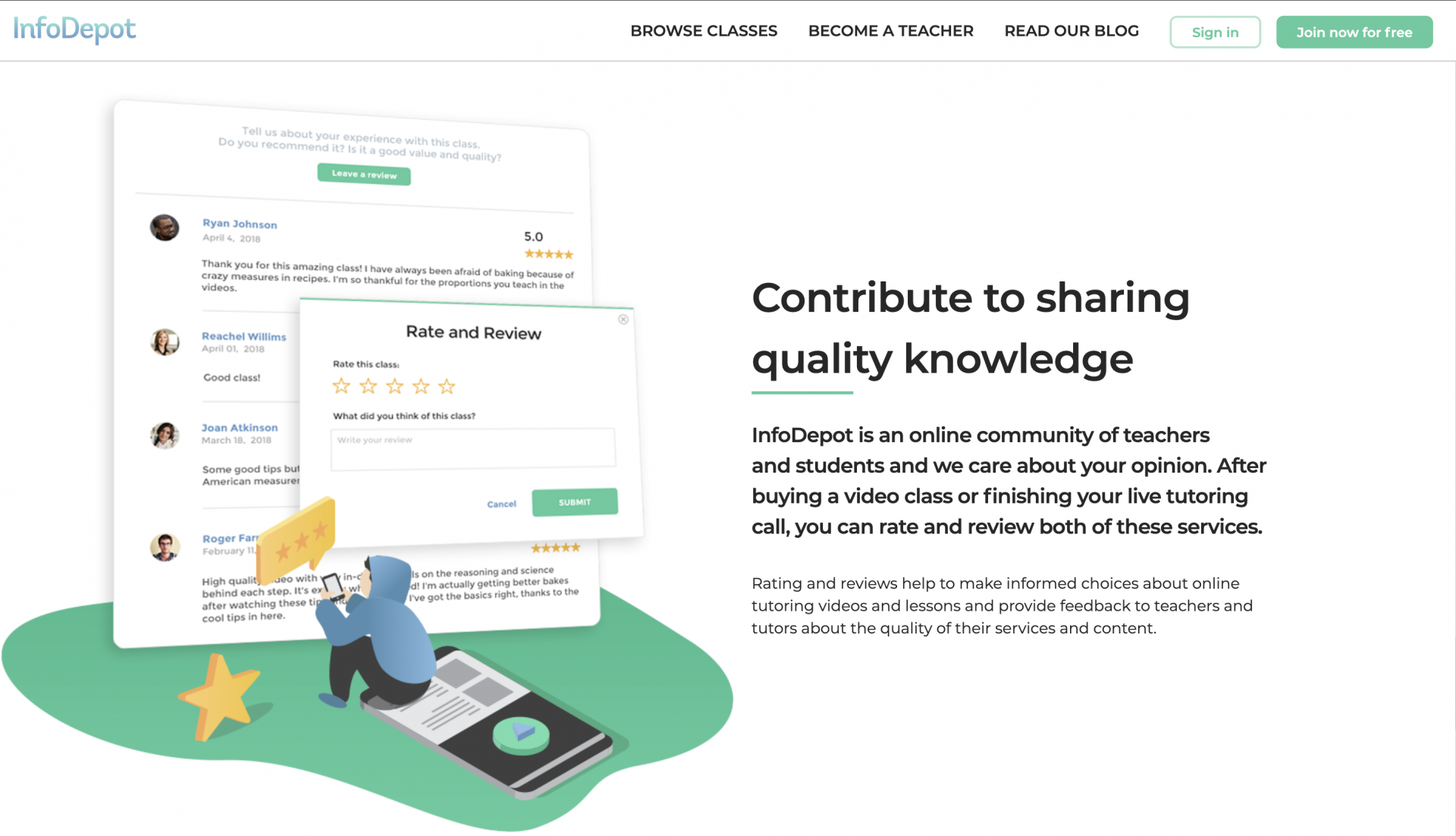 Video Library for Students
All purchased videos can be found and viewed in the Video Library of the user's account. Members have indefinite and unlimited access to all purchased videos.
Students can come back to video lessons after they complete a class and watch them whenever they want and as many times as they want.
Anyone can learn at their own pace and time. Continuous learning is further enhanced by workbooks and supporting materials which learners have access to or can consult a teacher for learning material recommendations.
Teacher Dashboard: Video management for teachers
Teachers and educators use a Teacher Dashboard to manage their video lessons and live tutoring calls. From the dashboard, they can organize their videos and calls, add/edit video details, set the price and create an online schedule for live calls.
Teachers can easily access their videos and live calls from the dashboard, and see their queued calls.
Quick payment solutions and easy video management
We integrated Stripe and PayPal to ease the process of payment and transactions and provide teachers and students with an opportunity to easily top up their balance accounts at any time. When the videos and calls are purchased, the teachers' balance increases accordingly. They can request a payout any time, withdrawing the money to their PayPal account.
We used Vimeo API to enable fast video uploading, conversion and hosting. After being uploaded to a server, the video is sent to Vimeo API to be rendered and optimized according to the quality standards of mp4 video formats. In cases of a bad connection or other issues, the uploading process will continue, transferring the missing parts because the videos are being uploaded in chunks.
Phone calls management and privacy
We used Twilio API to connect the users bypassing any time zone related issues and enable teachers and students to easily manage live phone call activities and see the list of all of their calls (the calls on waiting, in progress, completed, declined). We also developed an option for the users to see the CTA buttons based on their geolocation and time zone.
How we created InfoDepot teaching platform
With a smooth, easy-to-use interface, browsing, watching and video upload, and live tutoring calls are serving the users across all devices. The technology behind secures a faster, stable and flexible environment in which an application can be easily improved, upgraded and customized.
Symfony PHP and ReactJS: Technology Behind InfoDepot
Our focus was on creating an intuitive, engaging platform that facilitates easy communication between members. The platform is built with Symfony PHP framework and ReactJS. Symfony PHP provides a fast-paced development along with the ability to scale the application to the specific needs of the project.
ReactJS provides interactive and intuitive user interfaces, securing better performance and user engagement, higher click-through-rates, and conversions, and intuitive UX.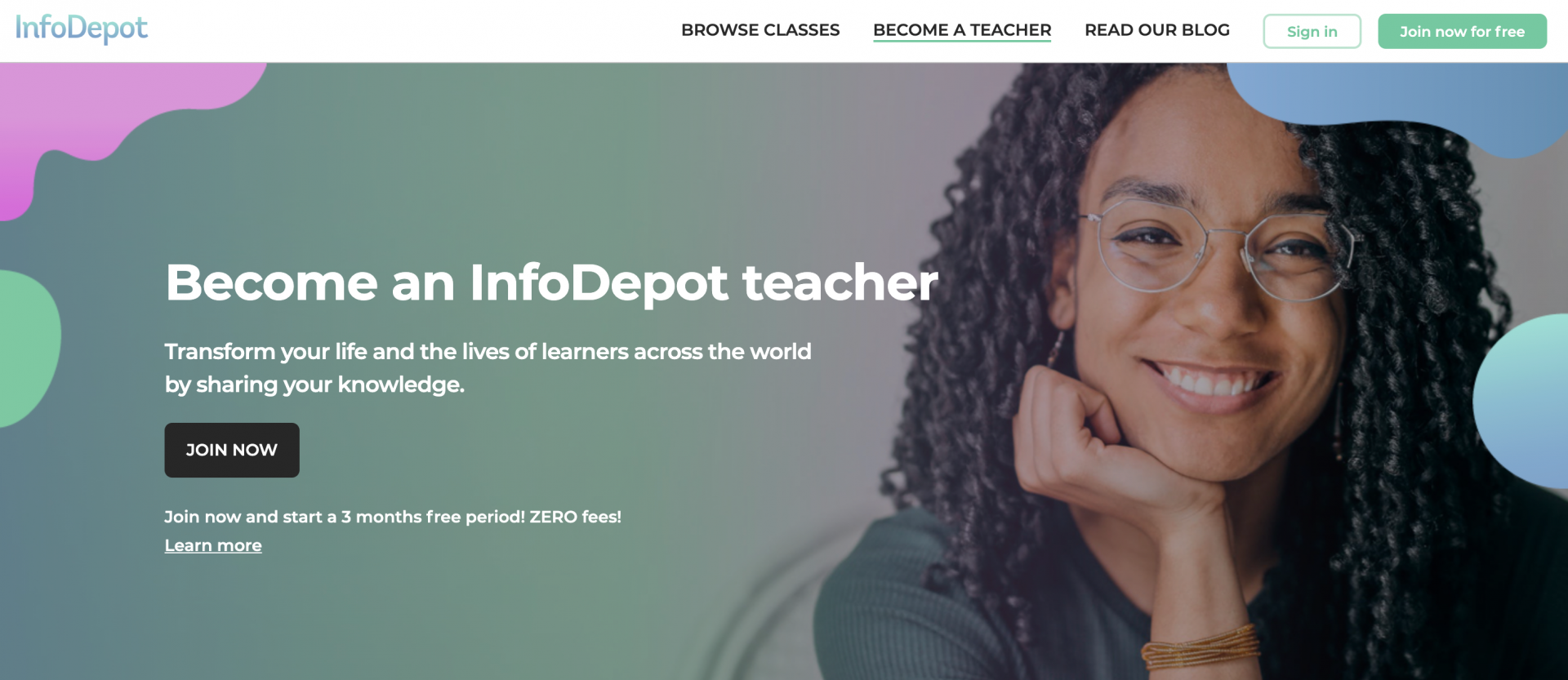 Teach Anything. Learn Everything.
The transformation of the way how we see work and management is happening as we speak. Anyone can produce something unique.
InfoDepot platform is currently offering a fee free promotion for teachers who register until October 31st.
Embroidery, macrame, tapestry, pottery, or papercraft, what will be your next craft to learn? Cooking, painting, chess or history, what is the skill you want to share with others?
Explore you possibilities and share your knowledge today. Join the InfoDepot community to find interesting video classes or register as a teacher and start teaching today.