We at Eton Digital would like to THANK all of you for a very successful and amazing year we had.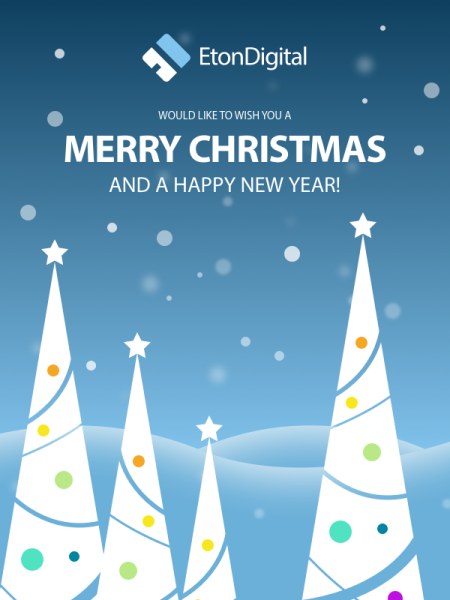 For us, 2014 was a year of new partnerships, new traditions and many successful projects.
As every year, we get a chance to work on ideas and projects we love. In 2014, we achieved great results promoting amazing ideas in social networking, web design and development, and mobile applications. These are some of our projects:
Procurious, a niche social network and online community created by and for procurement and supply chain professionals. As a community for professionals, it's a wealth of resources, information, and opportunity for everyone within the industry.
CoinaPhoto is a social network for photography amateurs and professionals that offers a unique way for artists to earn money and promote their work beyond simple sharing, commenting and posting. With a new iOS app, it's even easier to share photographs on the move.
Divum is a place created to have all your business needs with you all the time, anywhere, any time and on any device. Divum is bringing a fully functional OS in the cloud.
Jumble Trail  is an online community for those who want to either find or start a trail and sell handmade goods or unwanted items. The network provides a colour code map for visitors to explore items on sale in the neighborhood.
The Marque is a niche social network for businesses to manage and improve their online presence. The network connects leaders from around the world from a broad range of sectors all to make it a powerful online reputation management tool.
Synapse is a professional social platform for London Speciality Schools created to provide information about training.
Nissan Ireland and Hyundai Challenge are the two projects in 2014 we are especially proud of. We created a complete web presence for Nissan network in Ireland.
We constantly work on ways to improve our teamwork, and to welcome the New Year we started a new tradition of honouring our colleagues and friends for their accomplishments and creative work, which we celebrated on our 6th birthday, six years since we opened our office in Serbia.
In our efforts to make the IT industry and community stronger and to improve and share our knowledge, we contributed many IT conferences and events, such as DrupalCon London, DrupalCon Munich, Symfony Live San Francisco, Drupal Camp Serbia, Google Code Day, Startup Weekend, and more.
To make our teams stronger, cohesive and more productive, we started an IT Soccer League, which gathered 10 high valued IT companies from Serbia, and Charity basketball, which brought a new spirit in our IT community.
The end of the year brings no greater joy than the opportunity to express to all of you our season's greetings and good wishes.
We are grateful and fortunate to have worked with you, amazing people, who supported us and made us better.
To our respectful partners, clients, supporters, friends and fans, we wish you a fruitful next year, with creativity and brilliant ideas leading you to success in 2015. Thank you for being you!
Happy holidays and best wishes from Eton Digital!