In today's fast-paced business environment, a high demand for quicker solutions and knowledge at hand comes naturally as developers are in a perpetual quest for ways to meet the needs of the industry.
Therefore, let us introduce our latest project – the Ricoh Developer Program, a neat knowledge and assets hub for developers.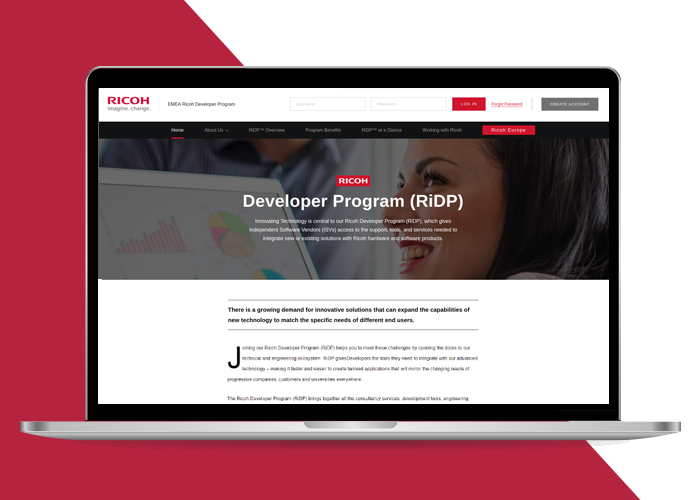 The Ricoh Developer Program (RiDP) is a developer program itself, a kind of knowledge and assets hub. It is designed to motivate and facilitate independent software vendors (ISVs) and developers to create Ricoh hardware compatible applications.
From a simple portal to a global program
Twelve years ago, their program started out as a simple portal providing access to Ricoh's SDK(s). Since then it has evolved to become a well-established fully rounded offering of support and consultancy.
Today, Ricoh is a globally led program that already has its programs in Americas, Asia Pacific and Europe (EMEA).
With its latest technology, knowledge, and assets, Ricoh aims to help developers and its businesses be more productive and profitable.
What will you get with the platform?
Tools and platforms
Support, training, and consultancy
Quality assurance and testing of developed applications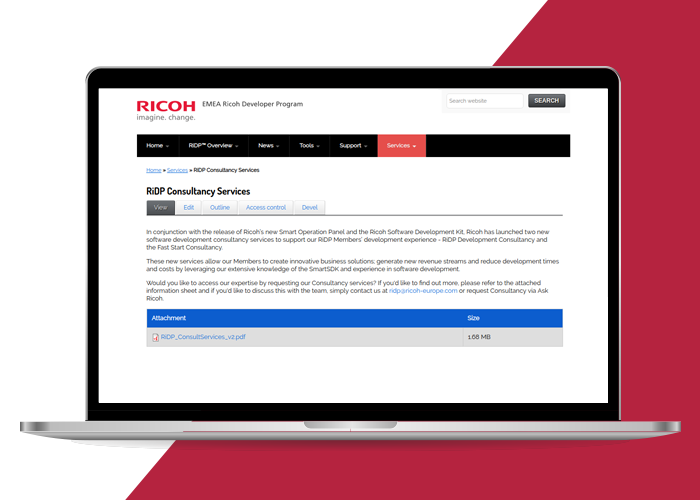 The hub is created for developers
The hub works on a membership model that is designed to meet the varying requirements of developers.
Ricoh offers its services to both commercial and in-house developers who are working in major enterprises for software vendors.
Through the programs they offer, independent software vendors, systems integrators, value-added resellers, and in-house developers can gain access to the support, tools, and services needed to integrate new or existing solutions with Ricoh Group hardware and software products.
Customized support for each roadmap
Once a developer applies to join the program, Ricoh guides him throughout the entire onboarding process to identify its development needs.
Later on, each developer receives a customized program of support according to its roadmap. Depending on the chosen program, each user also has access to a different type of content, relevant news, and articles.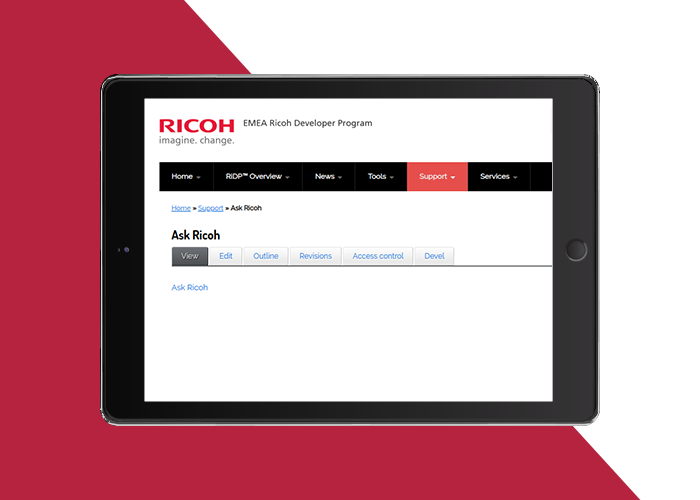 That's how this assets hub enables developers to custom configure printer or fax drivers, develop middleware to integrate with industry-leading Document/Content Management Systems or create applications that run embedded in hardware devices.

Why did we unite forces with Ricoh?
The company founders approached us with an idea to redesign their old website and build a new, sleek and attractive website to promote their offer, consultancy, and other tools for developers from the European region.
They needed a strong and optimized website, able to inform and engage a large scale of their specific users. To meet their needs, we developed an intuitive, well optimized and modern website.
Why did we choose Drupal for this project?
Working together with the team, we inspected and adapted features according to their needs. Our goal was to ensure they have a modern and accessible site to maintain developers' demands successfully.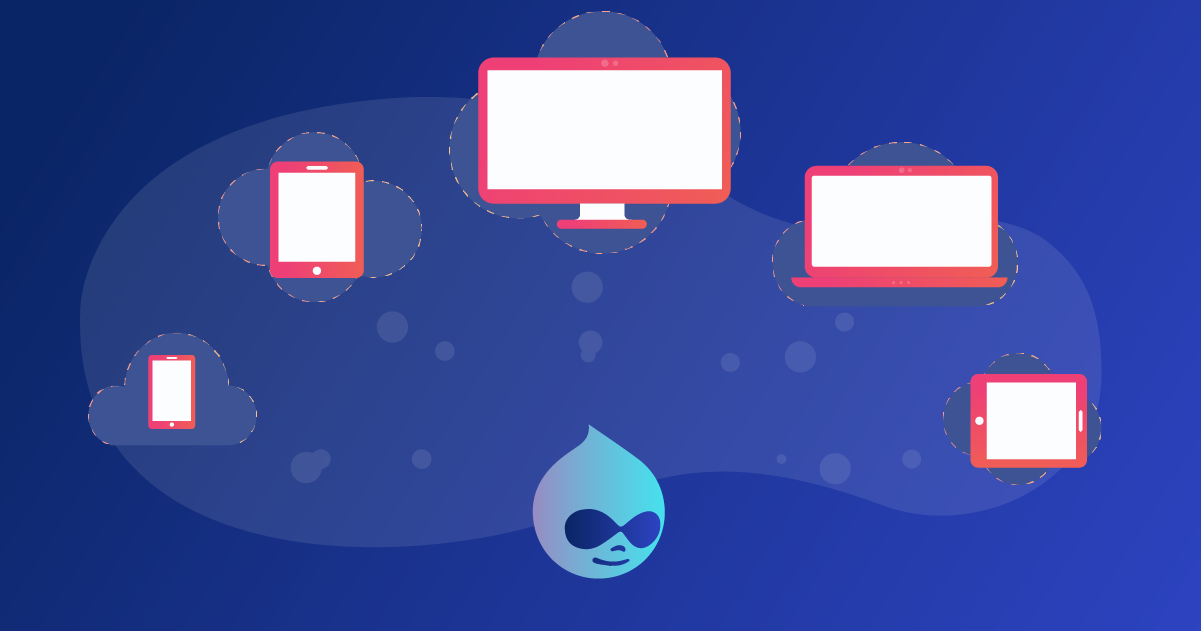 Strong and well-designed website is essential for complex websites such as Ricoh for which Drupal CMS is a logical choice.
They needed a strong and flexible content management system to maintain a large number of users as well as different types of content. Drupal CMS has a powerful system that provides excellent content organization and thus improves performance.
With Drupal 8, we developed and designed a website with:
improved code organization and database structure
impressive page speed
a fully optimized experience
a seamless customer journey
thoughtful content organization due to its powerful editor
improved tracking and analytics results
The end result?
The new Ricoh website ready to answer to any of the work challenges
With the improved website, more developers and business owners now have the opportunity to gain rapid answers to any of the work challenges.
Now, they can apply to receive end-to-end solutions through expertise in Ricoh's four core capabilities: Managed Document Services, Production Printing, Office Solutions and IT Services. With Ricoh behind, many can rest assured as they are supported by a global document expert.
Let us know what you think about the project. Be sure to check out the hub and grasp the knowledge that Ricoh offers.