If you consider hiring a new Content Management System agency or a Drupal development company for your new business, there is a proper challenge ahead of you.
Luckily, there are many helpful options no matter the type of business you might have.
Each CMS has unique attributes and you can choose from a variety of platforms to match your needs.
However, if the nature of your business requires maximum security and stability due to huge amounts of data, Drupal CMS is the most suitable choice for you.
What makes Drupal a preferable option for many businesses is its effective blend of features and the ability to successfully maintain and support complex websites.
Drupal CMS has thousands of accessibility features, modules, and themes. All to give your business an extra push into the digital space race.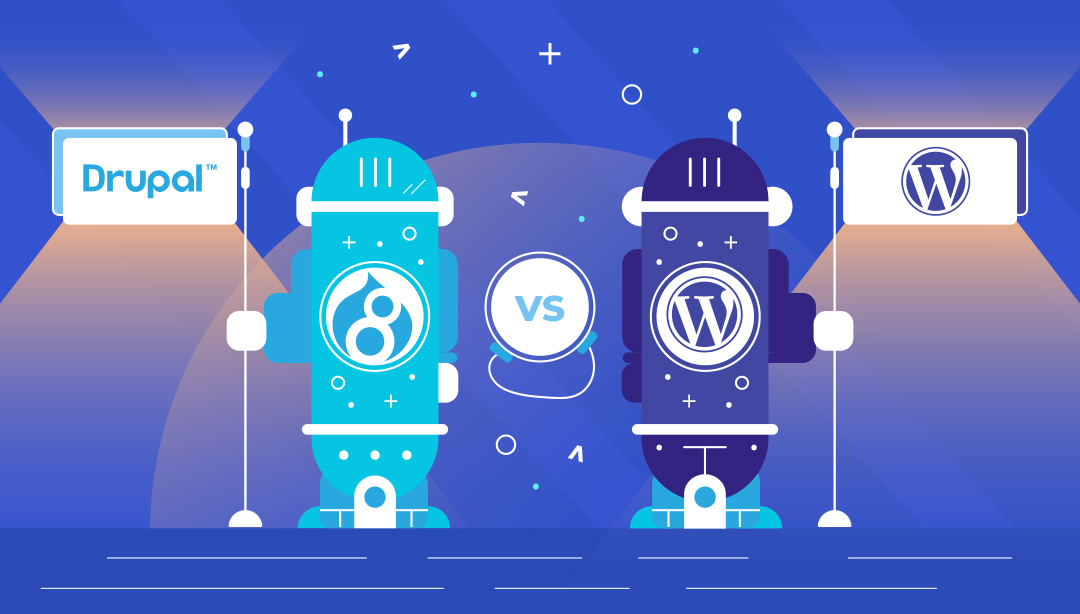 Big names like Tesla, eBay, and Red Hat have recognized Drupal's power. They use it to maintain robust business websites and provide timely content to a massive customer base. That is certainly one of the things that Drupal does best.
Why you should develop your next project with Drupal CMS?
Since our early days, we have been working with exploring Drupal CMS. We have built countless websites and projects using Drupal. This vast experience has allowed us to recognize the true value of Drupal and to confidently advise our clients and partners.
We are focused on Drupal website development and would recommend this CMS, not only because of its great abilities. It is mostly because we can bring back to the community, fostering an environment of constant learning.
We tend to educate and empower businesses to use the best from Drupal. In many ways, Drupal can be the best option for website development.
You could use Drupal to build:
eCommerce,
intranet portals
multimedia
multi-domain internet sites
… regardless of the industry (media, retail, government, education, sport, entertainment, high tech, and more).
If you want to know what Drupal CMS can provide you with, you are in the right place. We have listed the advantages of Drupal – and believe these can help you make the right decision for your business.
So, how does Drupal fit your business's needs?
Choose Drupal development for Security
We know how malicious security breaches can strongly affect your business and diminish your good reputation. If your business requires extra caution, and every business does, Drupal CMS can provide you a data safe haven.
What makes Drupal a security master is its dedicated security team that regularly reviews releases and security issues. Drupal has a good issue tracking system and a large install base, thus security vulnerabilities are detected and fixed quickly.
Due to these security features, Drupal is highly popular among banks, health institutions, and charities. Including all other industries that have to deal with sensitive information.
Drupal is capable of preventing security vulnerabilities effectively, which is the reason why many governments also opt for Drupal CMS.
Choose Drupal for its power to expand your website – anytime
The ultimate benefit that Drupal offers you is to configure or add the appropriate modules to take the platform beyond its core capability. Thousands of modules will help you to build amazing sites.
Drupal allows you to add as much functionality to your website as you wish. You can find the specific module for anything you want. Plus, as Drupal allows customization, if the specific module doesn't fit you, you can always modify it or create the new one.
Moreover, as Drupal supports an active and diverse community, there is always a wide range and sets of modules that are free to download and use.
Our team of Drupal developers has compiled a list of Drupal contributed modules they use on an everyday basis (in alphabetical order). See which contributed modules are a good solution for businesses and learn more about their benefits.
Think flexibility when you think about Drupal
One of the key strengths of Drupal is its flexibility. With only one SEO module, for instance, you can directly influence your SE rankings. Drupal can offer you one of a kind SEO module set able to enhance your search engine rankings.
Drupal already has a reputation for being an SEO friendly CMS, and its architecture is built to provide great opportunities for marketers and SEO specialists.
To contribute to your marketing strategy more, there is a module called CCK (Content Construction Kit) that creates new types of content ( Pages, Blog entries, Stories, Books and Polls), providing complete control over content – where and how the content is displayed.
Drupal also allows you to handle with ease multiple users and bloggers with different roles and permission sets. Within you can cover more than one critical spot for your content marketing strategy.
Opt for Drupal because of the overall cost reduction
As an open-source, Drupal CMS can free companies and organizations from costly licensing fees and vendor lock-in. It comes with thousands of contributed modules, themes, and even pre-configured platforms known as distributions.
With Drupal, as open-source, the focus is on the community and collaboration which makes more space for a cost-saving opportunity for many industries.
The community-driven nature of the platform also allows innovation through code sharing. The code is available to others to use in their projects or to find ways to make it better.
In other words, as more people and organizations participate, more features are available, which results in less spending on development.
If you want a complex site, win with Drupal development
We have worked with many companies that find Drupal's development capabilities splendid.
Take a look at some of the projects we have recently created with Drupal – Nissan IE, ITF Global, Hyundai Challenge and Ana Ivanovic to see how and why Drupal is a powerful CMS.
Request a quote and we'll help you build a powerful brand to start up your business.